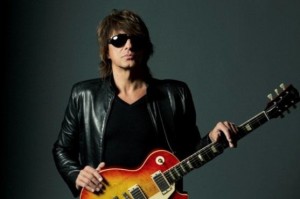 Richie Sambora announces an ADDITIONAL Sidewave Show with all profits going to THE STARLIGHT FOUNDATION
Celebrated American rock icon RICHIE SAMBORA has announced he will play an additional and incredibly intimate Sidewave show whilst in Melbourne for Soundwave Festival 2014 with all profits going to The Starlight Foundation.
For the first time in over ten years , Australian fans will have the opportunity of a lifetime: To see one of the greatest musicians and singer- songwriters of our time performing material from his solo records with a few surprises thrown in.  With three acclaimed solo albums that have highlighted a more personal and intimate side to Richie's songwriting, (1991's Stranger in This Town, and 1998's Undiscovered Soul and 2012'sAftermath of the Lowdown, which spawned the powerful single "Every Road Leads Home To You." ) this promises to be a mind-blowing night of rock and roll!
Richie Sambora has become known throughout his remarkable 30-year career for his raw vocals, indelible songwriting and world-class guitar playing. As both an acclaimed solo artist and a founding member of multi-platinum, Grammy-winning band Bon Jovi, Richie has sold over 130 million albums worldwide and has co-written over 20 Top 40 hits and 11 Top 10 hits, including "Livin' On A Prayer," "You Give Love A Bad Name" and "Wanted Dead or Alive." He was inducted into the Songwriters Hall of Fame in 2009.
 "Not only does [Aftermath of the Lowdown] contain soul-searching songwriting, it flat-out rocks." – USA Today
Joining him onstage will be none other than Australian singer-songwriter and guitar goddess Orianthi, who has worked as lead guitarist to some of the biggest superstars in the world (Alice Cooper, Michael Jackson).
Since being formed as an Australian children's charity in 1988, the Starlight Children's Foundation has brightened the lives of seriously ill and hospitalised children, and their families, throughout Australia. Living with illness or injury can cause enormous strain in the lives of children and their families. The pain, loneliness and isolation that sick children feel dominates their lives, and they often miss out on normal experiences that healthy children take for granted. Starlight provides programs integral to the total care of seriously ill children – while health professionals focus on treating the illness, Starlight is there to lift the spirits of the child, giving them the opportunity to laugh, play and be a child again.
__________________________________________________________________________
TICKETS ON SALE: TUESDAY 25 FEBRUARY, 10am AEDT
BRAND NEW SHOW
THURSDAY 27 FEBRUARY         MELBOURNE, THE ESPY – 18+
www.oztix.com.au
WEDNESDAY 26 FEBRUARY
ENMORE THEATRE, SYDNEY – Licensed All Ages www.ticketek.com.au