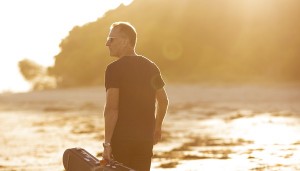 Late in 2013, James Reyne played two sold-out shows at The Basement in Sydney, exciting fans with a new live offering, A Crawl To Now.  Showcasing a broad selection of Australian Crawl tracks plus songs from his time with Company Of Strangers and his solo hits, the acoustic trio of James with Tracy and Brett Kingman, paid homage to an exceptional body of work. They brought the house down.
With a self-confessed desire to keep up a hectic touring pace, "I'm always playing a gig somewhere, I just love to play live", Reyne is poised to take A Crawl To Now on the road, playing right across the country through April and May this year.
James's output in recent years has been prolific, his most recent long player, 2012's critically acclaimed album 'Thirteen'.  Music critic Ed Nimmervoll, in reviewing the album said, "He's a better singer today than ever, better songwriter, better lyricist. Every track on Thirteen tells you how important all three of those aspects of his craft are to him."
His songs have provided the soundtrack to endless Australian summers, including "The Boys Light Up", "Reckless", "Beautiful People", "Lakeside", "Daughters Of The Northern Coast", "Fall Of Rome", "Hammerhead", "Motor's Too Fast" and "Slave".
Now, following countless requests at live shows and online, James is ready to explore this material further, and will feature songs selected from throughout his career – over twenty albums representing an extensive catalogue, spurning 19 Top 40 hits (seven with Australian Crawl, 12 solo) and 10 Top 10 albums.
Recognised for his extensive charitable undertakings, Reyne received an Order Of Australia in January.  His iconic song 'Reckless' has featured heavily in the promotion for the forthcoming new series of TV show  'Puberty Blues', and the recent re-release of the Australian Crawl catalogue on itunes resulted in a #4 ARIA Album Chart position for 'The Greatest Hits'.
Reyne said today, "Whilst I'm not inclined to get all nostalgic, it feels like the right time to go through this material and present it songbook style.  The songs we've chosen are a lot of fun to perform – and it scratches my never-ending itch to tour, to play live!"
James Reyne's 'Thirteen' and Australian Crawl's 'The Greatest Hits' and back catalogue available now on itunes.
www.jamesreyne.com.au    @jamesreynemusic    facebook.com/jamesreyne
Max Presents … A CRAWL TO NOW: the national tour
APRIL:
Friday 4th                    Wrestpoint, Hobart, TAS
Ticketing information: www.wrestpoint.com.au
Saturday 5th                Country Club, Launceston, TAS
Ticketing information: www.countryclubtasmania.com.au
Friday 11th                  Flying Saucer Club, Caulfield, VIC
Ticketing information: www.flyingsaucerclub.com.au
Saturday 12th              Royal Theatre, Castlemaine, VIC
Ticketing information: www.theatreroyal.info
Sunday 13th                 Caravan Club, Oakleigh, VIC
Ticketing information: www.caravanmusic.com.au
Thursday 17th               Lizottes, Newcastle, NSW
Tickets: 02 4956 2066 or www.lizottes.com.au
Friday 18th                   The Basement, Sydney, NSW
Tickets from The Basement:  02 9251 2797      www.thebasement.com.au
Saturday 19th              Lizottes, Dee Why, NSW
Tickets: 02 9984 9933  or www.lizottes.com.au
Sunday 20th                 Lizottes, Kincumber, NSW
Tickets: www.lizottes.com.au
Wednesday 30th          Friends Restaurant, Perth, WA
Dinner show / Tickets from the venue – ph 08 92210885
MAY:
Thursday 1st                 The Deck Restaurant, Busselton, WA
Dinner show / Tickets from the venue – ph 08 97512960
Friday 2nd                    Charles Hotel, Perth, WA
Tickets from venue – ph 08 94441051 & www.ticketmaster.com.au
Sunday 4th                   Boab Tavern, Wycombe, WA
Tickets from venue – ph 08 94543566
Friday 9th                     Norwood Hotel, Adelaide, SA
Tickets: 08 8431 1822  or www.thenorwood.com.au
Saturday 10th              Goolwa Aquatic Centre 'Concert Club', Goolwa, SA
Tickets: 0419 031 169  or  www.goolwaaquaticclub.com.au