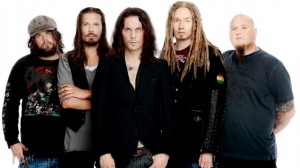 HIM ARE A FORCE LIKE NO OTHER!
Their trademark Heartagram has left its indelible stamp on the globe. With over 8 million records sold and the distinction of recording the best-selling single of any Finnish artist to date with Join Me In Death from 1999's Razorblade Romance, as well as being the first Finnish band to receive gold certification in the United States for 2005's Dark Light, Since 1992 these veteran song-smiths have peddled their unique fusion of forlorn balladry and heavy, synth-laden sounds to create a uniquely potent brew. Tears On Tape – their eighth studio release written acoustically and then translated into the language of volume and heavy distortion is the stuff that latter-day classics are made of.
"Tears on Tape is a powerful collection of music (very much worth the three-year wait) that will appeal to music lovers of all eras"  – Revolver Mag
Joining HIM, will be post-apocalyptic gypsy punk outfit, NOSTALGHIA. Naked beneath lights, Nostalghia transports the audience into a cathartic dimension, riding the universal waves of feeling, intensity, and passion; a journey and movement into the unknown, a spiritual transcendence, and a place where all walks of life can connect to the global understanding of love, pain, struggle, and triumph. The band's first full length album , "I Am Robot, Hear Me Glitch," received praise for its innovative and unique synthesis of Primal Pop and The Avant-Garde and Nostalghia have just released the first new single ("You + I") taken from their forthcoming album.
"Nostalghia is punk before it was punk: bohemian, DIY and a sponge to the sounds of the world. This two-piece are like a modern musical Shakti and Shiva – twin primal feminine and masculine energies destroying and re-creating music anew ." Beat Magazine
Gleaming platinum-plated proof that the future has already arrived, THE DEFILED claimed 2013 as their own as 'Daggers' laid down a new blueprint and manifesto for this most distinctive and destructive of contemporary creative forces. Strap yourselves in for the white-knuckle ride to end them all: right now, THE DEFILED are unstoppable.
TICKETS ON SALE: THURSDAY FEBRUARY 6 @ 9:00AM AEDT
TUESDAY 25 FEBRUARY
SYDNEY, THE METRO – Licensed All Ages www.ticketek.com.au
WEDNESDAY 26 FEBRUARY
MELBOURNE, 170 Russell (formerly Billboard) – 18+ www.oztix.com.au / www.cornerhotel.com/