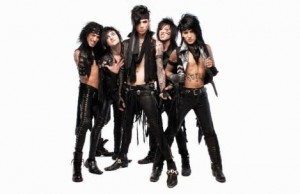 GET READY FOR A NIGHT OF FLAMBOYANT GLAM METAL ROCK WITH BLISTERING GUITAR SOLOS, MUSCULAR RIFFS AND DEEPLY KOHLED EYES AS BLACK VEIL BRIDES TAKE TO THE STAGE IN SYDNEY AND MELBOURNE
Black Veil Brides kicked off 2013 confidently with the release of their third full-length album, Wretched and Divine. This massive opus sees the Los Angeles quintet deliver a collection of songs that's as immersive as it is infectious. Hallmarks of their sound like gritty riffs, orchestral flourishes, elegant soloing, and anthemic vocals remain intact. At the same time, everything expands gracefully into the fabric of an intricate post-apocalyptic drama about The Wild Ones penned by Biersack and artistic collaborator Richard Villa III. Ultimately, Wretched and Divine opens the gateway to a new world altogether.
"Wretched and Divine: The Story of the Wild Ones' is an ambitious effort that shows the band is willing to take chances in their fast-rising career." – Loudwire

DON'T MISS BLACK VEIL BRIDES!!
TICKETS ONSALE: WEDNESDAY FEBRUARY 5TH @ 9:00AM AEDT
TUESDAY 25 FEBRUARY
SYDNEY, THE BALD FACED STAG – Licensed All Ages www.oztix.com.au
WEDNESDAY 26 FEBRUARY
MELBOURNE, ARROW ON SWANSTON – All Ages www.oztix.com.au