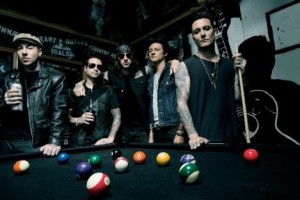 Don't miss this extraordinary opportunity to see the mighty AVENGED SEVENFOLD harken back to their club days, before they became one of hard rock's premier headliners, and perform in a club setting for the first time in Australia since 2008. This is an incredible and rare opportunity created especially for Australian fans to experience the band up close and personal in small, intimate venues, and they promise to be blistering nights of epic proportions.
Confirmed to join the band onstage for both shows will be none other than the absolutely brutal FIVE FINGER DEATH PUNCH and UK metalcore heavyweights, ASKING ALEXANDRIA.
AVENGED SEVENFOLD achieved worldwide success with a string of best-selling albums — including their 2005 platinum breakthrough City Of Evil, 2007's Avenged Sevenfold, which topped the Billboard Alternative, Hard, and Rock Charts, and two consecutive No 1's on Billboard's Top 200 Albums chart, Nightmare (2010) and their latest Hail To The King — achieving Diamond, Platinum and Gold awards for album sales in nearly a dozen countries. They have also scored a series of Top 10 singles at multiple formats, including "Bat Country," "Almost Easy," "Scream," "Nightmare," "Welcome To The Family," "So Far Away," and "Hail To The King," and their latest, "Shepherd of Fire." The band, which hails from Huntington Beach, Calif., have become known for their spectacular live shows, routinely selling out arenas worldwide and headlining some of the biggest and most prestigious music festivals. In November 2012, they made an unprecedented appearance as characters in Call of Duty Black Ops 2 — the biggest-selling video game of all time, which featured the band's performance of "Carry On," written specifically for the game.
With primal roars punctuated by the bombastic, FIVE FINGER DEATH PUNCH know how to deliver a brutal live shows!  The band didn't take the easy road on their fourth and fifth albums, The Wrong Side of Heaven and The Righteous Side of Hell Vol. 1 & Vol 2 and these 2 albums contain their most their most enigmatic, engaging, and empowering salvos yet.
Coming off the back of massive headline sold-out European and North American tours and the release of the bands highly acclaimed new album, From Death To Destiny which debuted at #5 on the Billboard Top 200 charts, ASKING ALEXANDRIA  are one of the genre's most exciting, ground-breaking and heralded artists!
ON-SALE: THURSDAY FEBRUARY 6TH @ 9am AEDT
TUESDAY 25 FEBRUARY
SYDNEY, BIG TOP – Licensed All Ages www.ticketek.com.au / www.oztix.com.au

WEDNESDAY 26 FEBRUARY (PLEASE NOTE: NEW SHOW DATE)
MELBOURNE, FESTIVAL HALL– Licensed All Ages www.ticketmaster.com.au