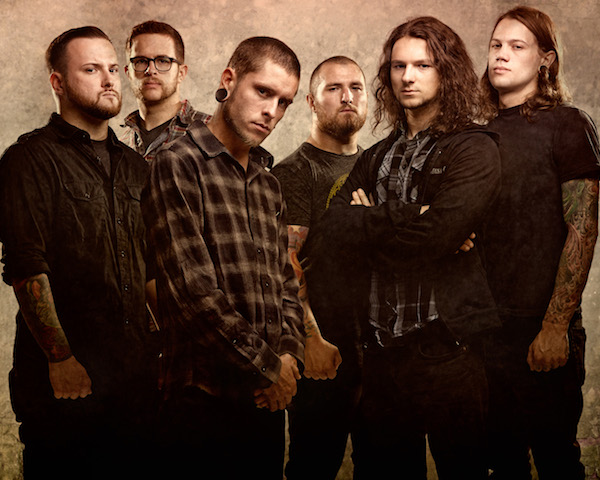 "… Australia is just a beautiful country to begin with and a great place to be, and the shows are just so massive and it's just a tonne of fun being there with so many great bands, and being able to say that we're on the Soundwave line-up as well."
From Bio: Having spent several years lauded as one of the frontrunners in their genre, in 2012 Whitechapel stood as a defining force in contemporary heavy music. Building dramatically on the trademarked bludgeon of their first three releases, with Whitechapel the Tennessean sextet had inarguably delivered their most intense, dynamic, and downright hostile record to date. Drenched in atmospheric darkness, the record is also rife with gripping melodies that drag the listener in to the tumult, willing or otherwise, and across its ten tracks it is infused with an emotional depth that pointedly separates the band from the plethora of two-dimensional mosh-starters that have sprung up in their wake.
In his house in Tennessee  and heading to Australia as part of Soundwave, we chatted to Alex from Whitechapel about the festival, new music, inspirations and the future…
You're heading back to Australia as part of the massive Soundwave festival, set wise on this run, what can people expect should they come and watch you on the day?
Set wise, it should be a pretty good mix of all of our material, I don't think we'll be playing any new music off of the album we just finished because generally we don't like to play music that isn't released because we find that if somebody hears a new song live they'll just stand there like 'um, what song is this?' *laughs* so we usually like to wait until the music is released before we start adding in new songs from an album, but there should be a good mix from our self-titled album, 'A New Era of Corruption', 'This Is Exile' and 'The Somatic Defilement'.
Give us one word that you feel sums up your live performance…
I guess heavy would be the best synonym, it's just heavy, fast, angry, if you like being in the pit and pushing people around then our live set is definitely something you should check out.
As I mentioned, the Soundwave bill is huge, is there anyone you're excited to be sharing the tour with?
Yeah, it's really kind of insane how massive the bill is with bands like Green Day and Alice In Chains and stuff, it's crazy to think that we're even on the same bill as bands like that, but we're also excited to share the bill with some of our friends, like Deez Nuts, Suicide Silence, Black Dahlia Murder so it's going to be a really good time.
You've played the festival before back in 2010, do you have a memory of that tour that you can share with us?
Yeah that tour was honestly one of the best tours we've ever done and all it's done is made us want to come back to Australia ever since, it's just… number 1, Australia is just a beautiful country to begin with and a great place to be, and the shows are just so massive and it's just a tonne of fun being there with so many great bands, and being able to say that we're on the Soundwave line-up as well. Just doing Soundwave in 2010 as well and playing in front of some of the biggest crowds we've ever played in front of, on thing I'll never forget is seeing Meshuggah live at Soundwave because it was the first time I'd ever seen them live before and it was one of my favourite bands, and just hearing how massive they sounded on that open air PA was just an amazing feeling. So we're definitely excited to come back and make some more memories in 2014.
Now as you mentioned before we can expect to hear a new album this year, any insights or secrets you can share with us regarding that?
We should be releasing a single in mid-February when we release the pre-orders for our new album, and the album should be in the middle of April.
What inspires you these days?
You know we have inspirations from all over the place, especially me, Zach and Ben, we all have different tastes in music, so I feel like there's different takes and we bring different things to Whitechapel, Zach writes most of our more darker evil sounding stuff, Ben writes most of our melodic sounding stuff and I kind of write more of the more modern / mainstream kind of sounding stuff, I'm big into bands like Deftones and Slipknot and stuff like that.
What do you see as being the most notable change that has taken place within the band since its inception coming on to eight years this year?
Yeah definitely when we got our new drummer Ben Harclerode, our previous drummer Kevin Lane he was an amazing drummer, but I feel when we got Ben Harclerode it just changed the sound of the band and really stepped us up to the next level, and the work that he did on self-titled was really amazing and the drums that he did for this newer record are even better, and I don't know how he pulled it off *laughs* he pulled off some pretty incredible performances, I feel like that is the biggest contributing factor to our change in sound over the years.
How does that come across in the live arena, does that give you that extra push to play even better?
Yeah definitely, when you have a solid drummer behind you that can totally nail every single part and make the songs live sound like they do on CD it makes it just that much easier to get on stage and just rock the gig you know?
This may be hard to do, but was there a moment in 2013 that stood out above the rest as the best of the year?
I mean I would honestly say when we finished up the new mixes for this record, that would be my best memory as we've been working really hard on this CD, probably for about ten months now, we've been working on it since March, so just the writing and recording and everything involved with it. So it's just really awesome to create an album and sit back and listen to the finished product and just kind of enjoy it you know?
So in heading to Australia is this the start of the tour for you?
Yeah we head to Australia and that'll be for about two weeks, then we come home and we have a couple of weeks off and then we'll be doing a headliner in the US…
On the flip side of that, 2014 has just begun, so let's grab a crystal ball and predict the future. By the end of 2014, Whitechapel will…
*laughs* Hopefully have sold quite a few records since we're putting out a new CD, hoping that this year is full of progress and profit for us… *laughs*
Essential information
From: Knoxville, Tennessee, USA
Band members:  Phil Bozeman – Vocals, Ben Savage – Guitar, Zach Householder – Guitar, Alex Wade – Guitar, Ben Harclerode – Drums, Gabe Crisp – Bass
Forthcoming Release: Coming 2014
Website:  http://www.whitechapel.com
Catch Whitechapel at SOUNDWAVE FESTIVAL 2014 
SATURDAY 22 FEBRUARY – BRISBANE, RNA SHOWGROUNDS
SUNDAY 23 FEBRUARY – SYDNEY, OLYMPIC PARK
FRIDAY 28 FEBRUARY – MELBOURNE, FLEMINGTON RACECOURSE
SATURDAY 1 MARCH – ADELAIDE, BONYTHON PARK
MONDAY 3 MARCH – PERTH, ARENA JOONDALUP