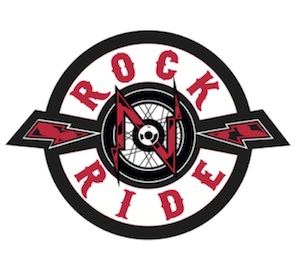 Returning in January 2014, twenty of Australia's most loved musicians, TV, sports and media personalities will embark on an epic motorcycle adventure between the Gold Coast and Melbourne Big Day Outs. 1500 miles, music, mates and machines coming together for headspace, the National Youth Mental Health Foundation.
Rock N Ride founders Phil Jamieson (Grinspoon) and Adam Zammit (Big Day Out CEO) will lead the ride with the original crew, Chris Joannou (Silverchair), Kate Peck (MTV), and Jake Stone (Bluejuice). This year they will be joined by Pat Davern (Grinspoon), Art vs Science, Danny Clayton (Channel V), Reegan McLaughlin (NOVA/ Music Feeds), Chris Tanti (headspace CEO) and Big Day Out 2014 artists Kingswood. The riders will venture down the East Coast of Australia to bring awareness to headspace, the support they provide to 12 – 25 year olds going through a tough time and their centres in regional and rural areas.
"This is all about letting young Australians know that their mental health is the most important thing to respect, prioritise and discuss openly. We all experience varying mental health issues in our life. We want to let all young Australians know it's ok and healthy to seek help."
Adam Zammit, CEO Big Day Out
headspace provides young people a place to go for support, guidance and information if they are struggling with issues like depression, anxiety, relationship or school problems, bullying or drug and alcohol concerns . With 55 (soon to be 70) centres across Australia, and online and telephone counselling service eheadspace, headspace is continuing to give more young people the support they need.
headspace CEO Chris Tanti, who will join the ride for the first time, said
"Rock N Ride is unique way of putting mental health on the agenda. We want to improve the lives of young Australians, so we need to make sure they know there's youth friendly support available for them and their friends. This ride will help to raise the profile of our headspace centres and how they can help," Chris Tanti, CEO headspace.
Rock N Ride will be riding through three states in four days visiting headspace centres and Valvoline's Supercheap Auto stores as they make their way to the Melbourne Big Day Out. During the Rock N Ride stops the local communities will have the opportunity to meet the riders, get photos and autographs as well as seeing performances from Kingswood, Art vs Science, and Grinspoons Phil Jamieson and Pat Davern.
Principle Sponsor Valvoline:
"Valvoline are proud to renew our sponsorship of Rock N Ride for 2014. Their support of headspace is both a worthy and valuable commitment to health of young Australian and something that Valvoline is happy to be part of.
Rock N Ride is also an opportunity to showcase Valvoline's NextGen re-refined engine oil. A product that not only protects your engine, but protects the planet. "
Tony McDermott, Marketing Manager Valvoline Australia
"The whole project would never have happened without the amazing support of Valvoline." –
Adam Zammit
ITINERARY
Sunday 19th January: Gold Coast Big Day Out ~ Rock N Ride departure
Monday 20th January: Lismore Supercheap Auto store ~ headspace centre, Coffs Harbour ~ headspace centre, Port Macquarie
Tuesday 21st January: headspace centre, Maitland~ Supercheap Auto store Goulburn Wednesday 22nd January: headspace centre Shepparton
Thursday 23rd January: headspace centre, Ballarat ~ headspace centre, Geelong Friday 24th January: Melbourne Big Day Out ~ Rock N Ride arrival into showgrounds

Phil Jamieson is best known as the frontman of iconic Australian band Grinspoon. The band was the first band ever Unearthed by the ABC Youth Radio Network triple j(1995). Grinspoon were together for over seventeen years, and they recently released their highly acclaimed seventh studio album 'Black Rabbits.'
Chris Joannou is a bass player, best known as a founding member of Silverchair – one of the most acclaimed and successful bands in Australian Music history. During Chris' remarkable musical career he has also spent time in the Producer's chair working with rock band, The Mess Hall amongst others.
Jake Stone has spent the last thirteen years involved in music in one capacity or another. From bartending at Sydney venues like The Annandale and The Hopetoun, to working as a music journalist for The BRAG, Rolling Stone, Sydney Morning Herald and more recently hosting on Triple J, Jake isn't just one of the frontmen for BLUEJUICE. He is an all-around pop music enthusiast.
Kate Peck began her career as an international model, working for top brands and walking countless catwalks around the world. After calling New York City home for two years, avid motorbike enthusiast Kate headed off to ride around South Africa raising awareness and money for YGAP (Y-Generation Against Poverty) and earlier this year she indulged her inner rev-head as Ambassador for the 2012 Australian Formula One Grand Prix. Now with her feet firmly back on Aussie soil, Kate is the newest addition to the MTV family!
Adam Zammit is CEO of Big Day Out as well as the founder and CEO of entertainment marketing, publishing and media agency Peer Group Media and has been instrumental in the development of corporate investment and brand integration into the Music and Entertainment Industry, helping to bridge the gap between the worlds of art and commerce. He was also Publisher of Australia's biggest event and entertainment site www.eventfinder.com.au and Brag Magazine and The Music Network
Julie Jamieson has modelled for over a decade doing runway shows, advertising campaigns and TV Commercials and has worked/lived in Sydney, New York, Los Angeles, Barcelona and Hamburg. She met her husband Philip Jamieson at age 21 in Brisbane and have been married 7 years.
Kingswood are a rock'n'roll band from Melbourne Australia consisting of Fergus Linacre, Alex Laska, Jeremy Hunter and Justin Debrincat. Having now toured internationally and nationally with such acts as Grinspoon, The Living End, British India, The Saints and Aerosmith, as well as numerous festival appearances at Splendour In The Grass, Queenscliff Music Festival, Pyramid Rock, Groovin The Moo, Big Pineapple, Festival of The Sun, Golden Days and Big Day Out, KINGSWOOD are now ready to rock 'n' ride. KINGSWOOD have just returned from Nashville, recording their debut album with producer Vance Powell. The first single 'Sucker Punch' is out now. The album will be released in the first half of 2014.
Art vs Science, party purveyors, ARIA Award winners and one of the country's best festival bands, are prepping their first single in over two years. The first three years of their existence was a wild ride, taking in platinum EPs, a #2 debut album, multiple spots in the Top 10 of triple j's Hottest 100 in consecutive years, AIR Awards, J Awards, an ARIA Award and hundreds of sweaty club shows and festival dates, here and in the US and Asia. The backing-track averse three-piece have been holed up in the studio for the past three months. Keep an ear out for new music, coming soon
Pat Davern is best known as the lead guitarist in legendary Australian rock band Grinspoon. On the road since 1995, Davern and Grinspoon have performed to millions of people right across the globe, released 7 top selling albums, and continue to wow audiences wherever they go. Davern is also the co-owner of the iconic Music Farm Studios, where he is currently involved in the production and recording of a variety of musical projects.
Danny Clayton's destiny was decided before he was even out of high school, with talent farm Channel [V] putting him in front of the camera back in 2004 when he won a rock photography competition. Since his debut, Danny has become one of this country's stand out talents; filming thousands of hours of live television and interviewing the world's biggest artists from Katy Perry and Foo Fighters, to Kelly Clarkson, Coldplay and Lorde. His infectious energy and thirst for adventure, teamed with his knowledge and love of music, has seen Danny has travel to music festivals around the world. He has hosted a bunch of Channel [V]'s flagship shows including B430 and whatUwant, as well as the massive live broadcasts from Sound Relief (2009) and Live Earth (2007). Also a DJ and television producer, Danny has four ASTRA Award nominations under his belt as well. Danny Clayton co-hosts Channel [V]'s daily live music culture show, The Riff weekdays at 5pm and Saturdays at 10.30am.
Reegan McLaughlin Reegan has always loved music and radio so when the time came to start working, the logical step was to work in radio – interviewing musicians. For the last few years, that's exactly what he's done and has interviewed some of Australia's and the world's most prominent musicians. Most recently, Reegan has done work for Music Feeds and is now with the Nova Network.