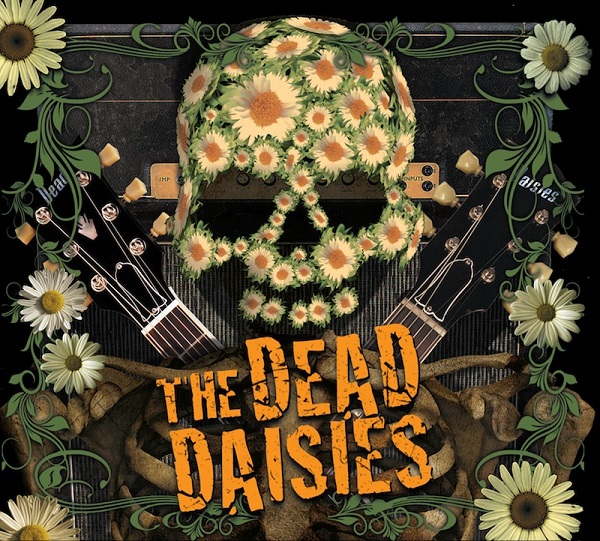 THE DEAD DAISIES BACK HOME TO ROCK AUSTRALIA!
Announce Tour Dates & Release anticipated self-titled Debut Album.
Album: "The Dead Daisies" – Release date: 7th February, 2014
SYDNEY, Australia (January 13, 2014) – Australia will have the chance to welcome back one of their hottest musical exports in years when The Dead Daisies kick off a series of shows supporting the February 7th release of their anticipated Debut self-titled Album, "The Dead Daisies".
The line-up for the Australian dates will feature Jon Stevens (INXS/Noiseworks), David Lowy (Red Phoenix/Mink), Richard Fortus (Guns N' Roses/Psychedelic Furs), Dizzy Reed (Guns N' Roses/Hookers & Blow), Marco Mendoza (Thin Lizzy/Whitesnake) and newcomer to the band, John Tempesta (The Cult/Rob Zombie).
"I'm really excited about the release of The Dead Daisies debut album in Australia. We've been on tour in the US and UK over the last 6 months and can't wait to play shows at home all through February. The Dead Daisies will be rocking around Australia…hope to see you there….cheers Jon" – Jon Stevens
"I'm really looking forward to playing shows with The Dead Daisies next month in Australia. It's gonna be a blast to share the stage with such Incredible musicians! See ya there! – John Tempesta
Off the back of a whirlwind year which saw the group tour with Aerosmith, headline a stage across North America on the 25 date Rockstar Energy UPROAR Festival alongside Alice in Chains and Jane's Addiction, and play sell out shows throughout the UK & Israel, The Dead Daisies are set to play a series of dates across the country.
"The Dead Daisies played a hard-hitting set of its own, made all the more dramatic since Australian singer Jon Stevens, hopped around the stage "like a (expletive) kangaroo" because of a recently broken leg… but the group kept the crowd moving to debut album songs such as "Lock'N'Load" and "Miles in Front of Me," plus a cover of the Beatles' "Helter Skelter." – The Oakland Press (US)
"The Dead Daises bring you stylish classic rock melded with blues … There is nothing dead about this band."  – Yorkshire Evening Post (UK)
The bands live shows have left a huge impression wherever & whenever they perform with their critically acclaimed debut album receiving amazing reviews.
"Cannot give The Dead Daisies anything less than a perfect score … this is everything you could possibly want in a record." 10/10 – My Global Mind (UK)
"Loud ballsy catchy rock/pop played with real conviction." –  Babysue (US)
"Concocted weave of seventies-to-eighties blues and hard rock… a good knockabout album to pull down a round of suds." – Blabbermouth
"Chunky blues sound thicker than a 12oz steak and with just as much meat on it."  – The Black Flag (UK)
The Dead Daisies have continually been talked about in both American and British rock media including features in Rolling Stone & Classic Rock magazines and played on over 30 American rock stations, Planet & Classic Rock Radio, Kerrang Radio and Radio 2 in the UK as well as Alice Cooper and Nikki Six's popular globally syndicated radio programs.
The 12-track self-titled debut album features their UK hit single "Lock N' Load" feat. Slash, which was co-written by Slash and features the inimitable guitar playing of the legendary guitarist. The song came in at number 15 in UK Classic Rock magazines Top 100 songs of the Year, beating new releases from artists such as Black Sabbath and David Bowie. Their second single in Australia "Washington" looks to be a potential summer anthem and already can be heard on Triple M.
Along with the Australian dates and release of their debut album, The Dead Daises will also launch their new Official Fan Club. With plans for more releases and tours of Australia, Europe, USA and other territories', 2014 is already shaping up to be as big and as busy for The Dead Daises as 2013…
Don't miss The Dead Daises at one of the following venues:
AUSTRALIAN TOUR DATES:
Thurs   6/02/14           The Gov – Adelaide, SA        
Fri        7/02/14           The Old Mill – Hahndorf, SA
Sat       8/02/14           Annie's Lane DOTG – Clare, SA        
Sat       15/02/14         Rochford Wines DOTG – Yarra Valley, VIC  
Sun      16/02/14         Esplanade Hotel – Melbourne, VIC
Fri        21/02/14         Taronga Zoo – Sydney, NSW (with Jimmy Barnes)
Sat       22/02/14         Bateau Bay Hotel – Bateau Bay, NSW (with Jimmy Barnes)
Sun      23/02/14         Oxford Arts Factory – Sydney, NSW
Tues    25/02/14         Country Club Casino – Launceston, TAS

Wed    26/02/14         Wrestpoint Casino Showroom – Hobart, TAS                    
Fri        28/02/14         Mulwala Water Ski Club – Mulwala, NSW
Sat       1/03/14           Albury SS&A Club – Albury, NSW
RELEASE INFORMATION
TITLE: The Dead Daisies
ARTIST: The Dead Daisies
LABEL: Spitfire Music
Release Date:  7th February 2014
Genre: Rock
Visit The Dead Daisies online at:
www.facebook.com/TheDeadDaisies
https://twitter.com/TheDeadDaisies