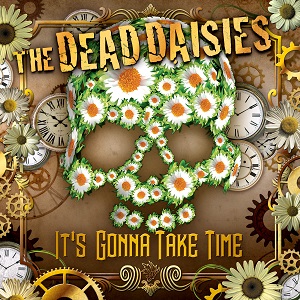 After the enormous success of their first single "Lock 'N' Load" feat. Slash which saw the band reach #1 status on Planet Rock Radio in the UK, their second single "Washington" which saw airplay on over 15 US rock radio stations and Triple M in Australia, The Dead Daisies are now set to release their third single "It's Gonna Take Time" on the 21st of January 2014.
About the song: "It's a personal view on the world we live in today. We're all running around on this planet consuming everything in our path. There are so many distractions, that the simple things in life, we don't seem to have time for anymore? Is it just me? Everyone seems to be in a rush nowadays. This song is about stopping for a minute and identifying what is really important in your life! Simple really, but hard to do in this day and age! I hope whoever hears this song, will leave all their other distractions at the door, turn up the volume and Rock Out!" – Jon Stevens

The Dead Daisies new single "It's Gonna Take Time" is an unrestrained and imposing track that showcases Stevens' faltering wail against relentless and crunching guitar riffs. With a thumping cadence that contributes to the rhythm as much as the melody, "It's Gonna Take Time" features a raw and unforgettable sound seemingly plucked directly from the Golden Era of 1970's classic rock.
Check out the single below! What do you think?!
The Dead Daisies will be releasing their self-titled début album 'The Dead Daisies' on the 7th February 2014 and will be touring Australia supporting it throughout February.
The Dead Daisies have continually been talked about in both American and British rock media including features in Rolling Stone & Classic Rock magazines and played on over 30 American rock stations, Planet & Classic Rock Radio, Kerrang Radio and Radio 2 in the UK as well as Alice Cooper and Nikki Six's popular globally syndicated radio programs.
Fans that would like to download "It's Gonna Take Time" immediately can do so as an Instant Gratification track when they pre-order The Dead Daisies self titled début album available on iTunes.
The line-up for the Australian dates will feature Jon Stevens (INXS/Noiseworks), David Lowy (Red Phoenix/Mink), Richard Fortus (Guns N' Roses/Psychedelic Furs), Dizzy Reed (Guns N' Roses/Hookers & Blow), Marco Mendoza (Thin Lizzy/Whitesnake) and newcomer to the band, John Tempesta (The Cult/Rob Zombie).
Don't miss The Dead Daises at one of the following venues:
AUSTRALIAN TOUR DATES:
Thurs 6/02/14 The Gov – Adelaide, SA
Fri 7/02/14 The Old Mill – Hahndorf, SA
Sat 8/02/14 Annie's Lane DOTG – Clare, SA
Sat 15/02/14 Rochford Wines DOTG – Yarra Valley, VIC
Sun 16/02/14 Esplanade Hotel – Melbourne, VIC
Fri 21/02/14 Taronga Zoo – Sydney, NSW (with Jimmy Barnes)
Sat 22/02/14 Bateau Bay Hotel – Bateau Bay, NSW (with Jimmy Barnes)
Sun 23/02/14 Oxford Arts Factory – Sydney, NSW
Tues 25/02/14 Country Club Showroom – Launceston, TAS
Wed 26/02/14 Wrest Point Showroom – Hobart, TAS
Fri 28/02/14 Mulwala Water Ski Club – Mulwala, NSW
Sat 1/03/14 Albury SS&A Club – Albury, NSW
RELEASE INFORMATION
SINGLE: "It Gonna Take Time"
ARTIST: The Dead Daisies

LABEL: Spitfire Music

Release Date: 21st January 2014
Genre: Rock

Territory: Australia/New Zealand
Format: Digital
Visit The Dead Daisies online at:
www.facebook.com/TheDeadDaisies
https://twitter.com/TheDeadDaisies