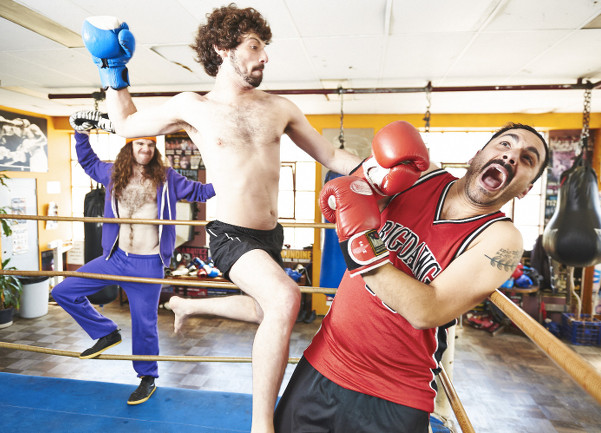 "…the first time we played Big Day Out was insane and this was before we did a tour, the show just went completely to pieces, the PA broke down, we couldn't hear each other on stage, our bass player busted his bass, he had to borrow a bass from this Japanese band playing after us."
From Bio: Consisting of Jake Stone, Stavros Yiannoukas, Jamie Cibej and James Hauptmann, Bluejuice are an aggressive mix of pop, rock, hip-hop, electro and disco. Bluejuice are truly in their element when they're making you dance in a free, unselfconscious way. The combination of drums, bass and keys and two harmonizing singers sounds unique, but it's the energy and humor with which the band approach their music that makes them stand out.
We had a chat to Stav about what the band has been up to, their upcoming Big Day Out shows, stand out moments, why there will be no more Bluejuice albums as well as what the future holds…
Thanks for your time, Stav, I guess for starters, where have you been?
We have been replacing our keyboard player last year; we put out a single called 'S.O.S' and we toured on the back of that. We've been seemingly having our song remixed by a million and one people, well, not a million and one people. But by Bliss & Esso and this guy Left Boy in Austria, that was kind of weird. Yeah, I don't know, living life…
You're representing Australia as part of the Big Day Out festival, what can people expect should they come and watch your set on the day?
Yeah! A lot of energy, camp costumes, and a fun show, they should expect a highlight of their day.
You're on early in the day, what's your preparation for a set when you've probably just woken up?
It's fine, we'll be up a little bit earlier, we've got to get up at the crack of dawn to get to the Gold Coast, and we have to get there a little bit earlier as we'll have interviews before, do the show and then we're actually conducting interviews after for Rdio.
The Big Day Out bill is pretty damn cool, have you checked it out and is there anyone you're excited to be sharing the tour with?
Yeah, I mean lots of bands I want to go and see Major Lazer, CSS and Snoop, I'd love to meet Snoop, that charismatic lad, and who knows? Some of the Aussie acts, the Rufus guys I haven't seen them play, I'd like to check that out. It's just a good tour to be part of, you never know who you're going to meet or run into backstage or at an after party.
Your new single 'S.O.S.' was released late last year, what was the inspiration behind it?
The song itself is a bit of a cry for help in some ways, Jake could give you more insight as it's his tune, but with the clip, the call for help and the 'Who you gonna call?' and we do a bit of a twist on the Ghostbusters thing and we go with busting douchebags instead of ghosts and that was kind of the vibe behind that. It was fun to shoot.
Are you working on more material and if so, when do you think we can expect to hear a new album?
So… no more albums, singles only club for Bluejuice, we're going into pre-production next week for two new tunes that we're going to hopefully put out later this year. I don't know when this year and I won't start making up months as it's just pointless, but there will be a couple more songs out this year.
Can we expect to maybe hear some newer stuff at the Big Day Out shows or maybe just the newest single?
We were thinking about doing some of the newer new stuff but I think we're going to work that out over the coming week. I mean, we're doing pre-production for the new stuff in the next week and we're also doing rehearsal for the show so it may pan out that we do one or two of the new ones and just give people new stuff to listen to. Either that or just a greatest hits or fan faves set…
With three albums under your belt so far, what has been the most notable evolution for the band personally?
You can go from per album there's been one song that's usually driven each album, obviously 'Vitriol' was a big change for us as we'd been a band six years prior and not much had happened, we'd had some songs on the radio and we got a few people to shows, but then 'Vitriol' completely changed that and especially landing so high in The Hottest 100 at eleven, so it probably felt like we came from nowhere for people, bit for us it was kind of a big deal. Then 'Broken Leg' obviously upped the stakes from that, number five on The Hottest 100, and just kind of solidified things and it just gave us the opportunity to be on festivals which is just kind of great for the band. So I guess it's the songs that drive that, I mean 'Act Your Age' was in there towards the end. You can definitely feel it pushing along when things are going well and media is wanting to talk to you, you're getting people at shows, you're getting festival offers, things like that. So with each of those three songs they have driven the pushing of the band, but the biggest one in some way is the first as you're completely experiencing something new.
I have to talk about 'Broken Leg', not only is it one of the best videos of the last five years but a song that just jumps in my head randomly at times, so thanks for that, but in terms of the song itself, are you sick of it yet?
Ahh not sick of playing it because people love it *laughs* it's really exciting to play songs people know, and I've named three of the biggest but at the same time lots of other singles that have been released from those albums and songs that have been played on Triple J, so these days the set is pretty full of tunes that people know really well, maybe not to the level of a 'Broken Leg' or 'Act Your Age' or a 'Vitriol', but at the same time there's still a good sing a long and them doing the bits we make them do. It's like a Wiggles show man, you've got to get the kids warmed up…
I'm not wearing a skivvy though man, it's going to be hot…
Ahhh but we're wearing skivvies *laughs*
In terms of moments for the band, has there been one that stands out above all the rest throughout your time together?
There's been amazing shows, the first time we played Splendour In The Grass was incredible, the first time we played Big Day Out was insane and this was before we did a tour, the show just went completely to pieces, the PA broke down, we couldn't hear each other on stage, our bass player busted his bass, he had to borrow a bass from this Japanese band playing after us. He borrowed this beautiful 1970's bass and he cut his fingers all over the strings and bled all over this super expensive bass and then had a really awkward conversation after where he was trying to be completely apologetic *laughs* and the guy didn't speak a lick of English so it was just really obtuse. Random stuff like that happened, you know what I mean? St Kilda festival on my birthday last year was just awesome and people were just going nuts, it was an insane show and it was kind of a goodbye gig to our keyboard player, so that was pretty big. I don't know… usually it's the shows that stand out rather than the things around it, but obviously there are things around it, like meeting Dizzee Rascal or learning to shoot dice with Girl Talk or big bands watching you from side of stage, or meeting the Manchester Orchestra guys at Splendour In The Grass, all sorts of weird shit happens…
2014 has just begun, so let's grab a crystal ball and predict the future. By the end of 2014, Bluejuice will…
In 2014 Bluejuice will… *pause* sorry this shouldn't actually be this hard *laughs* OK, by the end of 2014 Bluejuice will have put out a couple of new tunes, played The Big Day Out, done a support tour for a band that I won't name now, but it should be a really big gig, and potentially doing our own headline tour where we'll retrospectively look at all the bands work thus far. I've given you a bit of a boring list *laughs* I just should've been funny, I went for serious which is a bit boring…
Thanks for your time, Stav, see you in Sydney at The Big Day Out.
Sounds good!
Essential information
From: Sydney, Australia
Band members:  Jamie Cibej – 4 strings, Distortion Box, Synth Weirdness, James Hauptmann – Skin Basher, Calming Influence, Jake Stone – Screaming, Backing Harmony Screams, Physical Theatre, Stav – Verse, Hooks, and New Jack Swing
Latest Release: 'S.O.S' single
Website:  http://www.bluejuice.info/
Catch Bluejuice at the 2014 BIG DAY OUT

Sunday 19 January – Metricon Stadium & Carrara Parklands, Gold Coast
Friday 24 January – Flemington Racecourse, Melbourne
Sunday 26 January – Sydney Showgrounds
Friday 31 January – Bonython Park, Adelaide
Sunday 2 February –  Arena Joondalup, Perth