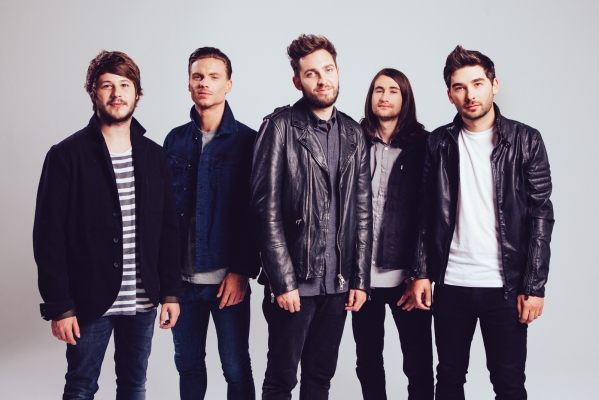 "I think the overall sound of the record is very positive and uplifting and carefree, so for us 'Cavalier Youth' and the meaning we take from that is kind of carefree youth so to speak, so I think it's just describes the sound and the songs perfectly, just nothing else matters really, just positive music…"
The last few months of 2013 were somewhat amazing for You Me At Six. They completed their first headline US tour, carried on to Europe where they joined up with 30 Seconds to Mars and then hit the UK with the band for arena shows. By the end of December they had played to over 250,000 people in the last few months alone. Also having just finishing up a run of shows with Paramore in Australia, and now they are about to release their long awaited fourth album 'Cavalier Youth' on the January 31st. So you could say its full steam ahead for You Me At Six with no signs of slowing down…
Just after landing in Perth for the final show of the Australian tour with Paramore, we caught up with Chris of You Me At Six to talk about the tour, and more importantly all about their forthcoming album 'Cavalier Youth' check it out…
You're currently in Australia on tour with Paramore, how have the shows been going?
Yeah it's been absolutely amazing, it's gone pretty quick, it's only been a ten day trip and every show has been awesome and it's been really great to see the crowds and everything like that, we were a bit anxious beforehand as we haven't been here for about two years, but everyone that liked us before is still there and more and it's fucking awesome.
I saw the show in Sydney and thought you guys delivered what could've been a headline set, what's your pre-show routine in preparing for a show?
Thank you very much man, it was a lot of fun. Well we all just hang around in the dressing room and get a sound check in when we can and the few hours before the gig and sound check we're normally just chilling out, having a few beers, as a guitar player I just like to sit and warm up my hands and play guitar for a little bit and then we all just do a little huddle, wish each other luck and get on stage.
Now, the new album 'Cavalier Youth' is due for release at the end of the month, I've heard it and love it, before it's released, here's your chance to give us a mini review, so as it's your fourth album, using only four words, can you sum up the album for us?
Four words… I'd say, one being NEW as in it's kind of a new direction for the band but still nothing too scary, two, I'd say UPLIFTING as I think the whole kind of sound of the record is uplifting and positive. What else can we use? EXCITING, I think there's a lot of exciting moments on there, and SINGALONG maybe, I think it's anthemic and there's loads of sing along bits, so yeah, I'll go with those.
So the title, what does it represent to you?
I think for all of us we had a pretty hard time coming up with a on this album, because on the last three albums we kind of had something in mind very early on, whereas with this we got to the end and thought shit, we haven't got a name and we were trying to think of something *laughs*. I think the overall sound of the record is very positive and uplifting and carefree, so for us 'Cavalier Youth' and the meaning we take from that is kind of carefree youth so to speak, so I think it's just describes the sound and the songs perfectly, just nothing else matters really, just positive music and had a great time writing it, so yeah.
Describe the feeling you get around album release time, is it one of nerves, excitement, both?
Yeah I mean there's a lot of different emotions going on, I mean for me I've never felt too pressured about releasing music because for me as a songwriter and a guitar player, I always make sure before anything is recorded I feel kind of I've done everything I can to make the best record possible. A lot of the other guys have a lot of nervousness and pressure as to what people think of it, especially on this CD I'm just really excited for people to hear it, I have no doubt that they'll like it, and I just really want to get it out there and start playing more of it live.
I HAVE to talk about the song 'Carpe Diem' wow, just wow, tell us a little bit about that one and how that came about if you can please…
That's one of the poppier songs on the album, I think that when you really listen to that song you can just imagine us having a great time in America, and just in the sun and everyone totally happy as a unit, everyone getting on really well and nothing negative about anything at the moment, everything is great and going in the right direction. I think that song is definitely one of the happier songs on the album and I think you can really tell the headspace we were in when we wrote that. That song came together really quickly, we wrote that song in about fifteen minutes to be honest, but it was just one of those ones like we just started jamming and it just sort of happened, so it was really cool.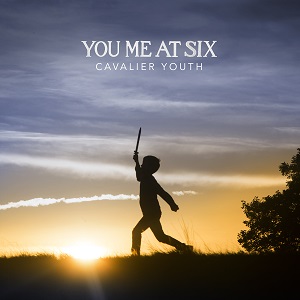 What did working with Neal Avron allow you to do that you weren't able to do on your previous albums?
I think Neal was just a really, really good pairing for us, he's obviously done loads and loads of bands that we've looked up to in the past and we've loved all his previous work, so we were really interested to meet him and when we did meet him we kind of just clicked instantly. For the album we'd been talking to a few producers here and there and everywhere and just seeing what people's thoughts were on the demos that we had and who we got a long with and people like that, and when we met Neal, before the meeting was even half over we all knew that he was the guy we wanted to go with, and he just brought a very positive force to the recording process, he was very tough on us and he was very straight ahead, he wasn't scared to say 'This isn't good enough' or 'why don't you try this and that?' for us he was really good and nice for us to have someone finding flaws and causing us to be better instead of some producers that we've had in the past or people we've worked with that were like 'oh it's great' and we were like 'oh… ok then if you say it's good then we believe it's good'. With him he would really push you that extra mile to make it amazing you know.
In the three years since 'Sinners Never Sleep' what has been the main source of inspiration to create these new songs?
For us it's just been a very natural process, the whole inspiration behind it is obviously we needed to get some new material out and we'd been working on stuff for ages, and I think the difference between this album and the last ones, is that the first three albums we released our first CD and it kind of blew up and everyone was stoked and our career started going in the right direction so to speak, from then on it was like rushing to get out album after album because there's only probably a year between albums so it was all very constant and hardworking, whereas for 'Cavalier Youth' we had a lot longer to write it and instead of going into rehearsal space and going into writing mode for a few weeks, this time we just had a way more relaxed kind of fun atmosphere about doing it, so we went away to a little studio in the middle of nowhere for a week and just kind of write and if we got songs we got songs and if we didn't we didn't  it's kind of back to the roots of being in a band, just having a laugh with your friends and seeing what comes out. So we did that a few times, and yeah, just a more laid back positive way of recording rather than stressed out worrying that we didn't have the songs, oh if we didn't have the songs yet we've still got time. We came up with about thirty five or forty songs for the album, so in the time we were writing we definitely got to pick and make the best album we possibly could.
Well that means with plenty of single choices we'll see plenty of B-Sides?
Yeah there's a few that are going to be coming out, yeah.
As a band for ten years this year, what do you see as the biggest evolution that has taken place within the band over the last decade?
I think we've all just gotten a lot better as songwriters and kind of evolved into young adults, I think we're just a really well rounded down to Earth bunch of people and it's very easy for a band when they start to get their break or becoming bigger just to become a bunch of dickheads and I don't think we have at all, we're still the same people we were when we started when we were sixteen you know, and it's really nice to see that everything is still the same and we haven't evolved into this crazy machine, we're still just playing music for fun and if people like it, they like it. Everything is just us, we don't try and hide our personalities or anything like that from the media or online, everything we post on our YouTube or a Twitter is 100% genuine, we're not scared to even our tour videos when we can't sleep we put up on YouTube, we're not trying to be anything we're just a bunch of lads having fun and we're not scared of making fools of ourselves on the internet. *laughs*
I'm partial to a big power ballad and with 'Crash' on the last album and now with 'Wild Ones' on the new album, were you ever into the big 80's ballads?
Yeah I think for us, I've always loved slow songs and ballads, I think having space in a song is really, really nice, and I think slow songs is something we're really good at and it's been an accidental thing that we've just gotten in to really. We've had one or two slow songs on every album so far and they always end up being some of my favourites to be honest, just to have that time to write something pretty and nice and spacey with the guitar, I love doing stuff like that and I think we're really good at it. Taking influence from bands like Incubus or Jimmy Eat World and bands like that, and I'm really happy with 'Wild Ones', that was definitely one of my favourite ones on the CD and the one we've had for the longest you know.
On paper it looks like the band had your biggest year ever in 2013, was there a moment that stood out for you as the best?
I think kind of what we've always said over the last year that the pinnacle for us was doing our headline show at Wembley Arena in London at the end of last year and I mean Wembley is an awesome venue and we've supported bands there before but to be able to headline a venue so prestigious and that big as well just to be the main band was just an awesome thing. I think also a way to sign off from the last CD and putting on this amazing show and giving stuff back to the fans for being with us the whole way, like for that show we didn't make a single penny off it, every single bit of money being made from the show went back into the show, we wanted to make it an event and just be really like a spectacle and I think we did that, so that's probably our highest moment in the last year or two.
Touring wise with the album about to drop are you heading straight out on tour?
We get home from Australia and we've got three days off I think and we're going on an instore run and doing signings and playing in HMV's and shops and things like that, then straight after that we're heading out to Europe and then the UK and then everywhere after that really… we're going to be on tour nonstop for the next year and a half, but we're ready and raring to go.
What are the chances of another run back to Australia do you think?
We were actually talking about it the other day and we really want to try and get back over in September this year maybe for a headline run or something, but we're not too sure yet, and that's going to be sort of the aim and if that falls through we'll probably be back next year for Soundwave or something like that I'd imagine, but we'd love to get back out here, we always love touring here, it's great.
Lastly, 2014 has just begun, so let's predict the future, so I need you to finish this sentence for us, in 2014, You Me At Six will…
Take over the word… there you go *laughs*
Essential information
From: Surrey, England
Band members:  Josh Franceschi – lead vocals, Max Helyer – rhythm guitar, backing vocals, Chris Miller – lead guitar, Matt Barnes – bass guitar, Dan Flint – drums, percussion, sampling
Forthcoming Release: Cavalier Youth (Cooking Vinyl) January 31, 2014
Website:  http://www.youmeatsix.co.uk