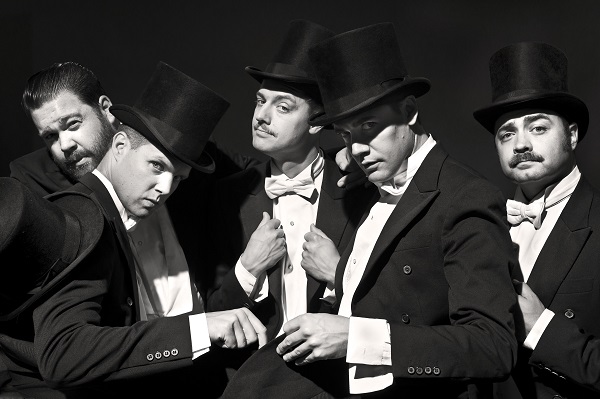 "A Hives show is always different from any other Hives show, it's always worth checking out as if you've seen us before, you haven't seen this one, so we're coming back, in full speed and very ready to convince even more Australians that they should love The Hives forever and ever…"
Back in 2002 The Hives told us all that they were 'Your New Favourite Band' and many agree, over the last twenty years The Hives have delivered their amazing energetic blend of rock and roll. With a live show that leaves many in awe, they continue to kick ass and take names and with a cockiness that is second to none while doing it. You know what, if they already aren't then listen again and just maybe they will very soon be your new favourite band…
At home in Sweden, we chatted to Chris Dangerous in some down time before heading to Australia for the Big Day Ou and their plans for it as well as the bands love of Australia and talk of new music as well as his prediction for 2014…
You're heading back to Australia as part of the Big Day Out festival, what can people expect this time around should they come and watch your set on the day?
A Hives show is always different from any other Hives show, it's always worth checking out as if you've seen us before, you haven't seen this one, so we're coming back, in full speed and very ready to convince even more Australians that they should love The Hives forever and ever.
Let's sum it up, give us one word that describes your live show?
Energy.
Now you will be here in Summer and it'll be ridiculously hot, how do you go playing in the suits when it's so warm?
Not sure that hasn't been able to stop us before but hey if it's hot it's hot that just comes with the job *laughs*we're still going to play, so the suits will stay on and that's what we love and we're just going to have to try and drink lots of water.
You've been to Australia more than a few times now and it's becoming a regular occurrence, how would you compare the Aussie audiences to those around the world?
I mean we love the Australian audience, ever since we came the first time it felt like they really liked what we did and we liked playing to them, so we have great audiences all over the world, but Australia is a special place, as we come from Sweden and the shows are starting to grow, and everything around it, we love Australia and we're discovering new things about it, we love the place, people might see that.
Do you have a great memory of a previous tour you can share with us?
We like coming back, like I said, we love everything about it and the shows are great. The one thing I remember was probably the first time we played, we played a show back in 2000 we went to a beach and took our surfboards every morning and had a surf on almost a private beach. It was great compared to icy cold Sweden. *laughs*
No last minute side shows being scheduled?
Not really, no… I wouldn't be allowed to tell you anyway *laughs*
'Lex Hives' has been out for a little while now, and there is always somewhat of a break between albums for you guys, but have you started working on new music?
Yeah, after Christmas we started working on stuff, but then we're off to Australia, so after we get back that's when we'll start working more on it. It needs to be 100% of what we're doing, if we're touring, we're touring, we don't write and make a new record, that's what we do. So we have a break in between. We toured the entire planet, everyone wants you, we play a lot *laughs* so when we stop that's when we try and make a new record. We want everything to be 100%.
The album was your first step out doing it all yourself, how was that experience and is this something you feel you'll continue doing?
I don't know… it was much of a relief at the time, yes there are a lot of people I want to work with, but it just felt like the right thing to do at the time. We've always been very much involved with the producers anyway, but we wanted to make 'Lex Hives' the most Hives sounding album we've ever done, so the next one, we never try to do anything the way we've ever done it before, so I don't think it's going to be done that way, I don't know…
What do you see as the biggest change that has taken place with the band now compared to your beginnings in 1993?
I would say the knowledge, the knowledge about everything, just about how you record things, what happens if you do that, what happens if you do this, and about the industry as a whole. In the beginning we didn't know shit, you learned by the day, you learned the system, you grow into the person you are and that's a big difference.
What do you still enjoy about playing in this band after over twenty years together?
It's still the most fun thing we know, we love playing shows and love making new fans, on stage is our favourite place to be, when we're on stage it's like you're meant to do it, and the feeling you have when you put that final touch to a record and send it off to be pressed, that's also very pleasing too. It's hard, but it's a reward when you have a record you're happy with and you play shows that you're happy with, it's a rush and a high. We always try to be better than last night, it's just what we love doing.
I do have to ask, have you ever said 'Hate To Say I Told You So' to someone and actually meant it?
Yeah loads of times *laughs* and of course when you do it, it always makes you smile.
This may be hard to do, but was there a moment in 2013 that stands out above the rest as the best of the year?
Yeah, absolutely, and that was the birth of my first child that came in late 2013 *laughs* nothing to do with this band. *laughs*
On the flip side of that, 2014 has just begun, so let's grab a crystal ball and predict the future. By the end of 2014, The Hives will…
Have come a very long way with their new record and will be very happy with the fact that it feels like the best one ever.
Well we look forward to seeing you at the Big Day Out, I haven't see The Hives before so I'm looking forward to checking you guys out…
Oh, that's going to be fun for you, I wish I could be you if you've never seen us before. *laughs*
Essential information
From:    Sweden
Band members:  Howlin' Pelle Almqvist – Vocals, Nicholaus Arson – Guitar, Vigilante Carlstroem – Guitar, Dr. Matt Destruction – Bass, Chris Dangerous – Drums
Latest Release: Lex Hives – Out Now
Website:  http://www.thehivesbroadcastingservice.com
Catch The Hives at the 2014 BIG DAY OUT

Sunday 19 January – Metricon Stadium & Carrara Parklands, Gold Coast
Friday 24 January – Flemington Racecourse, Melbourne
Sunday 26 January – Sydney Showgrounds
Friday 31 January – Bonython Park, Adelaide
Sunday 2 February – Claremont Showgrounds, Perth
And just announced, The Hives BDO sideshow
Tuesday 21 January – MELBOURNE, 170 RUSSELL (18+)
Tickets available from www.oztix.com.au
and the Corner  Hotel Box Office 1300 724 867
On Sale Tuesday 14th January