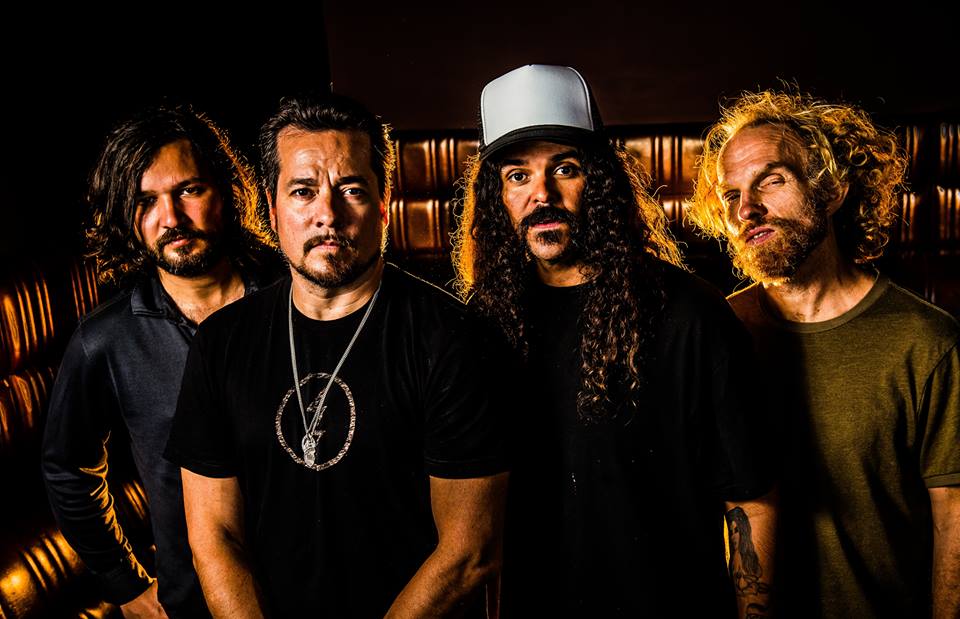 "…even being in this age of information it's very difficult to change the name, to rebrand as they would say I guess, it's very difficult to do that. As much as we sometimes would not like to believe there's not a lot of weight in a name, for a lot of people there is."
When Kyuss Lives! were forced to change their name by a federal court judge in August of last year, there was only one option for a replacement – Vista Chino.  Vista Chino is the main arterial road leading to and through the band's home of Palm Springs, California, where Kyuss originated over 25 years ago. Drummer and producer Brant Bjork suggested it to long-time cohort, vocalist John Garcia, who immediately understood that the moniker represented the ultimate personification of their roots.  The road from Kyuss Lives! to the recording and release of Vista Chino's triumphant new album, Peace, has been a journey to hell and back for the reunified group featuring original members Bjork and Garcia alongside adopted Belgian-born guitarist Bruno Fevery. The resulting album is one that is sure to satisfy even the most diehard fan. Peace remains true to the groove-laden desert sound and indelible spirit that has made Kyuss one of the most revered heavy rock bands of the past two decades.
At home in Venice, California we chatted to Brant from Vista Chino about their upcoming Big Day Out performances as well as the rebranding of the band from Kyuss Lives! to Vista Chino, as well as their message and predictions for the year…
You're heading to Australia as part of the Big Day Out festival, what can people expect should they come and watch your set on the day?
Oh well you know, *laughs* I always find myself struggling to answer that question, but we're gonna rock, we're just gonna do what we do, we're gonna rock and we're going to be playing a lot of material off of the new record of course, but we're going to just do what we've always done and just bring the rock.
You've been to Australia previously including last year with Kyuss Lives! Do you have a great memory of a previous tour you can share with us?
Oh I'll tell you man, and I'm not just saying this, and I've been down to Australia a few times over the years, and every experience I've had has been wonderful, it's one of my favourite places to play, being from Southern California I feel that I just have a connection and understanding with Australia and it's always positive man, it's always a good time, so I'm looking forward to it.
Your debut album 'Peace' was released late last year, when creating it did you have a clear vision for how you wanted it to sound, or did it evolve into what it became?
Well like any record I've done in the past, and I've done more than a few… you always have an idea of what you want to accomplish and you always have somewhat of a destination you want to arrive at, and then you get in the studio and you just kind of roll with it and what you come up with is what you come up with and that's part of the beauty and the magic and fun of making records. I had a tight and simultaneously loose agenda for the VC record as producer and for me they're making records over the years I've just learned to kind of say 'alright you can do whatever you want but you can only do it in this particular place' *laughs* and that particular place for me was more of a celebration in going into the roots of the music that originally inspired us. Rock music of course, jazz, blues, really going deeper into those things, where it might have been Sabbath when we were kids, this time we're going for more along the lines of Cream or The Yardbirds or if it were jazz getting into more those Thelonious Monk elements. We love Hendrix but we're going back deeper into the roots of the things that we love you know.
With the rebranding and regrouping as Vista Chino, what did you see as the biggest challenge in doing that?
The biggest challenge was, even being in this age of information it's very difficult to change the name, to rebrand as they would say I guess, it's very difficult to do that. As much as we sometimes would not like to believe there's not a lot of weight in a name, for a lot of people there is. I'll tell you something, man, the name change was fascinating for me, I learned a lot through it and I learned how people react to names, and that's a whole other conversation, but to answer your question I think it's just that a lot of people don't know, don't know that the band changed the name and one of the beautiful continual things that I experienced this year was like playing to a crowd, having a great show and having one or two people come up and saying 'fuck man, what a fuckin fantastic show, it was awesome, and I've gotta be honest, I showed up tonight because I thought you guys were going to be a rad hip hop band, I had no idea it was Kyuss, fuck!' and I've heard that more than a few times, but it was a real testament to all the fans that did come out and see the shows  and it showed you how loyal those fans are and how in touch with the situation to be able to understand that a band changes their name and still participate, that was the positive element to that for sure.
So I guess it's somewhat more of a re-education that anything?
Yeah, it really is, there's two perspectives on it, there's one of a creative entity and there's one of like I always say, it's the music business, there's the musical element to the name and the business element, and that's the beef right there, that's there's just conflict in the business element you know. Yeah, it makes it very difficult to go out and do business when you change your name, people just don't know, you know?
With everything that went on was there ever a time when you thought you should quit or was there never a doubt and you'd always keep going?
No man, I never thought I would quit, music is my passion, it's my love and nobody gets to decide if I play music or not. I never thought of quitting ever, it's just was having to go through that conflict and experience was just an element of us accepting the challenge and taking the path less travelled of putting the band back together, and I'll be quite honest, I'll be honest in saying I knew there most probably going to be a beef with that, but I didn't want to shy away from something that I thought would be an awesome adventure and look back in twenty years and think 'oh fuck I didn't do that' because I feared that some other outside sources were going to give me a hard time, I can't live with that shit man. You go forward, you accept the challenge, you walk the path and then you deal with the consequences you know?
So do you in fact play any of the Kyuss songs live or do you shy away from those?
Well you can play any music live, I mean, we can come down there and play sixty minutes of Jimi Hendrix songs if we want to… you can do whatever you want live, and we do, we do celebrate a handful of the Kyuss songs, to us it's all the same adventure and we're not in denial of the fact that that's where we were born in terms of being recognised in the rock world was in Kyuss, and of course that's the origin was all about. We know that the fans enjoy the songs and come out to see them live, especially the younger generation, but we simultaneously and honestly are more excited to get into the newer material that we made, and that's what we're doing, we're loading the set up with the new material and really expanding and dragging into that, so it's kind of two things happening at once, you know?
Is there a message you want to get out with the band?
I mean a message, I think the message for me is always one of like, I don't know what the specific message will be, I think for me it's always been the same for me when I was a kid making music, which is to evoke that feeling in the listener that I got when I was younger and still get today, which is one of inspiration of a liberating vibe. I want the listener to have the different experience of seeing the band perform or the experience of listening to the record and feel a sense of freedom, to feel liberated, to feel a new sense of like the courage to do whatever it is they need or want to do, you know. That to me is what it's about.
So, maybe somewhat of an escape?
Maybe it's an escape, maybe it's a fantasy but maybe it's a reality too, it depends…
2014 has just begun, so let's predict the future. By the end of 2014, Vista Chino will…
*laughs* By the end of 2014 Vista Chino will be preparing for 2015 *laughs*
Essential information
From: Los Angeles, California, USA
Band members:  John Garcia – lead vocals, Bruno Fevery – guitar, Brant Bjork – drums, Mike Dean – bass
Latest Release: Peace – Out Now (3Wise records)
Website:  http://www.vistachinomusic.com
Catch Vista Chino at the 2014 BIG DAY OUT

Sunday 19 January – Metricon Stadium & Carrara Parklands, Gold Coast
Friday 24 January – Flemington Racecourse, Melbourne
Sunday 26 January – Sydney Showgrounds
Friday 31 January – Bonython Park, Adelaide
Sunday 2 February – Claremont Showgrounds, Perth
VISTA CHINO Big Day Out 2014 Sideshows
+ special guests
WEDNESDAY JANUARY 22 – MELBOURNE, 170 RUSSELL (18+)
www.oztix.com.au and the Corner Hotel Box Office 1300 724 867
TUESDAY JANUARY 28 – SYDNEY, THE METRO (Lic/AA)
www.ticketek.com.au