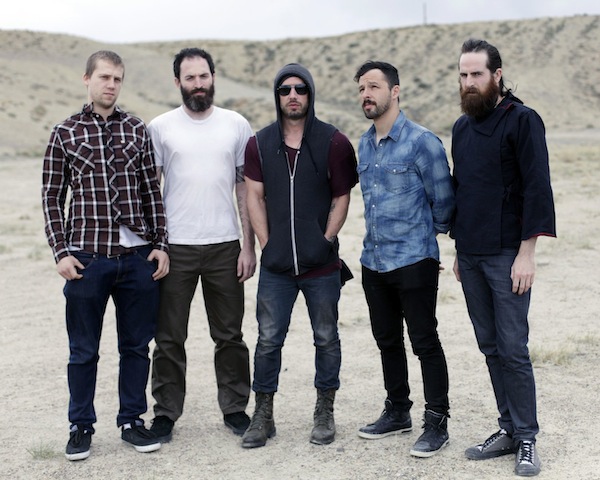 "…we love Australia and we love coming and playing in Australia and I think particularly because it's so far away, it's a whole other world, it's completely different environment yet culturally it's so comfortable and it feels so much like home."
From Bio:  The Dillinger Escape Plan's creative energy and unwavering artistic commitment has reverberated through underground subculture and in tastemaker circles alike for over a decade. 'One of Us is the Killer' is the band's defining work, conjuring the mindboggling chemical combinations found within their earliest works of mathematical bombast while pushing forward into dense, atmospheric radicalism.
Ben from the band filled us in on all things Dillinger Escape Plan and their upcoming Soundwave shows as well as a couple of great memories from the past and what we can expect in the future…
You're heading back to Australia as part of the massive Soundwave festival, set wise on this run, what can people expect should they come and watch you on the day?
Well… that's the hardest question I ever get. How do you sell yourself? We play a lot we've been touring for many, many years, I think the question more is what should we expect from you guys? It's just another day in the office for us, that's what we do, we rock, we play shows *laughs* we always just give 110%, but the environment is always what changes it, now us, it's the environment we're playing in, so I'm more curious to know what we should expect… *laughs*
Well the Australian audiences, so, what if anything do our audiences give you that you don't see elsewhere?
Well, we love Australia and we love coming and playing in Australia and I think particularly because it's so far away, it's a whole other world, it's completely different environment yet culturally it's so comfortable and it feels so much like home. So it's really interesting to be in such a different geographic area and be around so many interesting things yet feel so close with the music fan and the scene, it just feels like home, so it's the best of both worlds for us.
You've played the festival before back in 2009 and 2012, do you have a memory of the tour that you can share with us?
A great memory, let's see…  that was the year Limp Bizkit played, Limp Bizkit and System of a Down? We had played with and toured all of Europe with System of a Down in 2002 and that was right when that record Toxicity came out and they were pretty much like the biggest band in the world, and it was really interesting because we were still a really new band and our music catalogue wasn't very diverse and was all pretty much completely spastic, experimental metal and we were playing in front of thousands and thousands of mainstream music listeners who were really confused by us, but it was a really great experience. It was really great to get to know the System of a Down guys and play every night and watching them as they became a huge, massive band right in front of our eyes. Then they broke up a few years later and then they reunite and play Soundwave and we got to play the sidewave shows with them, and obviously watch them at the Soundwave shows as well, so getting to see them again and see them reunite in front of their fans after touring with them in 2002 was really amazing.
I have seen you live before in a small club here in Sydney and the energy and intensity was just unbelievable. How do you prepare for a show to give off that to those there to see you?
You can't really prepare for it, I mean for me in particular I just need to be alone and quiet before I play, I can't have too much going on because I get super nervous, but at the same time it's the nervous energy that I think has turned into the stage show. That energy just really comes from nerves, honestly and you can do one of two things, you can just turn it inward and hide behind the drums and play and not look at anyone, or you can just throw it outward and attack *laughs* you know what I mean? It's just the way you deal with that sort of things, and for me it's just always every single time I go on stage I get so nervous that I don't even think I can play, and then there's only one choice which is to turn it on.
From the man who's been there from the start and seen it all, what do you see as being the most notable change that has taken place within the band since its inception?
Expectations from others, because when we started there was no expectations, we had no fans, we had no intention of doing this for a living, we didn't think it was possible, we didn't think anyone would ever like it, so we were just making music for us, so the hardest thing throughout our career has been trying to maintain that attitude and ethic that we're really just trying to make a record that we like, so we hope we've done that and we've tried to do that and in doing that we stay true to our true fans who really appreciated what we were doing back when we first started. I guess the biggest change is that there are people who like our band now and expect certain things from us and have expectations of what we should sound like and what we've done in the past, so that's kind of the difference from when we first started.
With your newest album released last year to huge critical praise, in the three years since Option Paralysis, was there specific inspiration or a catalyst that allowed the album to be made?
I don't think so, really the only inspiration that we have besides our relationships or our environment, or our access to gear we have around us that inspires certain ideas, mostly the inspiration is that we tour a lot, we're a touring band, so after putting out a record and then touring the entire world on it for two years *laughs* you just get to a point that you're bursting with creative energy. You've been playing old songs for so long, you're spending a lot of time doing nothing other than just waiting to play that show, and you just want to get back into the game, you just feel like you have so much you have that you need to get out at a certain point then just the dichotomy of being on the road and expressing yourself to an audience, and then being really excited after a lot of shows to go back and create something new.
This may be hard to do, but was there a moment in 2013 that stands out above the rest as the best of the year?
Good question, well, we haven't really finished pushing this record yet, we haven't been to Australia yet on this record so obviously that's going to be a big one for us, so that's going to be a big one for us, but as far as 2013 goes, one of the things that was really interesting to us was that when we put out our record in North America it charted really high and it sold the most amount of records in one week that we've ever sold in our whole career here. That was a huge surprise to us as we've been around a long time *laughs* and the industry has changed a lot, and the reason why we did so well is because our core fans pre ordered our record, they bought it before it even came out, and we're really proud of that you know because it shows that our fans are fans that want to buy our record, they want to have the thing, you know, they may download it but they really support us, they want us to keep being a band and they feel out of all the records that they might have as MP3's there's only a few physical copies they want to have for their collection, knowing we're one of those bands means a lot to us.
On the flip side of that, 2014 has just begun, so let's grab a crystal ball and predict the future. By the end of 2014, The Dillinger Escape Plan will…
have changed the face of fartistry… we will actually become the first band that collectively will be considered true fartists *laughs* It's something we keep to ourselves, but we are kind of the best at that, that's the one thing we do well…
Essential information
From: Morris Plains, NJ, USA
Band members: Greg Puciato – vocals, Ben Weinman – guitars, Liam Wilson – Bass, Billy Rymer – drums, percussion, James Love – Guitar
Latest Release: One Of Us Is The Killer – Out Now (Remote Control)
Website:  www.dillingerescapeplan.org
Catch The Dillinger Escape Plan at SOUNDWAVE FESTIVAL 2014 
SATURDAY 22 FEBRUARY – BRISBANE, RNA SHOWGROUNDS
SUNDAY 23 FEBRUARY – SYDNEY, OLYMPIC PARK
FRIDAY 28 FEBRUARY – MELBOURNE, FLEMINGTON RACECOURSE
SATURDAY 1 MARCH – ADELAIDE, BONYTHON PARK
MONDAY 3 MARCH – PERTH, CLAREMONT SHOWGROUNDS