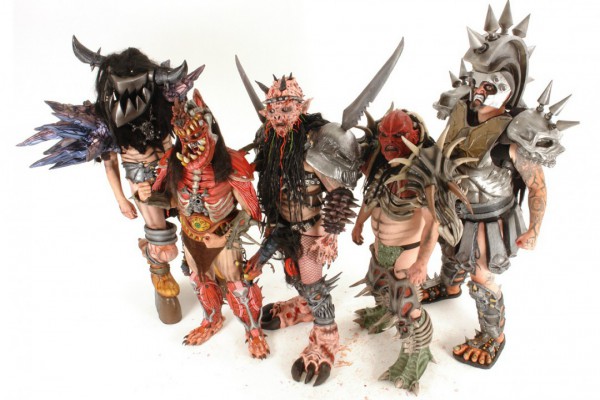 "All I want to say is great job keeping the pressure on Australia, one run through your country was not enough, we've only begun to infect your minds, and Gwar is returning for the next Soundwave festival, get ready for the biggest show in rock and roll history, get ready for GWAR!"
From Bio: 2013 is a packed year for the Scumdog's as they continue to honor the legacy of Flattus Maximus with the release this fall of their first album featuring new Scumdog Pustulus Maximus! But that's just the beginning as GWAR unleashes a bunch of awesome summer shows (including gigs with Alice Cooper and of course the 4th annual GWAR-B-Q), their new GWAR-B-Q sauce, their own beer (Impaled Ale) and finally a brand-new show that will begin a world-wide tour this fall. HAIL FLATTUS!
We had the honour of speaking with Oderus Urungus of Gwar about the band's return to Australia for Soundwave, their new album 'Battle Maximus' and a heap of other stuff you'd more than likely never hear from any other band… trust us…
You're heading back to Australia as part of the massive Soundwave festival, I'll leave this to you, tell us what people can expect should they come and watch your set?
Well you can expect a bunch of marooned hideous chaos creatures from outer space that have been trapped on this planet and have decided that the only way they can express themselves is through heavy Metal music and we put on the sickest show in rock and roll, if anyone caught us when we were in Australia a couple of years ago and saw us, it was the stuff of legends, and now the people of Australia have demanded that we return.
I had a friend who saw you on that tour and she wanted to know if you were planning on bringing massive weapons of destruction to Australia and spray alien spunk out of your enormous guns and wear large flaccid penises?
Yes, that is exactly what we plan to be doing and it's going to be absolutely wonderful. We've been looking forward to getting back to Australia ever since we fucking left there last time, We're going to have some new surprises for you and maybe a bit of a longer set this time, so we can't wait to get down there in the Soundwave festival.
Do you have a great memory of that last tour here?
Oh yeah, it was great, lots of great shows, huge shows, gigantic shows, long distances between shows, I remember flying a lot, definitely not like America where you just get on the road and drive for a few hours and you're at the next shithole city to play another gig. They seem to do it up pretty big down there and we can't wait to get back.
Have you ever had trouble getting through customs?
No, they realise what's in store for them, they invited us there hell they're paying us money to be there, so fuck it, they're not going to do all that and say fuck Gwar you can't come into the country. For some reason the authorities of Australia are excited and stoked to have us over there again. Shit we've been there once and they invited us back, so they must be looking forward to it.
Did you get a chance to encounter our own alien beings, such as koalas and kangaroos and our weird ass animals?
Oh yeah, I was out into the bush every night after our gigs, humping, mating, capturing, eating, devouring, I might have created some new creatures actually that might me terrorizing your landscape. Let's see… I visited some Aboriginal people, they were pretty drunk and violent I noticed. Lots of fun down in Australia, lots of weird creatures, giant crocodiles those are pretty cool. We can go and hang out with animals there and wrestle them and have a good old time.
Battle Maximus has been out for a little while now; you've mentioned it is a tribute to Flattus, how hard was this album to make for the band?
Well it was kind of tough at first and we knew had to do it, so we had a Battle Maximus, all the Maximus members came together and they fought each other, made war on each other for the right to represent Gwar to fill that insurmountable void that Flattus had left. When then fighting was over, the mighty Pustulus had won the day and following his lead, he wrote immediately the song 'Madness at the Core of Time' which is the first single off the record, it just stampeded out the gates and just crushed everything, but we rallied behind him and wrote an album that I think Flattus would be proud of us for writing, and that's for others for decided, but we made it through it, people seem to be digging the record, and we only hope that Flattus up there in Metal Land or wherever the hell in the cosmos he ended up that he looks down upon us and smiles.
How has Pustulus settled in?
Oh yeah he's kicking ass, whereas Flattus was our gentle giant, Pustulus is just full of piss and vinegar, he's just a nasty violent, horrific creature charging about the stage and breaking stuff constantly, running into monsters, head butting them and he's not afraid to get involved in the physical confrontation with the creatures that routinely attack us during our shows so he's definitely fit right in and is probably the rowdiest guitar player that we've ever had.
Was there a time when you thought you may not continue as a band without Flattus?
No, not at all, we had to carry on, if anything it was an opportunity for us to show everyone our natural superiority yet again, that despite being dealt the bitterest of cards, we still find a way to prevail, so is the strength and power of Gwar defeating even death itself.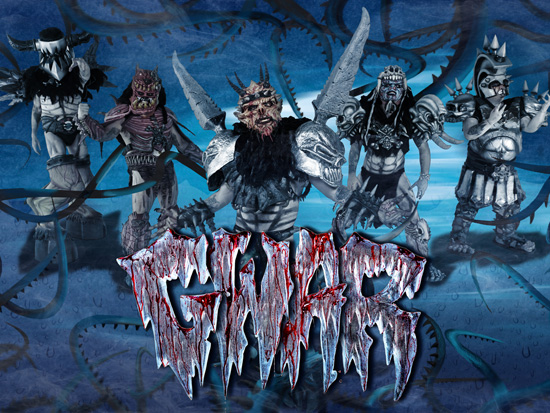 OK, can you give us the story and inspiration behind the album and songs on Battle Maximus?
Well it kind of tells the story of the creature Mr Perfect who comes from the future, basically what happens is in the future there's a cataclysm and the human race is wiped out except for those that can afford to live in their air conditioned bunkers, and some return to the Earth's surface and repopulate the surface world and meanwhile down below, the Perfect's are eating stem cells and growing replacement organs etcetera, etcetera and they return to the surface world and take the normal humans down below to study them as slaves. Kind of a take on what's going to happen with health care in this world in the future basically, the people that have money are going to get the replacement organs and going to get the health care, they're going to get the stem cells and the latest medical technology and the rest of you will just be left to slave in factories and mines. Anyway, Mr Perfect he thinks he's got his shit together and the only think he lacks is the power of immortality so he has to actually travel through time to steal this power from Gwar, and that my friend is the nexus of the conflict!
At almost thirty years in Gwar, what's been your highlight of being in the band?
Let's see… coming to Australia, that was a big one, I have to say that. Losing the Grammy awards twice, that was big… let's see, right now there's a petition to get us to play the Superbowl, that's fun, I mean there's always weird stuff happening, right now at the AV club which is some stupid ass website here in the United States, we've actually covered a Billy Ocean song and actually made it into a good one, so I'm pretty proud of that accomplishment.
What song?
*laughs* 'Get Out Of My Dreams, Get Into My Car'… we mashed it together with 'Baba O'Reilly' and made a musical stew that actually is quite yummy. I guess the biggest thing I'm proud of is the fact that after all these years, all this horror, terror and depravity that fuck it, we're still here.
I have to ask, are people scared of you?
No, I wouldn't say they're scared of us, they're intrigued by us, a lot of people think we're not really monsters and we're just a bunch of stupid artists that are dressed up like monsters, and then the joke's on them when they get shoved through the meat grinder… no, the government, they might be a concern, but since we seem to be distracted by our drug addiction, we haven't taken over the planet yet. We like to bathe in the helpless adulation of our audiences, so even though we are all about destroying the human race, if we killed everyone there'd be no one left to applaud for us, so it's a confusing mess… but scared, no… we're just like a bunch of big pussycats or puppy dogs, big furry monsters from outer space that are gonna rip your fucking lungs out.
What do you do on your days off?
Peruse the local wildlife, drink profusely, break into banks, loot museums, have sex with porn stars, stare at the walls, get lobotomies, all kind of stuff… play pinball, I mean there are so many guys in the band and we all have so many interests. Sometimes I'll just lay around all day and shit myself and use it as skin cream. It's like a mud bath but much stinkier…
What does 2014 have in store for the band?
2014, well the first thing we'll be doing is heading over to Australia for the Soundwave festival, then after that probably back to Europe, god knows after that, probably back to the States for some more. It's going to be a year spent with relentless touring in support of our new album. Then I'm sure there will be a million insane side projects floating around on the side.
Do you have a message that you want to send to your Australian fans?
All I want to say is great job keeping the pressure on Australia, one run through your country was not enough, we've only begun to infect your minds, and Gwar is returning for the next Soundwave festival, get ready for the biggest show in rock and roll history, get ready for GWAR!
I'll be there but I'll be sure to stand back a bit…
Oh come on you've got to get right up there and get that shit all over you, you'll actually get pregnant through your eyes.
In that case, see you down the front…
Very good Sir!
Essential information
From:    Antarctica (Slave Pit in Richmond, Va.)
Band members:  Oderus Urungus – lead vocals, Pustulus Maximus – lead guitar, background vocals, Balsac the Jaws of Death – rhythm guitar, background vocals, Beefcake the Mighty – bass, background vocals, Jizmak Da Gusha – drums, percussion
Latest Release: Battle Maximus – Out Now (Metal Blade)
Website:  http://www.gwar.net

Catch GWAR at SOUNDWAVE FESTIVAL 2014 
SATURDAY 22 FEBRUARY – BRISBANE, RNA SHOWGROUNDS
SUNDAY 23 FEBRUARY – SYDNEY, OLYMPIC PARK
FRIDAY 28 FEBRUARY – MELBOURNE, FLEMINGTON RACECOURSE
SATURDAY 1 MARCH – ADELAIDE, BONYTHON PARK
MONDAY 3 MARCH – PERTH, CLAREMONT SHOWGROUNDS