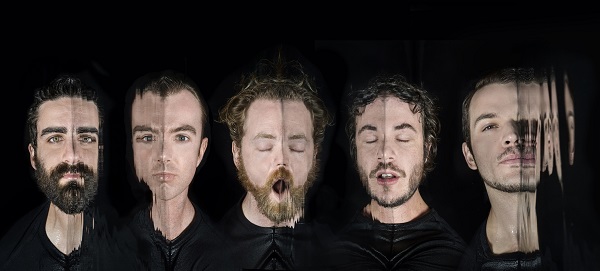 On Sunday December 1st KARNIVOOL won their first ever ARIA Award taking out the gong for Best Hard Rock / Heavy Metal Album for their current release and third album 'Asymmetry' which was also their first ever number one debut on the ARIA album charts.
As announced in October KARNIVOOL and good mates Dead Letter Circus will hit the road on their Polymorphism Tour in January 2014. Sydney fans have quickly snapped up tickets to the first Sydney show of the tour and with that a second show will take place at the Roundhouse, NSW University on Saturday January 18th 2014 – tickets are on sale this Thursday 12th December.
We'd also like to make a special mention to Melbournians – tickets for the shows at The Palace are moving swiftly.
The second single, 'Eidolon', from the ARIA Award winning Album Asymmetry was released at the start of November and the accompanying video is now available below.  The new video is another epic piece from our friend Chris Frey (who also won an ARIA on the weekend), featuring a bride and a groom and some supernatural powers. We hope you enjoy!
It's been a very busy few months for KARNIVOOL, who released their third album Asymmetry worldwide back in July of this year. Following the number 1 debut on the Australian charts, Asymmetry also made a few waves in countries as far flung as Israel, Cyprus, Hungary (where it was briefly number 1 on the iTunes chart) and quite a few other places where the band had both not been to and had no idea there was an audience.
KARNIVOOL have just returned from a 25-date headline tour of Europe where their (largely sold out) tour was their best and most well received yet. The tour concluded with an invitation from Daniel P Carter to record a Radio One Rock Show Session at the famous BBC Maida Vale Studios in London.
KARNIVOOL & DEAD LETTER CIRCUS "Polymorphism" TOUR DATES:
Presented by Billions Australia, Fidelity Corp, Triple M & Faster Louder
With special guests sleepmakeswaves
All shows over 18's
Tickets for the second Sydney show at the Roundhouse on Saturday January 18th are on sale Thursday 12th December, 2013, 9.00am (AEDT)
All other shows are on sale now
Tickets for all shows from www.karnivool.com.au/tour
WEDNESDAY 08 JANUARY 2014 – THE PALACE THEATRE, MELBOURNE, VIC (18+)
THURSDAY 09 JANUARY 2014 – THE PALACE THEATRE, MELBOURNE, VIC (18+)
SATURDAY 11 JANUARY 2014 – MARQUEE, BRISBANE SHOWGROUNDS, BRISBANE QLD (18+)
SUNDAY 12 JANUARY 2014 – COOLANGATTA HOTEL, COOLANGATTA, QLD (18+)
WEDNESDAY 15 JANUARY 2014 – CEX, COFFS HARBOUR, NSW (18+)
THURSDAY 16 JANUARY 2014 – NEWCASTLE PANTHERS, NEWCASTLE, NSW (18+)
FRIDAY 17 JANUARY 2014 – ROUNDHOUSE, SYDNEY, NSW (18+) –  SOLD OUT
SATURDAY 18 JANUARY 2014 – ROUNDHOUSE, SYDNEY, NSW (18+) – NEWLY ADDED SHOW with tickets on sale from Thursday December 12th 9am AEDT – www.ticketek.com.au
SUNDAY 19 JANUARY 2014 – WAVES, WOLLONGONG, NSW (18+)
THURSDAY 23 JANUARY 2014 – RED HILL AUDITORIUM, PERTH, WA (18+)
www.karnivool.com | www.facebook.com/karnivool | www.twitter.com/karnivool