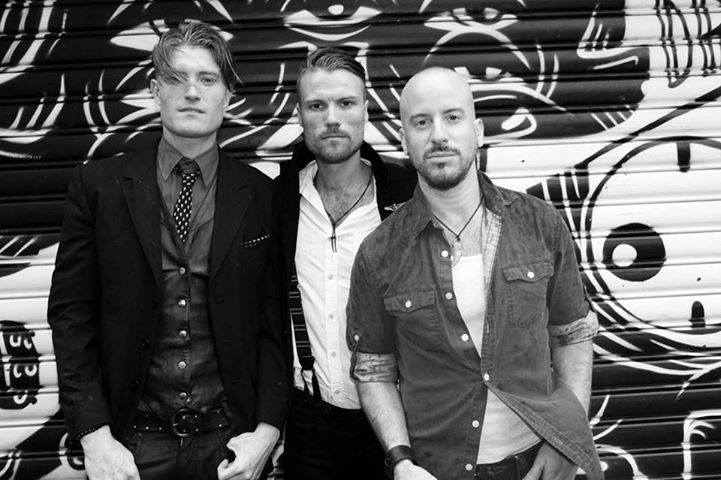 "…we've got this fantasy to be the first band to play the Moon… or the space station. We think Muse is onto it and obviously they're quite a distance ahead *laughs*, so somehow we need to derail their plan and get enough relevance and funding to get there first. *laughs*"
From Bio: One night a little over a year ago, three young men burst into New York City's Lower East Side mainstay, Katz's Delicatessen, and held up the joint. Sort of. Isaac and Thorald, musicians who, along with drummer Shakerleg, make up New York City band The Kin, were looking to rob ears, not wallets.
"Ladies and gentlemen, this is a musical robbery!" shouted Isaac as he strode in with Thorald right in front strumming a guitar. The trio launched into an original song, "Downtown Train" for the restaurant's patrons, winning them over with their energetic performance, rich harmonies, and sheer nerve. The Kin have launched several of these "musical robberies", including at the Sundance Film Festival, SXSW, Soho House, and the Seven Grand Whiskey Bars in Los Angeles, even at a French airport. "We're looking to surprise people and hit them on all senses." Thorald says.
We had a chance to chat to all of The Kin while they were in Australia playing some shows about the history of the band, the present and the future…
For those that aren't aware of The Kin, how would you describe the sound of the band using only 5 words?
Thorald: Bare knuckles, hearts on sleeves
Isaac: Bleeding hands, bare knuckles…
Shakerleg: How about gum on the bottom of your shoe you can't see?
Musically wise though, what would you say is the best way to describe you musically?
T: That's a good question as we've been debating hat to say… it's like raw… we don't have many words for it…
S: Maybe like Pavarotti, you know?
T: Pavarotti? *laughs* We were toying with the idea of how could we make it a dirty and gritty pop song, but that's not it, then we thought rock, but it's not rock, so we've been saying Rock and Roll if that was possible? We'd love to be considered Rock and Roll, like the old school Rock and Roll.
It seems it has been somewhat of a long road to get to the point you're at now, over the twelve years or so since heading to New York, how has the journey for you ended up where we are today?
T: That's such a great question, the three of us took different roads, we came across as teenagers and thought we were a day away from success, and simultaneously Shakerleg was creating his street drumming in the New York City subways thinking the same thing. Eventually we met up and we did everything from pretending we were promoters, to playing with other people, to playing to fifty people to thinking we were a day away from success of the whole things and Shakerleg was doing the same thing, one more subway rider away from someone who gives a shit, and it would take his dreams to what he was looking for. I think the key factor is we just kept maybe either dumb enough or crazy enough to keep going. The other thing is the random shows opened different doorways for us, there were a handful of different doors over the years, and the P!nk tour was clearly a really big one of those, and it's unlike any story we thought we'd write, in the twelve years we've been in New York and now here, it's a surprising story and we're super grateful for it.
So what do you feel was the turning point?
T: I think there's been a few…
I: I think right now is the turning point, I don't think we've turned the point…
T: I think we're inside the point; we're right in there trying to…
S: We're so close to the point it looks round… *laughs*
Was there ever a time you thought things may not happen?
S: Oh every day, are you kidding? Right now! *laughs*
T: Shakerleg's left the building…*laughs* I would say yeah, there's been a few points where one particularly I was at SXSW playing at the music conference and I was in the gym, not seeing anyone play and dreaming of gardening and I was thinking ooh this could not be a good thing *laughs* somehow it shifted and a new door opened and walked into it and the rest is history and we feel we're right on the preface.
You're currently here playing some shows, tell us about a typical live show from The Kin…
I: Yeah, we've had a lot of fun on this Aussie tour it's been great, but Shakerleg's bashing away on the drums with his bare hands…
S: Yeah, two guys actually singing, there's none of that lip synching shit going on here…
T: We've got no sequencing, we've got no backing tracks, we've got no triggers or samples…
S: And no talent *laughs*
I: There's no bass playing, it's a synth bass with my left hand and a keyboard in my right, so it's a trio, Thorald's playing guitars… so we're just three guys making as much noise as possible and rallying together in a circle as much as we can and break down the wall of the stage and have everyone be a part of it…
S: Then we bring in the little low level elephant and a low level nuke… *all laugh*
T: We do bring a didgeridoo by the way, Isaac plays the didge quite well.
You mentioned the P!nk shows, but how were the run of shows?
T: I mean, epic man, certainly a game changer for us to get invited back to Australia and start a story here. It's ironic that you go to America and get introduced to the country you were born in by an American. Not any American but Aussie royalty in the pop world no less, so it was unbelievable, and she's just given us twenty more dates in the US and Canada and we're going to finish out through February with her. It doesn't suck.
Was it hard to in a way 'win over' her crowd?
T: Not in the slightest… it was awesome.
I: You kind of have to roll out and run out on stage as if they're there for you and you kind of trick them into being your fans in a way *laughs* because if you come out sheepish I don't think it would work, so we kinda went out there as puffed up and as excited as we could be, because we were thrilled to be there of course, and there's nothing like playing an arena, so, I don't know, it holds everyone together and everyone's just excited to be there, they've spent their money to be there and they're so intent on having a good night that they get swept up in it.
You're currently working on your debut album, when can we expect to hear something?
I: Yeah we just put out the EP, its coming man, we're going back in December and we're going to be doing some more recordings and it's coming soon.
Who or what is the inspiration for the band?
S: Well there's a few plants…
T: A direct influence and inspiration, not really, I think we're inspired by being silly and keeping sanity in the madness of not much sleep, I think we just plug in and get inspired by what comes out. We don't have any specific direct influences right now.
What about growing up, who made you want to be a rock star?
T: I think it's more what happens and what kind of music is played around you and you don't really know. We used to wake up on the weekends and our dad would be pumping Pink Floyd and our mum was into Fleetwood Mac, so much great music was being played, The Rolling Stones…
I: We were huge Prince fans, one of my first concerts, actually we saw him at Rod Laver Arena when I was eleven. That sort of stuff and a huge mix, some old rock stuff and some soul stuff all came tighter. 'Smells Like Teen Spirit' also ignited something in my childhood, it sounded so different so that kind of got me into trouble.
How important for you is this album and what are you doing on it to make sure it stands out above everything else out there?
I: Well we're trying to capture Shakerleg's drum sound which has been a journey in itself, and that I guess is something that we feel is not reproducible by anyone else.
T: We're hoping in the next few songs to hit the mark. Obviously the co-lead vocal thing, we really want to utilise harmonies in a way that it's not layered harmonies, but the single voices and huge sing a long stuff we want to have all out vocal stuff. I guess there's just a lot of girl and guy duo stuff happening and we want to accentuate that as well.
What does 2014 have in store for The Kin?
T: Mate, we're not going home. Hopefully everything… we've got this fantasy to be the first band to play the Moon… or the space station. We think Muse is onto it and obviously they're quite a distance ahead *laughs*, so somehow we need to derail their plan and get enough relevance and funding to get there first. *laughs*
And if that doesn't happen?
T: We'll play on a subway *laughs* honestly if 2014 can just keep us out there with everyone and see this album released worldwide, everywhere, it keeps us busy, no rest for the wicked, that would be a great 2014.
Essential Information
From: New York City, USA
Sounds like: Grit Pop Rock
Band members: ISAAC "Hijack" Koren (vocals, keyboards) / THORALD (vocals, guitar, keyboards) / SHAKERLEG (drums, percussion)
Current release: Mary – EP (Universal Music Australia)
Website: https://www.thekin.com