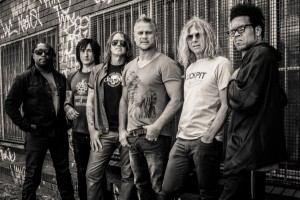 Right off the back of the massive success of the 4th Annual Rockstar Energy Uproar Festival, The Dead Daisies head to the U.K. and Israel In November and December 2013. 
The Dead Daisies new single  'Washington', recorded in L.A., will be released in Australia on December 5 through Spitfire Music for download on iTunes. 'Washington' will take you on a wild musical ride, backing up the release of their first single, 'Lock 'N' Load' brilliantly. After it's release in the US, 'Washington', has received rave reviews, and has picked up immediate airplay in the U.S. on eight radio stations, including WDHA FM 105.5 The Rock Of New Jersey, and Nights with Alice Cooper.
The Dead Daisies album will be released in Australia February 2014.
Rush On Rock – give The Dead Daisies self titled album 9/10 – Dead Good Rating:
"It's a sensational line-up that oozes experience, excitement and the X-factor required to give standout tunesLock N Load (Slash features on the studio cut), Washington and Miles In Front Of Me the sonic boost they deserve.
Bringing Bad Company, The Allman Brothers, classic Lizzy and Free back to life, The Dead Daisies are the very epitome of retro rock. It's been done before but this lot are more than capable of doing it all over again. And doing it well. " –Simon Rushworth."
Loud-Stuff give The Dead Daisies a Five Star rating on their self titled album:
"It's easy to go into a record like this with a preconceived idea of what you're in for when you read who's in the band, yet listening to the record here from The Dead Daisies it's impressive that they've managed to craft a sound of their very own, offering up a real taste of straight up rock 'n' roll, and showing that when it's done well, the results are awesome. My advice – get out and check these guys out – you won't be disappointed."
Fame Magazine – 'The Energy and enthusiasm is evident…'
"Now if there is something I as a reviewer love it is to receive a surprise and this month when my trusty copy of 'rock bible' Classic Rock Magazine dropped on to my doorstep I was pleasantly surprised to find a bonus free CD included in the package. (alongside the usual one featuring a selection of new songs)
That CD was the debut album from rock band The Dead Daisies. This is a band that has popped up on my radar a few times. Most notably through their association with guitarist Slash (on the track Lock 'n' Load) and the fact that the band itself is a supergroup made up of former members of such iconic bands as Guns 'n' Roses, Thin Lizzy, The Cult, INXS, The Rolling Stones and more."
http://rushonrock.com/2013/11/10/reviews-new-music-152/
http://www.famemagazine.co.uk/2013/11/12/the-dead-daisies-the-energy-and-enthusiasm-is-evident/
http://www.loud-stuff.com/#!the-dead-daisies/c1bee
The Dead Daisies are: Charley Drayton (drums), Jon Stevens, Darryl Jones (bass), Richard Fortus (guitar), David Lowy (guitar), Dizzy Read (Keys) are receiving airplay across the country and are fully charged to get on the road and rock the U.K.
Website: https://www.thedeaddaisies.com 
Twitter: https://twitter.com/thedeaddaisies
Facebook: https://www.facebook.com/thedeaddaisies 
Soundcloud: https://soundcloud.com/thedeaddaisies  
YouTube: https://www.youtube.com/thedeaddaisies 
http://www.thedeaddaisies.com/press/
Current European Tour Datea:
Monday 25th Nov          O2 Academy, Bristol
Tuesday 26th Nov        Junction, Cambridge
Wednesday 27th Nov   UEA, Norwich
Saturday 30th Nov        Wulfrun Hall, Wolverhampton
Sunday 1st Dec               Solus/University, Cardiff
Monday 2nd Dec           O2 Academy, Oxford
Tuesday 3rd Dec          O2 Academy, Liverpool
Thursday 5th Dec         Ironworks, Inverness
Friday 6th Dec              Picturehouse, Edinburgh
Saturday 7th Dec          O2 Academy, Newcastle
Sunday 8th Dec            O2 Academy, Leeds
Tuesday 10th Dec        The Assembly Rooms, Leamington Spa
Thursday 12th Dec       Rock City, Nottingham
Friday 13th Dec             Ritz, Manchester
Saturday 14th Dec        Academy, Dublin, EIRE
Sunday 15th Dec          Limelight, Belfast