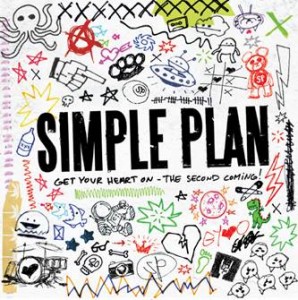 Canadian Rockers, Simple Plan are set to treat fans with their new EP, Get Your Heart On – The Second Coming!  available today.  The EP is a collection of songs the band wrote during the recording of their last album Get Your Heart On! 
"We came up with over 75 songs for Get Your Heart On! and it was a very tough process to narrow them down to the 11 that made the final cut for the album."
"As we are starting to work on our upcoming fifth album and closing the "GYHO!" chapter after two years of amazing shows all over the world, we thought it would be very cool to give our fans some new songs to get excited about. We love these songs and had a great time recording them over the last few months. We can't wait to hear what our fans will think of the new music and are even more stoked to be writing a brand new album for them," says the band.
Simple Plan arrived in Australia this week to co-headline the Vans Warped Tour nationally, as well as performing a one off headline show in Perth.
The Montreal-based band boast a global legion of devoted fans with releases including 2002's platinum debut, 'No Pads, No Helmets…Just Balls', 2004's double platinum 'Still Not Getting Any', and the gold selling 2008 self-titled album 'Simple Plan'.
Their previous album Get Your Heart On! featured a number of hits, including the ARIA Top 10 single Jet Lag feat. Natasha Bedingfield, which has reached double platinum status in Australia! Summer Paradise followed, peaking at #4 on the ARIA Single Chart, #10 on the Australian Airplay chart and the track has now sold over 2x Platinum.
GET YOUR HEART ON – THE SECOND COMING!  TRACKLISTING:
1. Ordinary Life
2. The Rest Of Us
3. Outta My System
4. Fire In My Heart
5. In
6. Lucky One
7. Try
AUSTRALIAN 2013 TOUR DATES
Friday 29 November – RNA Showgrounds, Brisbane
Saturday 30 November – Coffs Harbour, Showground
Sunday 1 December – Sydney, Barangaroo
Tuesday 3 December – Perth, Challenge Stadium
Friday 6 December – Canberra, Exhibition Park
Saturday 7 December – Melbourne, Birrarung Marr
Sunday 8 December – Adelaide, Ellis Park