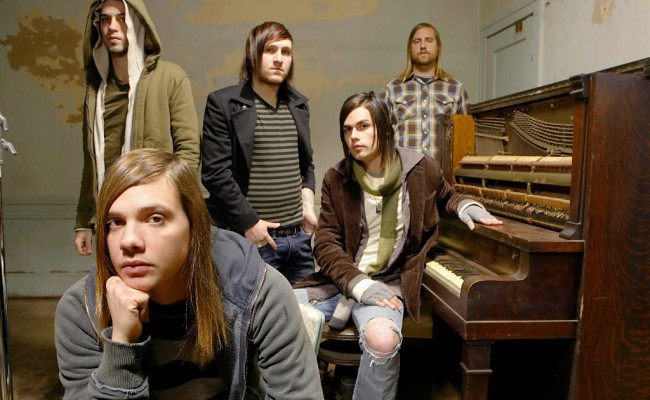 "…if you're a listener and everything hasn't really worked out perfectly for you then give some of our songs a listen because I think that there's still a lot of hope in the world and a lot of good things and you just have to look for them as they're out there."
From tour release: The Red Jumpsuit Apparatus (TRJA) put everything on the line with an unheard of touring concept, enabling fans to pledge their support through crowd funding and ticketing platform Giggedin. Aiming to reach fans that may have missed their last Australian appearance at Soundwave 2009, TRJA have reaped in the numbers, with Brisbane, Coffs Harbour, Newcastle, Sydney, Melbourne and Adelaide taking out the winning shows.
After learning music together during their younger years, it's only fitting that the Winter brothers Ronnie and Randy have ended up playing together again, with 'Et Tu, Brute' being Randy's first opportunity to show TRJA fans his true musical identity. The band have received great success world wide with many of their songs topping the charts. Throughout their career TRJA have played shows with countless heavy weight artists such as, Rise Against, My Chemical Romance, 30 Seconds to Mars, The Used and Saosin. Even with multiple line-up changes, TRJA's vision has always been clear, performing for numerous charity and community events throughout the US.
We caught up with Ronnie of The Red Jumpsuit Apparatus to discuss their upcoming Australian tour as well as the band, its history and the future…
You're heading back to Australia, I have to talk about the manner in which this tour came together… in an almost 'tell us where we're playing' scenario, what was the idea behind your tour taking place this way?
It's actually something that Kingdom Sounds came up with and Pumped Up Kids and GiggedIn, they came to us with the idea, and we're kind of a weird band, we've been a band for ten years, we've had a lot of ups and downs, we've been on major labels, we've been on no labels, and I'm always into the weirdest, quirkiest way of doing things, so I thought it was a cool idea and our fans really pledged up and made it known, so honestly other than that I can't take a lot of credit for it other than being crazy enough to say yes, but I'm glad we did it.
So what can fans expect to hear on this Australian run?
This time around we're doing things a little bit differently, the only time we've ever been over there is when we did soundwave, and Soundwave is really cool in terms of exposure and you get a lot of press, you meet a lot of people and some awesome fans, but you only get to play thirty minutes a day which really sucks for a band like our band that's been around for so long. So this time we're touring in a van and I specifically requested that and I want to hang out, I want to see the country, see the beach, have some good Australian barbeque that I keep hearing about and I don't want to be so rushed this time, I want to hang out and just see what it's all about, so that's the plan this time around. Very different this time.
What about set wise, are you covering a bit of everything?
Yeah, well I mean our last two singles both hit number one on the Billboard Christian radio which is kind of our big thing , I'm a big Jesus guy, but other than that we're going to play some of our new stuff as it's doing so well in The States, obviously we never got to tour 'Don't You Fake It' our original breakthrough album over there, even when we came out last time our second album just came out and so we were playing a lot of that material at the time. So it's basically a lot of the first record and a lot of the new EP.
You've been here before, in particular for the Soundwave festival back in 2009, do you have a great memory of that tour you can share with us?
Yeah, I do… I was hanging out with The Bloodhound Gang *laughs* I remember some of that, not all of that, those guys were really crazy and I really appreciate those guys taking care of me and getting me back to my bus all safe and sound and they'll know what I mean if they hear that…
Musically, you released an EP earlier this year, what was the inspiration behind what ended up on the EP?
We did this whole Shakespeare theme, we released the EP on March 15th which is the Ides of March, and the EP title 'Et Tu, Brute' is a line out of a Shakespeare play Julius Caesar, and its actually little hidden codes in the artwork and lines in a couple of songs that have to do with betrayal and Romeo and Juliet, I don't know, I'm a Shakespeare guy and into poetry and I'm a lyricist, and he's like the master lyricist, so that's the theme.
Are you currently working on further material for a new album?
Yes, the EP marks the first time we returned to our original producer David Bendeth who did 'Don't You Fake It' back in '05, so it was the first time in like seven or eight years that we'd even talked or got together in any studio and made any sounds or hit record. The EP is doing really well, and I think the fans have spoken as far as that's really where they want us to be, so we're going to go back with Dave and make our full length album probably this December.
With a few line-up changes over the years, do you feel that the band is settled now and in a place where you need to be?
Yeah, a little known fact about Red Jumpsuit is that the original line-up that people consider the original line-up is not the original line- up, we had already gone through two line-up changes *laughs* before that line-up, that just happened to be the first photo shoot that anybody ever saw. Most of the guys that were on 'Don't You Fake It' were not in the band longer than four months before we made that record. The fact of the matter is that it's always been my songs, still is, and it's always been my friends, what's interesting about the band is it's always been people from Middleburg, Florida where I'm from that I've hired and people come and go, whatever. I am the Red Jumpsuit Apparatus, the Red Jumpsuit Apparatus is me and that's how it's just always going to be.
How about playing with your brother, you can't get rid of him, how is that?
Yes *laughs* you're right, I can't. I love it before this band we had another band called 'The Song', another little known fact, and he was the singer and I was the drummer, he's awesome, he was actually on the first record, did you know that? If you look at the album credits from 'Don't You Fake It' and again a lot of people don't know this, he's listed as sound designer and sequencers so he did a lot of the computer work and a lot of the engineering and a lot of the strings on 'Guardian Angel' and stuff like that, so Randy's always part of the band, I've always written music with him and he's always been part of the bad behind the scenes, but two years ago, three years ago he stepped up and started playing guitar, he's not going anywhere, it'll be me and him until the end. He's somebody I can count on, somebody I don't have to worry about being drugged out or worried about fame, and it's awesome to have your brother in a band because I really trust him, I think you're right, I like what you said, I think our current line-up which hasn't changed in the last two years is where we need to be.
I wanted to ask about 'Face Down' which is a song that was somewhat topical then and still now, how does it feel when you write a song like that that is still relevant in today's society?
I've had a couple of different hits, that's one of them for sure… that one is about me and Randy growing up, my Mom and Dad had a really crazy relationship and my Dad beat the crap out of my Mom all the time, and they were both on drugs and that's why I have a big problem with drugs, and it sucked man. I'm thirty years old now and looking back on it I'm still not cool with it, so I just wrote from the heart, I always do, 'Guardian Angel' was the same, and our current single is number one on Christian Rock 'Remember Me' is the same, I'm always going to write about what I'm going through and what's relevant to me. As far as 'Face Down' being relevant now, I'm glad that it is, because I've had so many emails and so many phone calls from people all over the world I don't care what country it is, and girls coming up to me and saying thank you so much for this song and they heard the song on the radio and decided to leave my boyfriend or decided to leave their husband and they actually changed their life over this random song that came on the radio. That was one of those songs, that song was on the radio before we even got signed and I don't know man, I'm glad I could put pen to paper and have it all make sense with a melody and a beat and I'm glad that people understand it for what it is, because it is an anti-domestic song, or anthem, so I'm glad it's still relevant.
As the only member that's seen everything happen over the ten years as a part of Red Jumpsuit, what has been the biggest stand out moment that you have seen take place for the band?
That's a hard question…  The biggest stand out moment… when we got our gold record, that was pretty cool, we were in Dallas Texas and the coolest thing about that show is that it was on my birthday and it was about six months after the record had come out, and Gerard Way of My Chemical Romance actually came on to our bus to wish me a happy birthday, I don't even know the guy and I thought that was like the coolest thing ever, nobody does that, we've played so many shows with other bands that are way bigger than us. I don't know what was going through his mind or what made it important to him but he came on to our bus to wish me a happy birthday and later that night we got presented with a gold record, so that's kind of been the big moment for me.
It seems you've been on and are heading out on a big touring run, how much longer are you out on the road?
We don't really ever stop, we're an independent band, no manager, no label, so we try to get everywhere we can and there's not a lot of obstacles that we can't leap, playing gigs is what we do, we love to tour, always have, and we're going to try to fill up everything and go everywhere we can anywhere that people wants us to play. We're a unique band, a lot of the bands can't do international touring without record labels and paying tour supports but we actually invested our money wisely and we're able to do that without a label, so we're trying to go everywhere we can, anywhere people want us to play.
If there was one message that you hope to get across with the music of RJA, what would it be?
Like I said I'm a big Jesus guy, so I hope people understand God and all that, also just everybody it's so easy to get down in this world, there's all these distractions, and if you're a listener and everything hasn't really worked out perfectly for you then give some of our songs a listen because I think that there's still a lot of hope in the world and a lot of good things and you just have to look for them as they're out there.
Let's look to the future, 2014 is approaching fast, what's one main goal you want to hit within the next year?
I'm looking forward to making another record with Dave, he's an awesome guy and he's already locked in to do the record whenever we're ready to do it and I just hope that people dig, but either way it doesn't really matter to me because I'm going to continue to do what I do which is just write from the heart. I don't really have a goal man, that's kind of weird, I guess… maybe I should pick one… I've been really blessed, there's been so many awesome things that have happened to me in my lifetime, it's hard for me… I'm the singer in a rock band, I don't really have a goal but I'm pretty satisfied with where I'm at.
Essential information
From: Middleburg, FL, USA
Band members:  Ronnie Winter – Vocals, Studio Drums, Joey Westwood – Bass, Randy Winter – Guitar, Josh Burke – Lead Guitar, Touring Drummer –  John Hartman – Percussion
Latest Release: Et Tu, Brute?
Website:  http://redjumpsuit.com
Catch RJA at the following dates in Australia
Thursday November 7th – The Hi-Fi Brisbane,
Tickets on-sale through oztix.com.au 18+ only
Friday November 8th – C.eX Coffs Harbour,
Tickets on-sale through dashtickets.com.au 18+ only
Saturday November 9th –|The Mcenroe Meltdown @ The Racket Club, Newcastle,
Tickets on-sale through dashtickets.com.au Licensed All-Ages event
Thursday November 14th – UTS Glasshouse Sydney
Tickets on-sale through dashtickets.com.au Licensed All-Ages event
Friday November 15th – The Corner Hotel Melbourne
Tickets through dashtickets.com.au 18+ only
Saturday November 16th – Adelaide Uni Bar,
Tickets on-sale  dashtickets.com.au  18+ only
Sunday November 17th – Villa, Perth,
Tickets on-sale through dashtickets.com.au