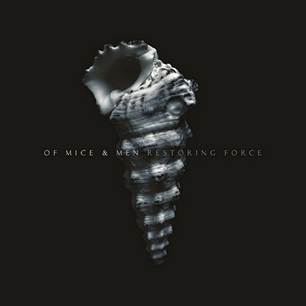 Of Mice & Men announced today their third studio album Restoring Force will be released on Friday 24 January on Rise Records. The album is the follow up to the band's 2011's acclaimed release The Flood, which solidified the California-based five-piece as a leading force in modern heavy music. Restoring Force was recorded at House of Loud in New Jersey and produced by David Bendeth (Paramore, Papa Roach, A Day To Remember, Breaking Benjamin).
"What happens after a disaster? What happens after The Flood?" asks the band's frontman Austin Carlile. "You return to normal. You find balance again. That's what we felt like we were doing with this album. We wanted this record to bring equilibrium back to our band and music. We're letting everyone know that we're here to stay. We're Restoring Force."
Restoring Force is the follow up to The Flood, which was originally released in June 2011. The Flood debuted at No. 28 on the Billboard 200 Chart and was hailed by the New York Times as "one of the year's most bruising rock debuts." Alternative Press called the album a "genuine statement of artistic purpose." Rock Sound declared the release "a truly memorable, hip-shaking face-breaker of epic proportions." The Flood has sold over 125,000 copies worldwide and has been streamed nearly 16,000,000 times on YouTube, making it one of the most successful releases in Rise Records' 22 years of operation. The band has brought their memorable live show to audiences around the world having sold out multiple headlining tours.
Of Mice & Men is Austin Carlile (vocals), Alan Ashby (guitar), Valentino Arteaga (drums), Aaron Pauley (vocals / bass) and Phil Manansala (guitar).
Tracklist for Restoring Force revealed!
01. Public Service Announcement
02. Feels Like Forever
03. Bones Exposed
04. Would You Still Be There
05. Glass hands
06. Another You
07. Break Free
08. You Make Me Sick
09. Identity Disorder
10. You're Not Alone
11. Space Enough To Grow