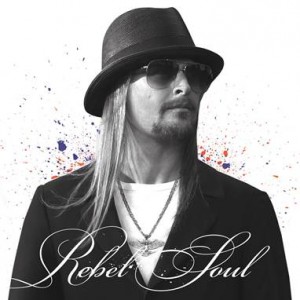 "Where I'm going's where I'm at."
So says Kid Rock on the title track of his ninth studio album. And considering everywhere Rock has gone during the past 22 years, we can have faith that we're headed for another fascinating, galvanizing, eyebrow-raising, endlessly surprising, at the very least interesting trip when he lands in December for his very first tour of Australia as the special guest for Bon Jovi.
To celebrate the tour, Rock is releasing the Rebel Soul tour edition on Friday 6 December.  The tour edition will feature an additional track, Wasting Time, a brand spanking new version including new instrumentation and reworked lyrics, previously released on his 1998 album release Devil Without a Cause.
Where he's going tends to be a lot of places.  And Rock jots them all on Rebel Soul, the follow-up to 2010's platinum Born Free and the finest, fiercest and funkiest embodiment to date of the punk rock/hip-hop/Southern rock synthesis he described on his 2001 hit Forever. It is, in his own words, "a greatest hits with all new songs and everything I've touched on in my career at this point — whether it's the writing style, the singing style, the attitude, the playing…It's all the things I've learned for so many years, on my own and from so many of the people that influenced me."
Rebel Soul also represents one of the "easiest" albums Rock has made to this point, a mark of the confidence, assuredness and — dare we say it — maturity he and his team have developed over time. The evolution has been genuine and organic, over the course of 26 million record sales and a slew of hits, from Bawitdaba to Born Free and All Summer Long — that have criss-crossed the rock, pop and country charts.
The full breadth of the human experience is Rock's palette, of course — in his music and also beyond. He's become active in humanitarian and philanthropic concerts, working with organizations such as Operation Finally Home, which builds houses for disabled returning veterans, establishing the Kid Rock Foundation to help fund various projects and initiatives around the country, and raising $1 million for the Detroit Symphony Orchestra. There was also his pre-election Americans video with actor Sean Penn, which delivered the message "Don't let politics divide us. Thinking differently. It's what made this country great."
"I'm fortunate; I have the means and the resources to go beyond the music and all the rock 'n' roll hype and everything and do some good work," Rock notes. "I want to do stuff that does fit me, and I want to do stuff that absolutely doesn't fit — just do stuff that's different, with the music and with everything that comes along with it."
TOUR DATES:
Saturday 7 December – Etihad Stadium, Melbourne, VIC
Wednesday 11 December – AAMI Stadium, Adelaide, SA
Saturday 14 December – ANZ Stadium, Sydney, NSW
Tuesday 17 December – Suncorp Stadium, Brisbane, QLD