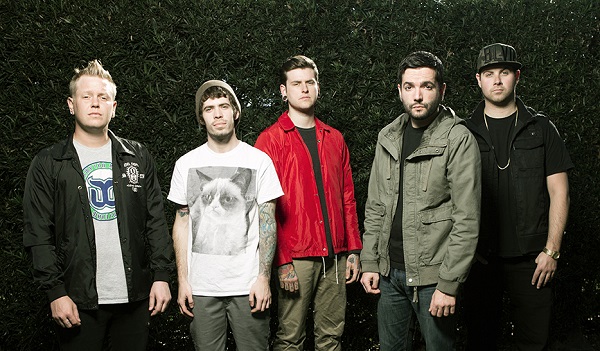 "The album as a whole, I don't know, we all just get in the studio and do our own thing, and whatever comes naturally comes out and we don't really go in to change anything when it comes to albums, we do what we do best and that's just work off each other for every song, and it's what we did."
From release: Since their formation in 2003, Ocala, Florida's A Day To Remember have grown from a small band with a dedicated local fan-base into a worldwide phenomenon. Over the course of the bands career, the band has sold out entire continental tours and are no strangers to Australia with already 5 national tours under their belt which includes 2 Soundwave Festival appearances and 2 national headline tours, including recent tour in July 2013. They have landed two Top 25 Billboard debuts and topped the Billboard Indie Albums Chart.
The band's last album What Separates Me From You was a major breakthrough for A Day To Remember. Upon its release the album debuted at #11 on the Billboard Top 200 Albums chart and has now sold over 300,000 units. A Day To Remember's entire catalog is now well over a million units combined.  Common Courtesy is set of November 29 release and A Day To Remember are set to tour Australia for Soundwave Festival 2014.
We caught up with Kevin of A Day To Remember to talk about their upcoming return to Australia for soundwave 2014, as well as their new album 'Common Courtesy'…
For starters, you were only just here in July, but you're heading back to Australia for Soundwave in February, what can fans expect this time around on the festival circuit?
Fans can expect the unexpected as who knows what the hell we're going to do on Soundwave, on our last tour we blew up a house with a helicopter… it's pretty much up in the air right now.
It's somewhat of an insane line-up, is there anyone you're excited to be sharing the tour with?
Uh yeah, there's a tonne of people… Green Day obviously, Alice in Chains, Stone Temple Pilots, pretty much all the bands on the tour are great and I can't wait to play with them.
No stranger to the festival being on it two times already, do you have a great memory of a previous Soundwave tour you can share with us?
Yeah I remember the first time running into someone famous on Soundwave, the thing backstage is that it happens all the time, so it becomes like the normal thing. The first time I came for Soundwave I was getting on an elevator to my hotel room and the elevator opened and it was just Dave Mustaine, he was like 'what floor are you going to?' I was like 'holy shit, Dave Mustaine dude…' *laughs* so yeah that was a good one.
I always like to ask, any chance of some sidewaves while you're here?
Yeah we were talking about doing sidewaves, we just don't know who with yet. I would imagine that we're going to play some sidewaves.
Your new album 'Common Courtesy' has been available since last month though, how has the reaction been to the album?
It's been overwhelmingly positive, for the most part there hasn't been any negative comments, which is kind of crazy for us as we're used to a lot of people being like 'hate it' and there's haters and then a lot of people liking it, but this time around it as pretty much all positive.
I think it's your best album to date, explain your feeling leading up to release time?
I mean the feeling leading up to it was we were worried, there was a lot of doubt on whether or not the album would even come out, so the only excitement the happened was pretty much three or four days before the record released when we could actually release it on our own then that gave us four days to set up a record which is pretty much record time for everybody I'd say and by the time it came out we were all on cloud nine, so it was a good feeling.
The physical album drops in Australia at the end of November, tell us about the inspiration behind the album…
The album as a whole, I don't know, we all just get in the studio and do our own thing, and whatever comes naturally comes out and we don't really go in to change anything when it comes to albums, we do what we do best and that's just work off each other for every song, and it's what we did.
What does the title 'Common Courtesy' itself represent to you?
It represents just don't be a shithead, just be nice to everybody, be respectful and you're gonna see it back.
A song that stood out for me was 'I'm Already Gone' as a major departure from the brutality of the majority of the other tracks, as a co-writer, how did this one come about?
That one was just kind of Jeremy's idea, he showed it to us one day, and I ended up recording that one acoustic for the demo a long time ago that song has actually been around for around two years, so pretty much it was a done song two years ago. The only thing really added to it was lead electric guitar and me and Andrew came up with that, Andrew Wade.
There are a few acoustic driven tracks on the album, was that intentional?
Yeah, you know you do a song and the way that Jeremy will come up with a song is on an acoustic guitar, and those songs that had an acoustic it just felt right to leave it in and that's kind of how the acoustic songs come about perse…
How have you personally seen the band grow musically since your joining in 2009?
Since 2009 the horizons have broadened a lot, definitely been some experimenting with A Day To Remember which is why you kind of get those songs that are a departure from even just the rest of the record, definitely compared to the first couple of albums that the band has put out. I think it's just experience and a want for trying out new things.
Have you been playing the new tracks live yet and how have they been going down?
On the last tour we only got to play a couple only because the record wasn't out when we were on tour we were playing 'Right Back at it Again' and that song wasn't even out, we were playing 'Violence' because we released that song and we wanted to add something and play new and by mid-way through the tour the record finally came out so we were playing three songs from that, all the upcoming tours from here on out will definitely have more new songs in the set.
After Australia, what does the remainder of 2014 have in store for A Day To Remember?
We're pretty much booked up until Soundwave and then after Soundwave we don't really have anything planned as of right now but that will change pretty soon. We're always on the road, I think we tour something like two hundred and some odd days a year you know? So we're always on the road, so it'll probably be most of what we'll be doing.
Do you have a message for your Australian fans?
Just thank so much for supporting us and hopefully you really like the album and can't wait for you to have the physical release in a few days, actually hold it.
Best of luck with everything and we'll see you in February…
Yeah man, we'll see you at Soundwave for sure.
Essential information
From:    Ocala, Florida, USA
Band members:  Jeremy McKinnon – Vocals, Alex Shelnutt – Drums, Neil Westfall- Guitar, Joshua Woodard – Bass, Kevin Skaff- Guitar
Latest Release: Common Courtesy – out now (3Wise Records)
Website:  http://www.adtr.com
Catch A Day To Remember at SOUNDWAVE FESTIVAL 2014 
SATURDAY 22 FEBRUARY – BRISBANE, RNA SHOWGROUNDS
SUNDAY 23 FEBRUARY – SYDNEY, OLYMPIC PARK
FRIDAY 28 FEBRUARY – MELBOURNE, FLEMINGTON RACECOURSE
SATURDAY 1 MARCH – ADELAIDE, BONYTHON PARK
MONDAY 3 MARCH – PERTH, CLAREMONT SHOWGROUNDS