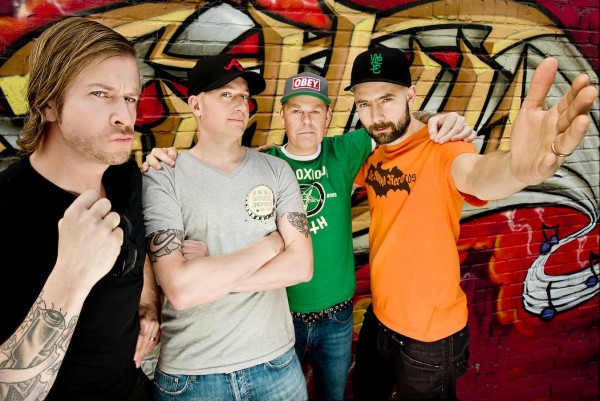 "I'm really proud of everything we've done over all these years, it's really hard as we just want to keep this momentum going, and of course write our best album ever, an even better album, that must be the goal, as long as you've got that goal, that's when you keep evolving and become a better band I guess."
After twenty one years as a band, esteemed punk rock juggernauts, MILLENCOLIN are returning to Australia and have spearheaded the second announcement of Warped Tour. These rockin' Swedes will be bringing their immense catalogue of classic albums and will be playing all the fan favourites!
Before touching down in Australia later this month for the return of Warped Tour, we chatted to Erik of Millencolin about the shows, the band's love of Australia and the future…
You're heading back to Australia this December as part of the Warped Tour, what can we expect to see from your set on the day?
It's really great to come back; I have to say that first. We were one of the last bands to be announced and we had a real struggle to be able to do this as well, because we had an Austrian Alp festival show that we had to cancel but we were in contract for that festival but in the end that all came out good.  Set wise, I think it will be a best of Millencolin and then some small new stuff as well.
Are you excited to catch anyone on the day?
Yeah, there are lots of bands we've played with before, like The Offspring, we've toured with them before, and Veara, we both played Soundwave with them and they were our support act on our European tour. There are some other bands I haven't seen before but I'm looking forward to catching up with.
This is always a hard question, but do you have a favourite song of yours to play live?
I usually answer 'Black Eye' and I guess I have to stick with that, I don't know why *laughs* it's just one of the best Millencolin songs I think, it works really well live as well.
You've been to Australia more than a few times now, what are you looking most forward to in coming back?
The shows, we're coming to Australia to perform and it's weird, we've been together for twenty one years now *laughs* and it's more fun than ever to perform live, it's just weird, I think you'd recognize after all this time you'd get bored playing your own songs but it's more fun every day. Also, we have some days off in Sydney so me and our drummer will take some time and go fishing.
Do you have a stand out memory of one of your previous tours here?
I actually don't know how many times we've toured Australia, but the first tour we ever did in a van is something special, I mean we arrived in Sydney, jumped on this really sketchy twelve seater and drove straight to Adelaide. That night we saw Kangaroos and we'd never been to Australia before and it was just such an experience you know? We became friends with tonnes of people on that tour, slept on people's floors and stuff, I mean we did that everywhere in the world, and those memories, you can't go back there; it was just the best time. I'm not complaining now, we've got good hotels and touring completely different level, but still those early days when you were sleeping on people's floors, that's where everything started.
How have you seen your Australian fans grow and how do they compare to those around the world?
Usually they're pretty much the same wherever we are, but Australia is special for us, we've sold two gold albums and we've always had a really, really good relationship to Australia and people in general are so nice and it's always a really good vibe.
We had The Melancholy Connection out last year, but can we expect a new studio album anytime soon?
I can't say too much because nothing is confirmed but we are in the studio every once and a while *laughs* everyone is really excited in the band and it feels better than ever to be a band member of Millencolin. So we haven't confirmed the new album but we are writing songs for sure.
Last year was also your 20th anniversary as a band, over those twenty years has there been a moment  that has stood out above all the rest that you can share with us?
When we released 'Pennybridge Pioneers' back in 2000, we did the Warped Tour back in The States that year which was amazing as we became a really big bad in The US on that album, and Australia, our first gold album ever. We took such a step with that album, so I mean that's probably the best. We went from a, not a small punk rock band, we did big stuff back then, but on that album we found the Millencolin sound, the sound we've kept for the past eleven years on that album I think. The first three albums were more like trying to play Californian punk rock, and also like the crowd doubled and tripled, so that was a really great year. Luckily we kept it still which is amazing.
In terms of longevity, it's hard for bands to be around for twenty years, what is it about Millencolin that works?
First of all it was another day back in the 90's, I mean you sold albums and music and media wasn't that international, and there are more artists and bands touring around the world these days, and your music is being spread over the internet and we have much more competition and stuff and we have a good distribution and our record label 'Burning Heart' was really good in spreading our music all over the world, but we've got a great foundation everywhere so we became an original band, which I guess is kind of hard to become these days as it's much tougher for bands to become one of those bands.  Also there is so much more competition as everyone knows that you can reach possible success, I mean for us it was just pure fiction for us to play outside of Sweden you know? It's just being around for twenty years has been good for us *laughs*
You all probably still like each other too…
Yeah we've both loved each other and hated each other over the years, but right now we really like each other right now actually. *laughs*
Are there still things you want to do with the band that you haven't yet done?
That's a tough question, I'm really proud of everything we've done over all these years, it's really hard as we just want to keep this momentum going, and of course write our best album ever, an even better album, that must be the goal, as long as you've got that goal, that's when you keep evolving and become a better band I guess.
What about touring wise, are there any territories you're going to head to that you've never been before?
We're getting lots of offers from Russia these days, we've never been there. I don't know, maybe I'm just scared, it could be sketchy I don't know, but maybe it's great but I guess we could tour Russia and those countries a little but more, we haven't been there, it's just more unknown territories for us but they could be surprisingly good I guess.
What does 2014 have in store for the band?
Vague plans… *laughs* nothing confirmed, we will work a lot with the band and we will see what will happen, but you'll definitely see more of Millencolin that's for sure.
That's what we want and for now we can't wait to see you at Warped in December…
Awesome, we're looking forward to it.
Essential Information
From: Örebro, Sweden
Band members: Nikola Sarcevic – Vocals & bass, Mathias Färm – Guitar, Erik Ohlsson – Guitar, Fredrik Larzon – Drums
Website:  http://www.millencolin.com
Catch Millencolin at Warped Tour Australia:
Tickets on sale now: Via Oztix
Friday, 29th November – Brisbane, RNA Showgrounds
Saturday, 30th November – Coffs Harbour, Showground
Sunday, 1st December – Sydney, Barangaroo
Friday, 6th December – Canberra, Exhibition Park
Saturday, 7th December – Melbourne, Birrarung Marr
Sunday, 8th December – Adelaide, Ellis Park
http://www.vanswarpedtouraustralia.com/
https://www.facebook.com/WarpedAU