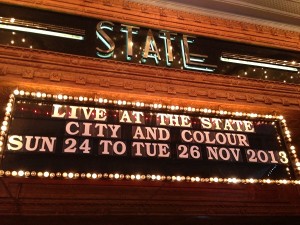 After wowing Australian audiences in July with a couple of acoustic solo shows, Dallas Green is back with his band City and Colour to showcase what this sold out crowd obviously has been waiting for. So, this being my first time seeing City and Colour I'm looking forward to what the fuss is all about, I mean of course love their music but have never seen the band live…
Husky get the job of opening tonight's show and they are a perfectly suited support, with their acoustic driven tracks and perfect harmonies they give us some tracks after somewhat of a break as mentioned by the band, but you wouldn't know that was the case as they breeze through their set and as each song finishes, the applause gets louder as the people usher in. I'm beyond impressed with these guys and hope that they are back out and about more soon, as this is a band that needs to be seen live to take in what they're all about. 
"Hi… We're City and Colour. Thanks for coming, we appreciate it…" the opening words spoken by Dallas Green as he begins singing and if you're unaware of his vocal well all I can say is that it's pristine. 'Forgive me & Of Space and Time' has the crowd silenced and I'm predicting that'll be the case throughout the night. The tempo picks up with 'The Lonely Life' taken from the new album 'The Hurry and the Harm' which when ended allowed the first of many 'I love you Dallas' crowd vocalisations, and his reply "That just says welcome home to me…" but as we go back to 'The Grand Optimist' a song that everyone here loved those here are ecstatic and if you listen, I mean really listen, the lyrics are just so simply perfect, Dallas straps on an electric guitar for 'As Much as I Ever Could' and the theatre just got a little bit heavier but with one of the smoothest songs ever. Wow, even with a three second stop mid song, there is absolute silence and that's unheard of, proving to me that there is a whole lot of respect in this room tonight, case and point with the 'no phones' sign posted before you enter, it's great to be at a gig without a sea of phones being held up in front of you. 
The five piece band up on stage is so tight musically and all know exactly what to do, with harmonies that are outstanding it's just a pleasure to watch. 'Silver and Gold' rocks the place up nicely as does 'Weightless' and as simple as the band are up on stage, the light show is almost as much of a part of the show as the band is. As the band leaves the stage leaving Dallas up there with an acoustic guitar and harmonica for the absolutely stunning 'Body in a Box' and it's just unbelievable how commanding he and his words are, I looked around to see a few tears being wiped away in this one too. He stays up there solo for 'Comin' Home' with its mention of Sydney getting the obligatory 'whoooo' from the audience but in the silent parts it remains perfectly silent and thus after the song we get a lesson on crowd etiquette which is quite funny, before 'Northern Wind' and 'Paradise' thus ending the acoustic portion of the set and without missing a beat the band re-join Dallas and hit 'We Found Each Other in the Dark' which as per every other song tonight has been outstanding, but 'Sleeping Sickness' is not only the most 'commercial' sounding track of the night but my stand out by far. 
Back to the new album with 'Harder Than Stone' and then to 'Waiting…' with its whoa oh sing along it holds nothing on the next one with its driving drum beat on 'Thirst' as it got a few people up dancing as does 'Fragile Bird' From 'Little Hell' which keeps it rockin' then wasting no time fading directly into a snippet from 'As Much As I Ever Could' blending into 'Sorrowing Man' which was in a word, epic as the band plays on and Dallas hits some killer notes that show his power as a vocalist, but the band leaves the stage to a sea of cheers and the hope of return as the floor starts rumbling, it actually worked as Dallas returns to the stage…
'The Girl' is the perfect return as he starts it acoustically only to be joined by the band to finish it off countrified and rocked up, this such a sweet song and testament to the way he writes lyrics, that was amazing. 'Two Coins' named by Dallas as his favourite song was a stand out, then 'Death's Song' had the crowd hushed once again as this most amazing set comes to a close and the band walk off the stage. No bows, just a shy wave and with that the house lights turn on and the smiles seen around the room are the best review you can write…
In summary, what a show, what a band and what a voice. Tonight was a pretty damn impressive show and if you enjoy simply amazing songs and the voice of an angel singing them, well then City and Colour should be on your to see list should they ever hit your town. Trust me. 
Essential Information
Venue: The State Theatre, Sydney
Date: November 24, 2013
Support: Husky
Presented By: Chugg Entertainment
Website: www.cityandcolour.com
Set List:
Forgive Me & Of Space and Time
The Lonely Life
The Grand Optimist
As Much as I Ever Could
Silver and Gold
Weightless
Body in a Box
Comin' Home
Northern Wind
Paradise
We Found Each Other in the Dark
Sleeping Sickness
Harder Than Stone
Waiting…
Thirst
Fragile Bird
Sorrowing Man
The Girl
Two Coins
Death's Song