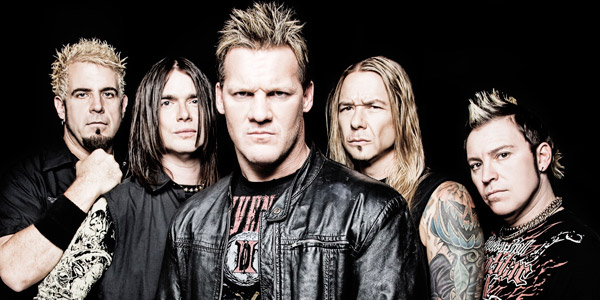 "…it's all about connecting with the crowd, if you're going to do anything in front of an audience you need to connect with them, and if you can connect with them then people will enjoy what you're doing, if you can't then they don't give a shit, doesn't matter who you are or what you're doing."
From Bio: "No matter what people say, bigger is always better – especially when we're talking about heavy metal. And heavy metal doesn't get much bigger than FOZZY.
The band is the brainchild of Rich Ward and Chris Jericho, two larger-than-life personalities that have spent the past decade shaping their own brand of hard hitting music. Ward is one of metal's pioneers – as the mastermind of Stuck Mojo, he soldered metal with rhythmic vocals long before it became fashionable, and front men don't come more dynamic than Chris Jericho, one of professional wrestling's biggest superstars, the embodiment of charisma, and the by-product of a lifetime immersed in metal."
We had a chat to the Ayatollah of Rock and Rolla about Fozzy's upcoming tour of Australia, as well as the evolution of Fozzy and what the future holds…
You're heading back to Australia for the second time in a year with Fozzy both in Summer too so well done, what are you most looking forward to about coming back?
Yeah no kidding, right? We had a great tour at Soundwave this past year, or ten months ago or whatever it was, we've always had a great connection with the Australian fans and we've always had a great Australian fan base, I think Soundwave was our third tour there. This last one was the one that really broke the door down so to speak, I remember when we went there we had somewhat of an earlier time slot and you never really know what you're going to get, and I was concerned that we were going out so early in the day, and there are so many great bands playing and what is the crowd going to be like for us?  It blew me away how many people actually showed up, no exaggeration, literally thousands, I think Sydney had eight thousand people and the thing was when we finished, and for the band after us, the crowd just cleared away, I'm not even exaggerating when I say that the next band had like fifty people. So that's when I kind of realised is that we'd become a destination band, and what that means is at festivals a lot of the time people will buzz around to go and see the bands they want to go and see, and I think we were definitely one of those bands, so it was the first time we'd made some huge head way into Australia and a really big bustling fan base. So we really wanted to come back, and kind of expand upon that and take advantage of it. So I'm really looking forward to coming back and seeing all the fans that we made at Soundwave again, and all the fans that we have since we started coming over to Australia in 2004 or whatever it was and of course to make new ones which is the way it should always be. It's a great bill, I mean to put Fozzy and Buckcherry and Steel Panther on the same show and that just screams a good time, which a lot of time in rock and roll is a frowned upon thing, you are actually making sure and guaranteeing that people are going to have fun. So that's what it's all about, so it's a combination of all those things but we're really stoked to be coming back for sure.
As you mentioned, you're playing with Steel Panther and Buckcherry, what can we expect at these shows, maybe an all-star jam?
I don't think so, if they invite us then of course absolutely, but I really feel like that we have gotten a reputation over the years of being a very entertaining, energetic live band and it's our mission when we go over there, that obviously Steel Panther puts on a spectacle, but so do we and we don't go over there with any intention of taking second best or third best, we're going over there to whip Buckcherry's ass and whip Steel Panther's ass and I'm sure they feel the same way, and that's in the best possible way of saying that, whenever you get a type of friendly competition it always ends up being a better show. A lot of times too we have a real tendency to surprise a lot of bands, Steel Panther we know them they're good guys, we've never toured with them before and no matter who we tour with, this year we've gone out with Shinedown, Godsmack, Saxon, Drowning Pool, Soil, whoever it is that we usually got out on your with will always say after a few shows 'wow, we didn't expect you guys to have that much energy, we better pull up our socks and get into it a little more.' So I think that's kind of what I'm looking forward to is opening people's eyes as to what we do for those that don't know, and sort of make those guys work harder and it's going to make us work harder and that's better than any jam you can have, is that all of us are going to be pushing each other to be a better band and more entertaining band and have a better show, so I'm looking forward to anything that comes up on that tour. If the Panther guys want to do something after I'm up for it, we all know the same songs, that's for sure. It's funny, last year at Download, we played the same day as Steel Panther and Metallica, so I got Michael Starr on stage to watch Metallica with me as I got a couple of passes from Lars, and he did not know hardly anything about Metallica, and Metallica were doing the Black Album in its entirety, he's  like 'Which song is this?' 'um, Through the Never'… 'Which song is this?'… 'The Unforgiven…' 'Which Song is this?'… 'Holier Than Thou… you don't know any Metallica songs?' he's like 'Man I never really got into Metallica, I was more into Van Halen' and I was like 'Dude, if we grew up in high school together we would've been fighting, if I was the Metallica guy and you were the Van Halen guy, we would've gotten into a fist fight, I guarantee it' *laughs* so that was the last time I saw Mike, so I'm excited to give him some more Metallica education.
I've seen Fozzy a few times now and what I love about the band is that it's a rock show as you are HUGE ROCK STARS, it's entertaining and everyone leaves happy, how do you prepare for a show to give that kind of performance?
I don't really know exactly how it started to become this way, but like you said we really have this reputation and we don't leave anything behind, and we're not really too sure how it started but that's really our reputation, we put all in our show, all of our energy, most of the time unless we're playing big open air shows we're covered in sweat when the gigs are done and how do you prepare for it? I do extensive vocal warm up and if I can do that and be ready to go in that respect then the energy and the jumping up and down and the cheer leading aspect of it falls into suit. If you're not feeling good vocally, then the rest of the show is shit, if you feel amazing and you're well warmed up and you have a good night, I'll climb the damn rafters, I don't give a shit, you know what I mean? So it all goes hand in hand, you've just got to prepare, obviously being the singer you've got to pick and choose the nights you want to go party and choose the nights when you want to stay up all night, if you do that more than one night in a row, you're going pay for it and the show's going to suffer and you're going to pay for it, I don't care who you are. Especially when you come to Australia, it's not on a bus, it's all hotels and flying, but you've got to get up early to go to the airport and it takes a lot, people don't really understand that travelling that way, it's a lot harder to do fly dates than it is to just wake up get on the bus and sleep until the next town in the afternoon and get up and be all ready to go. So you've kind of got to prepare and be a little bit more responsible I guess, which is a word you never really want to hear *laughs* but it's a very viable thing when you're putting on a show like we are, whether you're the singer or the guitar player, you've got to be warmed up and motivated and prepared by taking care of yourself.
Obviously your years as an entertainer in the wrestling field gave you a persona, but did you use what you learned there and take it with you to Fozzy or is that you with or without the wrestling involvement?
I mean it's kind of been very reciprocal, anyone who knows my story knows that I wanted to be in a rock band and I wanted to be a wrestler, those are the two dreams that I had I never really a difference between the two. They were both very much about the showman aspect and the entertainment aspect and the fact too that when I first started wrestling I was really obsessed with Paul Stanley and David Lee Roth and James Hetfield, they were the ultimate front men, so I wanted to bring that rock and roll attitude into wrestling and be like the party host, be the guy, be the front man, so I used a lot of the qualities I saw in the Roth's and the Stanley's and stuff like that when I first started wrestling, and then when we started Fozzy back in 1999 I put the same characteristics that I learned from music and brought them back into wrestling and then brought them back into Fozzy, you know what I mean? So it's all kind of one in the same, it's all about connecting with the crowd, if you're going to do anything in front of an audience you need to connect with them, and if you can connect with them then people will enjoy what you're doing, if you can't then they don't give a shit, doesn't matter who you are or what you're doing.
Especially when you have someone like 'The Duke' on your right hand side who is giving out as much as you…
Well that's the thing, we really motivate each other and also with Paul Di Leo on the other side, he's nuts as well. I remember when I first started playing with Duke and he was really cool and seeing some of his moves that he does and he's just as crazy as I am, sometimes I'll look over and he'll be in the crowd playing, he doesn't give a shit. Paul Di Leo is the same, he plays his bass upside down and he'll do this karate kick and throw his bass on the ground to hit a note. It's weird to see guys like Paul next to me as I'm the one who quote unquote is supposed to be the crazy one, but that's what I love about Fozzy is that we don't have dragons flying from the ceiling, we don't have bombs going off from the drum riser, we are the show, and the more that we motivate each other to put on a better show, that's all that we have and why like I said that we have such a great reputation and a lot of buzz because of that, so there's nothing better than someone who is influencing you into doing better to push yourself.
I saw you posted recently that it's been thirteen years since your debut album was released, at the time, did you ever think that thirteen years on that you'd still be making music with the band?
Well it's funny, we started Fozzy kind of more of fun thing, it was more of a secondary thing that we were doing, but Rich and I really enjoyed what we were doing, and really enjoyed playing together and I think by 2002 was when we really started focusing. Then in 2010 we said listen, we have to do this full force and first priority and make a go of this as we think we have something special. Our first record came out in 2000, but it's only since 'Chasing The Grail' in 2010 that I feel we really started to create this arc that we're on. So my answer is, I guess I did, but it wasn't really something we thought about, we did the first record and it was cool and it was a fun thing to do, then we did the second record and said, look, we've got some potential here. But 2010 was when we really focused and said we want Metallica's job, we want to be the biggest and best band we can be and ever since we made that verdict the reaction for us has gone through the roof.
'Sin and Bones' has been out for just over a year, have you been working on new material?
Yeah we already have a whole schedule planned with Century Media, they're very happy with 'Sin and Bones' it did really well, so we've already started writing music, we'll start recording it, actually the tour in Australia will be the last leg of the 'Sin and Bones' tour and then we go back into the studio and the next record will be out next summer, next June if everything goes to schedule. So we wanted to keep on that schedule and keep things rolling, once you get your foot in the door you want to kick that fucker open and that's what we want to do, we've so much momentum and so many eyeballs on us now, more than we've ever had and we really want to take it to the next level and the only way to do that is to put out another record, and a better record than 'Sin and Bones' and we have our work cut out for us but we think we're ready to go and we're ready to do it.
Is there anything you'd like to do with the band that you haven't yet done?
Tonnes of things, just continue to grow, and it's great to be doing some of these big rooms with Steel Panther, but we want to be the headliner, being third on the bill is great, being second on the bill is better, being the headliner is what we want, so that's kind of where we're at. Everywhere we've been we want to continue to build and see the music grow and become that band, that kind of the obvious one. Touring wise, I think we're toured twenty five countries now so far but we've never been to Japan or South America, so those are two big goals for us that we want to accomplish when this next record comes out. So just to continue to grow, if we can continue to grow at the same pace that we have since 2010, a year or two from now we will be coming back to Australia and headlining, we will be playing Soundwave 2015 on the main stage, and you've got to keep the momentum going forward and if we can do that, then I think we're in good shape.
I have to ask, can you tell me about your involvement in the movie 'Boots'?
*long pause* *laughs* How do you know that?
A mutual friend of ours wanted to know…
Oh that's so great, the reason that I asked you that is that I'm doing my third book right now and that's actually in that, that whole story about 'Boots' is in there and at first I wondered about it as I didn't think it was that good of a story, but once I started writing about it, it's one of the best stories in the book as it's so fuckin'stupid, so to explain it to you would take a long time, but just know that the whole sordid tale will be detailed completely in my next book. *laughs a lot*
Lastly, do you have a message for your Australian fans?
First of all I just want to thank everyone for such a huge reaction at Soundwave 2013, if it wasn't for that we wouldn't be coming back in December, but we are, and we're looking forward to doing what we always do which is tear your head off, rock your socks off and make sure that everyone has a great time. For those that still haven't seen Fozzy, look out… that's all I'm going to say… Look out! It'll be a great Christmas present.
Essential Information
From: Atlanta, GA, USA
Band members:  Chris Jericho – Vocals, Rich Ward – Guitar/Vocals, Frank Fontsere – Drums, Paul Di Leo – Bass, Billy Grey – Guitar
Website: www.fozzyrock.com
Latest release: Sin and Bones (Out Now – Century Media)
Catch Fozzy on tour in Australia with Steel Panther and Buckcherry at these dates:
FRIDAY 6 DECEMBER – BRISBANE, RIVERSTAGE – Licensed All Ages
www.ticketmaster.com.au
SATURDAY 7 DECEMBER – SYDNEY, HORDERN PAVILION – Licensed All Ages
www.ticketek.com.au
SUNDAY 8 DECEMBER – MELBOURNE, MYER MUSIC BOWL – Licensed All Ages
www.ticketmaster.com.au
TUESDAY 10 DECEMBER – ADELAIDE, ENTERTAINMENT CENTRE THEATRE – Licensed All Ages
www.ticketek.com.au
THURSDAY 12 DECEMBER – PERTH, METRO CITY – 18+
www.oztix.com.au