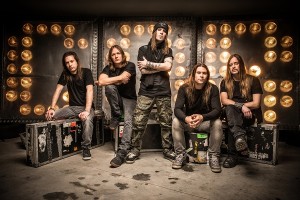 Rockstar Productions, AndrewHaug.Com & Metal Obsession present CHILDREN OF BODOM – HALO OF BLOOD OVER AUSTRALIA TOUR 2014
Children of Bodom, a name that redefined a genre and made it their own and a name that continues to galvanise all walks of life and all Heavy Metal sub-genres within that culture, it's a name that crosses genres and moulds them into the one army. In 2014, Children of Bodom return to Australia for an exclusive East Coast tour on the back of their strongest release to date that surpasses any of the band's classic and ground breaking releases such as 'Something Wild', 'Hatebreeder' and 'Follow The Reaper'.
Fronted by the charismatic Alexi Laiho, Children of Bodom deliver live performances that are nothing short of breathtaking with every show leaving the viewer spellbound and gasping for air. Such is the enormous amount of energy and entertainment the entire band puts out, simply stated, Children of Bodom back up their studio recordings with a non-stop battery and barrage to the senses of anyone that attends their shows, it's the only way they know and long may it continue!
Children of Bodom will perform tracks off their brilliant and recent new release 'Halo of Blood'; they will also perform a comprehensive selection of fan favourite tracks. Children of Bodom will be performing East Coast shows only; Melbourne, Brisbane and Sydney (All-Ages). They will be supported nationally by Eye Of The Enemy and will be joined by Orpheus Omega for the Melbourne show.
There will be on offer a STRICTLY limited VIP meet and greet fan pack pass available for these shows and the limited fan pack is heaped with Australian only exclusive items. The VIP Meet & Greet fan pass is obtainable from Metal Massacre Online; www.metalmassacre.com.au
TICKETS ON SALE Monday 18th November (Early bird: www.metalmassacre.com.au )
Ticketing outlets Monday 2nd December
Wednesday 7th May – Billboard The Venue, MELBOURNE (18+)
Tickets from www.metalmassacre.com.au  / www.moshtix.com.au  / www.ticketek.com.au
w/ EYE OF THE ENEMY + ORPHEUS OMEGA
Friday 9th May – The HiFi, SYDNEY (All Ages)
Tickets from www.metalmassacre.com.au  / www.thehifi.com.au
w/ EYE OF THE ENEMY
Saturday 10th May – The HiFi, BRISBANE (18+)
Tickets from www.metalmassacre.com.au  / www.thehifi.com.au
w/ EYE OF THE ENEMY
The new album 'Halo Of Blood' out now via Nuclear Blast / Universal Music
www.facebook.com/rockstarrecordsandtouring