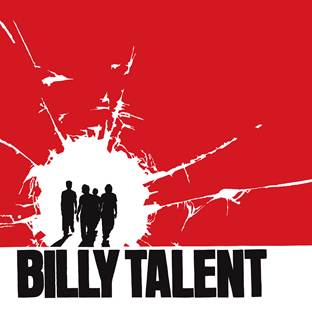 SPECIAL TWO DISC PACKAGE TO BE RELEASED FRIDAY 6 DECEMBER
In the Northern summer of 2003, Billy Talent were a relatively unknown band from Toronto whose first single, Try Honesty, introduced them to new audiences across Canada.  Their self-titled debut album was released a few months later, achieving triple platinum status in Canada, winning a multitude of MuchMusic Video Awards and Juno Awards (including Best New Group and Best Group as well as Album of the Year).  The band has sold nearly two million albums worldwide.
On Friday 6 December, Warner Music will release a special 10th Anniversary Edition of Billy Talent's debut.  The package includes the original album plus a second disc that features the identical track listing and sequence but gives the fans a chance to hear the songs in a different light, including: the original demos, live recordings from shows and special in-studio performances.  The album also includes a 16-page booklet with a forward written by George Pettit from Alexisonfire.
"It's been quite the journey for us since recording this album over a decade ago in Vancouver with producer Gavin Brown," says guitarist Ian D'Sa.
"While listening through many old recordings looking for material to compile this bonus disc, I couldn't help but be transported back to that time when we were just four twenty-something kids trying to make an impact on the local music scene.  A time when we had already spent a better part of a decade as a band together, and were now feverishly writing and rehearsing every day at our cramped rehearsal space in Toronto. Those days would lead to the record that would not only put us on the map internationally, but define our sound as a band and our vision as artists. Searching through all our old collections, we were ecstatic to not only find a handful of previously unreleased demos recorded years before the album was released, but also some great live and live-studio versions from the years to follow. We enjoyed these so much that we've included these recordings as a bonus disc in this album reissue. I hope you will enjoy them too."
"It was clear from the first time we saw them that the power of their performances and their songs were undeniable," says Warner Music Canada President Steve Kane. "They have become a globally recognized band over the past decade, something we are all proud to have been a part of.  In the subsequent years, Billy Talent has become a premiere league band who has given back to the community through their work with the Kids Help Phone and the MS Society of Canada."
Billy Talent 10th Anniversary Edition Tracklisting:
Disc 1:
This Is How It Goes
Living In The Shadows
Try Honesty
Line & Sinker
Lies
The Ex
River Below
Standing In The Rain
Cut The Curtains
Prisoners Of Today
Nothing To Lose
Voices Of Violence
Disc 2:
This Is How It Goes (Demo – Toronto, Canada 2002)
Living In The Shadows (Demo – Toronto, Canada 2002)
Try Honesty (Demo – Toronto, Canada 2002)
Line & Sinker (Live at Nova Rock Festival – Burgenland, Austria 2007)
Lies (Acoustic – 2004)
The Ex (Demo – Toronto, Canada 2002)
River Below (Live at the Orange Lounge – Toronto, Canada 2007)
Standing In The Rain (Live at Metalworks – Mississauga, Canada 2010)
Cut The Curtains (Demo – Toronto, Canada 2002)
Prisoners Of Today (Demo – Toronto, Canada 2002)
Nothing To Lose (Live at Phillipshalle – Dusseldorf, Germany 2007)
Voices Of Violence (Live at Norwegian Wood Festival – Oslo, Norway 2008)
OFFICIAL Website – Facebook – Twitter