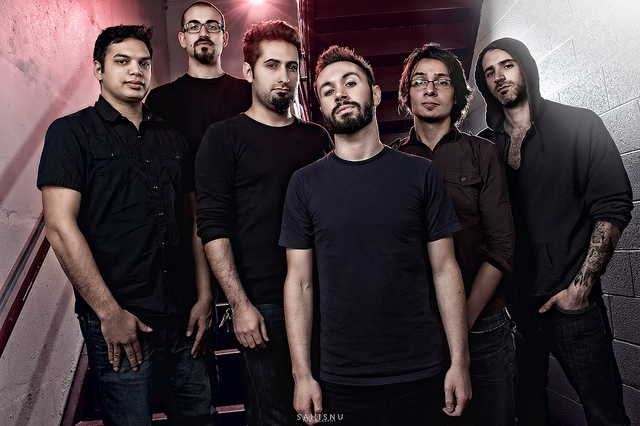 "… we'll be getting to play the songs we've never played in Australia before, in fact there's a few songs on the current tour we're on that we've never played before and it will only be the second time we've ever played these songs on a set list, so we're really looking forward to that."
From tour release: Periphery has defied the boundaries of conventionality, bringing new life to the metal scene. Their meteoric rise to the upper echelon of the metal world will be in full display when they return to Australia in January/February 2014 joined by Animals As Leaders. Periphery push the envelope with an innovative brand of engagingly complex metal. The band's latest offering, Periphery II showcases the band's richest and most alluring metal to date.
Hanging out in Poughkeepsie in New York State we chatted to Nolly about Periphery's return to Australian in 2014, as well as new music and more…
You were here in February for Soundwave but have just announced you're heading back in Jan and Feb 2014 for a few shows, what can we expect at this run of headline shows?
Well you can expect a much longer set as we'll be headlining, so we'll be getting to play the songs we've never played in Australia before, in fact there's a few songs on the current tour we're on that we've never played before and it will only be the second time we've ever played these songs on a set list, so we're really looking forward to that. I think the biggest expectation is probably from our end in really wanting to be back in Australia to enjoy the awesome weather, the awesome people and cuisine.
Do you have a great memory of your last tour here that you can share with us?
Yeah I can remember a lot of flying around *laughs* that's the most amazing memory of our last trip. We were hitting three cities a day, that was fun.
You're also bringing Animals as Leaders with you, have you toured with them before?
Yep we have, we just toured with them in the US actually on our recent tour with Dillinger Escape Plan, so that was great, and we've known the Animals as Leaders guys for quite some time now, the history of our two bands has sort of been intertwined since the beginning really. We also played them in Mexico recently and I'm actually producing their album at the moment, we're finishing the tour in two days' time and I'm flying back to LA to see Javier and Matt and finish the production of their new album.
In terms of new music, with Periphery II out now for around eighteen months, I believe there's an EP in the works to tide us over until the album is released, can you tell us a bit about that and when we may hear it?
Well we're calling it an EP but in reality it's more of an experiment I think that might be a better term, because what we did is, well for one it's longer than an EP, it's over thirty minutes long, because everyone in the band has a song based around a musical theme, so what we have is six songs each has a sonic signature of each member of the band. It's something we wanted to do for ourselves, to each be able to explore our own things that we enjoy about the Periphery sound and what we embark upon with it, and listening back I think it's very cool the way it came together and you can clearly hear the differences between the styles. We're looking forward to people hearing it, it'll be early next year when it comes out.
Aside from that are you currently also working on a new album?
Well the band is always writing material in some capacity, it's just the way of the band that someone is always writing something, so in that way I guess you could say that the new album is being written and there's definitely a lot of stuff out there that we could use on the album, but what we want to do is when we're back from Australia and the other shows early next year is for a period of a few months is honing down and have a tight focus on the songs for the album, so that certainely hasn't started yet.
I've seen the working title of 'Juggernaut' floating around, is that still on the cards?
Possibly, Juggernaut is a working title that's been about for years and years and whatever it's been at the time has changed, so who knows, maybe once we've done it we'll say OK this is Juggernaut, maybe it's just going to be Periphery 3, but we're not sure yet, we'll see.
When I chatted to Spencer and Mark in February I suggested Peripha3…
*laughs* Well maybe it will be, that's awesome.
You'd basically been a member of Periphery for some time, but only an official member since 2012, what was the feeling like when you were officially 'in'?
Oh it was absolutely great, it feels awesome to call myself a member of the band, they're my great friends and some of my musical inspirations, so that was absolutely awesome, but as you say, I've known Misha since 2008, maybe 2007 and the others as far back as 2009, so it just felt like a natural progression too.
In your short time with the band, what have you enjoyed the most about being a part of Periphery?
I think the travel is a huge thing for me, I love to travel and embrace it and just in the last year alone it feels like we've been to every continent, I'm sure we haven't, but we've played in places like India, Mexico, Australia, all around Europe, so that's been the best part I think.
You mentioned producing before, which is where you also shine, how has that side of you helped to bring the Periphery sound to the surface?
I don't know, I'd been growing alongside and learned a lot working with Periphery and I was brought in to co-produce Periphery II and that was a huge experience for me too. For example it helped me out in certain ways, in the pre-production I helped out with the guitars we were using and the drums and tried to help get the live sound of the band sounding like we sound on the record. I mean everyone in the band is capable of producing themselves and others, so if nothing else it's just great to be able to bounce ideas off each other and apply those to our own projects.
You mentioned you're producing the Animals as Leaders album but are you working with any other projects at the moment?
Things are still being finalised but things are coming from all over the place, Canada, Australia, England, and I've just finished up some stuff in England when I was at home, so there's always stuff going on but no big albums, Animals as Leaders, that's my only focus at this time.
I believe you're also working on a signature bass, can you give us some info on what we can expect?
It's really exciting for me, I'm working with this company called Dingwall in Canada and I've been playing their basses pretty much the whole time of history of being in the band, but it's just really exciting to be able to put together an instrument myself and with everything I want from a bass sound. It seems there's a hole in the modern metal bass sound which is a very distorted but clean sound which there doesn't seem to be a product out there for, I feel like we've managed to create an instrument that can do that and I'm very excited to create an instrument that will be available to the public.
What is your 2014 looking like so far?
We have the shows in Australia, we also have a cruise coming up, Progressive Nation cruise leaving from Miami which is going to be fun, I don't really know what to expect going on a cruise ship *laughs* but there's loads of amazing bands on that so I'm sure it's going to be great. Then after that it's just writing and recording process and we're just blocking out as much time as we can for that. I don't think we've got any engagements and we'll just make sure we spend as much time as we can with the band getting it to sound exactly as we want it to sound. That's kind of our only focus.
Essential information
From: Washington, USA
Band members:  Spencer Sotelo – Vocals, Misha Mansoor – Guitars, Matt Halpern – Drums, Jake Bowen – Guitars, Mark Holcomb – Guitars, Adam "Nolly" Getgood – Bass
Current Release: Periphery II
Website:  https://www.facebook.com/PeripheryBand
Catch Periphery on tour in Australia at the following dates
FRIDAY 31 JANUARY
BRISBANE, THE HI-FI – 18+
www.thehifi.com.au
SATURDAY 1 FEBRUARY
SYDNEY, THE METRO – Licensed All Ages
www.ticketek.com.au
SUNDAY 2    FEBRUARY
MELBOURNE, BILLBOARD – 18+
www.oztix.com.au | www.ticketek.com.au | www.moshtix.com.au
TICKETS ON SALE FRIDAY 22 NOVEMBER, 9AM (LOCAL TIME)
Presented by Soundwave Touring.