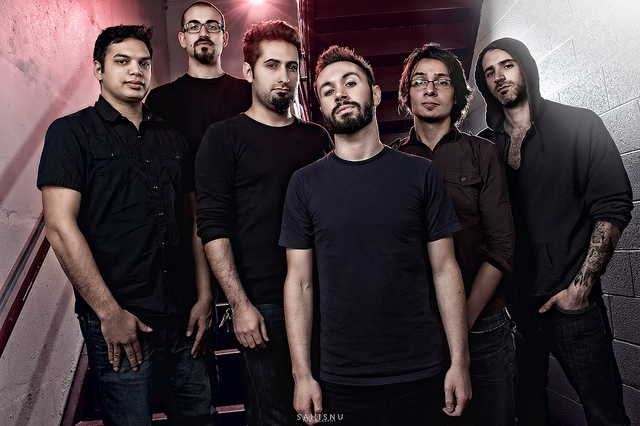 "There's one word that I can say is what we aim for, and I always aim for our set as a whole, collectively to be sort of a spectacle. I want it to look like one massive unit, I want it to look like a spectacle and sound like a machine and want us to all look the same way, I want us to all lock in and be cohesive visually."
From tour press release: In just a few short years, Periphery have blazed a trail of originality that has sent a shockwave throughout the metal world. Exploring the complex uncharacteristic rhythms and technical precision of math rock with the brutality of progressive metal, Periphery have defied the boundaries of conventionality.
Teaming up once again to do some interviews this year for Soundwave with The AU Review we sat down with Spencer and Mark from Periphery to talk about their trip here for Soundwave and the shows so far, the status of their new forthcoming album as well as what the year has in store for them, it may surprise you…
You are of course here for the Soundwave Festival as well as some Sidewaves how have the shows been so far?
Spencer: Amazing, man, these are the biggest crowds we've ever played to in Australia and the most energetic so far that we've ever played to in Australia as well, so it's nice to see coming back not being here for a year the drastic change of things from here to now.  Things are starting to take off for us it's awesome.
How are the festivals for you differing from the side shows?
Spencer: I think a lot of our core fans are coming to the Soundwave shows too, but it's cool too because we get to play to those people who never normally know who we are and wouldn't be at our Sidewaves or just our regular headlining shows that we were playing here.
Mark: We see passers-by and everything start to walk by and they stop in front of our stage so that's cool too, the crowds get bigger as opposed to, we don't want to see our crowds diminishing as we continue our set. We want it to get bigger.
Spencer: Excactly *laughs*
Have you had a chance to catch any bands yet or are there any you're looking forward to seeing over the course of the festival?
Spencer: We haven't really had a chance to go out and explore the festival as much as we want to, but there's a band that plays right before us, they're called 'Memphis May Fire' and I've never really listened to their music before, but how they command the crowd is insane, the crowd energy that they pull off of the crowd is just ridiculous, it's awesome.
Mark: I haven't had a chance to watch any of the bands either just because our press schedule has been so heavy at the festivals, I have watched 'Memphis May Fire' and they rule, but I really want to see some other bands and I'm hoping Friday in Melbourne or the other two in Adelaide in Perth I can see some others. I really want to see Killswitch once, I really want to see Metallica for God's sake.
Spencer: Slayer, Stone Sour, Tomahawk, it'll probably be the last two days of the tour just us going out and seeing as many bands as we can.
Mark: That would be awesome; I want to have a festival goer day.
Have you had a chance to see much of Australia and be a tourist on this trip?
Mark: Yesterday we went to Bondi Beach, spent all day there swimming and stuff, walked around and we did some in Melbourne, we shot a video.
Spencer: Right on the beach with a band called 'Twelve Foot Ninja' me, Mark and a couple of the other guys are actually featured in their new music video that's coming out soon and we got to shoot it on the beach and that was awesome.
If there was one word that you feel that sums up your live show perfectly what would it be?
Mark: One word… I don't know what do you think?
Spencer: *laughs*
Mark: There's one word that I can say is what we aim for, and I always aim for our set as a whole, collectively to be sort of a spectacle. I want it to look like one massive unit, I want it to look like a spectacle and sound like a machine and want us to all look the same way, I want us to all lock in and be cohesive visually.
How has this trip down been compared to previous tours?  Have you noticed a difference in the fan base or reception you've received?
Spencer: Definitely, like I was saying earlier, we've been here two other times and each time we come back we see that our fan base has grown and they get more ravenous each time which is a good thing *laughs* and this time is definitely been crazier that the last two times.
When we spoke last June Spencer, Periphery 2 was just about to be released, since then how has the reaction been to it?
Spencer: We actually just got a scan of our album sales this morning and it's actually already surpassed the sales of Periphery 1 and it hasn't even been out for a year yet, so when you see things like that and get feedback online and at shows from the new songs and new things like that, it's really rewarding to see that and what you're doing is building and that fans are sticking behind the changes and artistic way you're taking the band.
Mark: And you can only put so much emotional investment in reading reviews and stuff like that because I did got through a stage where I read reviews of the album and you start reading some negative ones and it starts to chip away at your confidence, so you distance yourself from that, so I hope that people are taking the record good you know?
Spencer: I think it takes time for people to get used to it as well you know? If you read reviews on something that just comes out you're not going to be used to it by that time and it takes a while for things to sink in.
You were also talking about already writing for a new album, how is 'Periphery 3 – This time we've done it quicker than the last one' going?
*both laugh*
Spencer: We're still in the early demo stages of it, we haven't even put together a solid track list for it, so I don't know when it'll be out or when it'll be ready to hit the studio but some of the material we've been writing is different, in a cool way, it's a little more progressive. Yeah, it'll definitely be a little bit of a change of sound and I think it'll take people by surprise but I don't think it'll be anything too drastic where they can't enjoy it.
Mark: We're going through a stage right now that has a lot to do with just the gathering of content, just creating content and not even organising, just writing and writing and writing, and when we have all that in place we'll start to organise it and see what flows well together and maybe put some songs together, that's exactly how we did the last album.
Spencer: We don't want to rush it either, we're taking our time, I know a lot of people think that our next album is probably almost done by the way we've been talking about it in earlier interviews we've done but no it's actually very much still in the demoing stages.
Mark: That's just how it works, we were already writing from the very end of the last recording sessions, we were already writing for the next album but that process takes a long time.
Is there a specific concept that you're aiming for on the new album?
Spencer: It's going to be a concept record but we're still working out all the content for that, so yeah, I don't want to give away anything.
Name wise, have you thought about calling it Peripha3?
*both laugh*
Spencer: That's good! Actually we've had a couple of them floating around, I don't want to give anything away on those either but they're good *laughs*
Mark: We have a couple of really good names but I don't want to say it yet because it's going to ruin the surprise, but we've got a couple of them some are PG some are definitely not PG.
*at this point I throw out a title and guessed one of them to their amazement and much laughter, but they asked me not to say what it was*
Mark, guitar wise, are you planning on trying anything new or different this time around?
Mark: I think guitar wise what you can expect is mainly what you've heard in periphery before, I think one of the things that stands out as like our Periphery trademark is our guitar styles and we're going to have the same creative base in the band, so guitar wise I think it'll be pretty consistent. On the last record we had half of six string guitars and half on seven strings and there was one eight string on a song which was track four on the album. I can tell you that a lot of the stuff we've been demoing is on eight string, so probably expect a little more eight string stuff on the record just because we're starting to experiment a little more with that instrument, but I can't really say much more as far as changes guitar wise, there's probably maybe a little bit longer arrangements, but that may not be true, I'm just talking early demo stages right now.
How does having the triple guitar assault help in making the Periphery sound what it is?
Mark: Oh it's absolutely integral, we need three guitar players, and I was sceptical too, I joined the band two years ago now and before I joined I looked at the three guitar line up and I was like why is that so rare in metal? Then I joined the band and seeing the amount of layering that goes on a record and seeing how many parts there are to recreate live, we need it and we have had shows in the past where it's just been two guitar players and it's been impossible to recreate what's on the record with two.
Spencer: At that point you just end up having tonnes of backing tracks you know? *laughs*
Mark: Its' happened before right, before I joined the band you guys had to put stuff on backing tracks, so it's absolutely needed, one guitar player will be playing rhythm, and typically me and Misha play a lot of the rhythms and Jake is in the middle he'll play a lot of the clean parts, the leads and stuff like that, but then we all trade off leads as well, we all trade off layers, so we like to have fun with it, we like to mix it up which is why we all do a little bit of everything.
What does the remainder of 2013 have in store for Periphery?
Spencer: Well we're going to go home and we're home for literally two days and we head out on tour for a month in The States with Deftones and that's going to be awesome, that will probably be the largest tour we've done to date, biggest band we've toured with. After that we have a little bit of time off, probably do some writing for the next record and then go out on Summer Slaughter in the States as well, the line up for that is incredible, we can't wait for that to be announced.
Mark: We're going to Europe too; we're going to Europe with Tesseract in May.
Spencer: Playing a show with Meshuggah in the UK, just little things here and there.
Mark: After that I think we're going to break up *laughs*
Spencer: Yeah that's a good game plan.
Mark: I'm just kidding about breaking up; we're going to break up before all that shit.
*both laugh*
Essential Information
From: Washington, USA
Band members:  Spencer Sotelo – Vocals, Misha Mansoor – Guitars, Matt Halpern – Drums, Jake Bowen – Guitars, Mark Holcomb – Guitars, Adam "Nolly" Getgood – Bass
Website:  https://www.facebook.com/PeripheryBand
Forthcoming release: Periphery 3 (TBA)