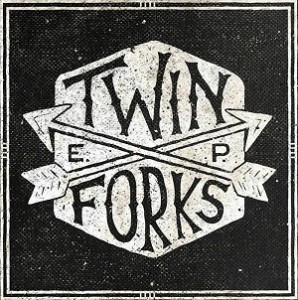 In summary: Infectious, happy, energetic and what music is missing…
My hand is up, yep, I admit it, I love Dashboard Confessional, there's just something about Chris Carrabba's words and music that resinate with me, and now with Dashboard on a break here he is with his new project called Twin Forks, and within its opening bars it's here for one thing, to put a smile on your face. 'Back To You' is the prefect introduction to the band and this self-titled EP, with its foot stomping, almost folk rock influences it is just damn fun to listen to. I get the feeling this EP will continue along the same vein and I'm right with 'Something We Just Know' a song you can picture a gang singing along to, not a gang, I mean a gang of friends, I can't see Bloods or Crips singing it, but picture a party of friends sitting around and jamming this one, that's how it feels to me, and it makes you smile.
Oh cool, whistles, 'Cross My Mind' sounds like it should be either in a TV promo spot or rolling over the credits of the happiest movie you've ever watched, the amazing balance and production underlying on this one lets us hear the instruments perfectly, the mandolin a stand out and some brilliant clean guitar is just as crisp as the grass a winter morning. Lyrically it's perfectly Carrabba at what he's known as, and I refuse to use that swear word they use to describe his music, you know, the E word, yuck, but his lyrics are heartfelt and you understand these songs, they're happy, they're folky and they do rock.
Here we go, 'Can't Be Broken' I like you, you can stay. The vocals here and the balance between Chris and Suzie from the band work like PB and J, like a dream and the build within this track makes it my favourite on the EP, another foot stomping slab of goodness right here and musically, I'm a sucker for a great chord progression and BOOM, great chord progression. Thanks Twin Forks.  Closing out the album is the very Dropkick Murphys meets Gaslight Anthem styled song with 'Scraping Up The Pieces' and its Celtic-esque goodness, it's built to be a crowd sing along, and will be that's for sure. I can't say much more than that, but let's look at the EP overall with a few words…
Infectious, happy, energetic and what music is missing… I mean I know we live in an age of Mumford & Sons and the likes with this somewhat sort of style of music, but this is as good if not better, well I instantly think it's better and should be, scratch that, need to be heard, as this has more heart than a game of Operation and trust me, this is a band and an EP that may give you a shock if you touch the sides, but only a shock of how good this actually is. Sit down with it, smile with it and do what I did and swear when there were only five tracks to listen to. I can't wait to hear more from Twin Forks , so if you just want to be happy for fifteen or so minutes, then check this one out.
Essential Information
From:    Boca Raton, FL, USA
Release date: 20 September 2013
Label: Dine Alone Records / Cooking Vinyl Australia
Website: http://www.twinforksmusic.com
Track Listing:
Back To You
Something We Just Know
Cross My Mind
Can't Be Broken
Scraping Up The Pieces
Catch Twin Forks on tour in Australia supporting City And Colour
Sat Nov 30 – Riverstage, Brisbane QLD
Sat Dec 7th – Belvoir Ampitheatre, Perth WA
Sat Dec 14th – Sidney Myer Music Bowl, Melbourne VIC