"For our Australian fan base it's great because it is the first time they are going to hear Amorphis songs and we're going to play stuff you know, not only the latest songs, we're going to play as much songs of the history as we can."
From Tour Release: Amorphis  has been at the forefront of the scene for well over two decades. Encompassing a large and loyal fan base they have been able, and continue, to win over fans of all genres. They will be in Australia performing tracks off their latest release 'Circle' but will also perform classic and fan favourite Amorphis tracks across their comprehensive discography. Amorphis are seasoned professionals, they are a class act, they are the complete package, and they are at the top of their genre. Their upcoming performances will be something to behold and their shows are a musical spectacle. This tour will be something special for fans of all musical genres.
We spoke to front man Tomi about the band's upcoming Australian tour and what we can expect, as well as new music and being the 'new guy'…
Well, at over twenty years as a band this will be Amorphis' first time to Australia, what's taken so long?
*laughs* I remember we had some plans to come there two or three years ago but I don't know what happened, I think business things, but now it's finally going to happen and I'm really excited that it's the first time, I haven't been there, so I don't know what to expect, man. *laughs* I'm really positive and I think it's going to be great.
So, seeing as you haven't been here before, what are you most excited to see?
I think it's going to be hot, that's for sure, I don't know if we have any spare time to hang around, but it would be nice to go and see some exotic things like animals and stuff but I'm just happy that we can come there and I hope next year it will be easier to come there.
Have you been given any idea of what to expect down here?
I don't know, I've been talking to some other bands that have played there and they said that the scene is great there and lots of metal heads, I'm sure we have a lots of fans there but I don't know how many of them are coming to see our shows *laughs* but it's the first time, so many next time it's easier.
This is always hard for artists, but can describe a typical Amorphis live show?
If we have enough time we try to play shows from every album, we try to play a couple of songs from 'The Karelian Isthmus' and 'Tales From the Thousand Lakes' but of course we are promoting the latest Amorphis album the 'Circle' album and I think we're going to play four or five songs from Cricle album. If we have enough time we're going to play maybe sixteen songs or something, it's going to be interesting. For our Australian fan base it's great because it is the first time they are going to hear Amorphis songs and we're going to play stuff you know, not only the latest songs, we're going to play as much songs of the history as we can.
With 'Circle' out now for a few months, how has the reaction been to it so far?
It's been really positive, I think it was good to work with Peter Tägtgren I think it was really interesting thing for fans and also for the press, Marco and Mikko was the producer only for before, but this time Peter was producing the whole album so it was an interesting thing. We have had really great reviews from the press and played a lot of sings from Circle in the festivals during the summer and the feedback has been great, everything seems to be alright in the band at the moment.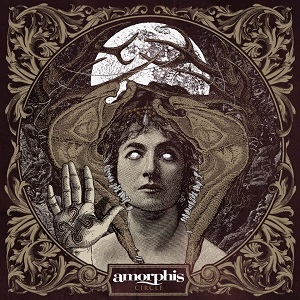 What does 'Circle' represent for you?
For me personally it represents getting power the history and getting emotions from the past and stuff like this, and in the circle album I think the main idea is there is a moment in your life that you can't go forward, you have to start again and look backward in your life and maybe you can get some motivation from the things that happened for you many years ago and that's the kind of thing on this album. I think this is kind of a positive story, like you have to move on and you can't just stop living.
It's a great album, when making it what if anything did you do this time around that you hadn't done on previous albums?
Well we wanted to start the whole recording session the way that we are all in the studio at the same time, and that's what we did, we rented a studio in the countryside and we stayed there like four or five days and we recorded all the drum tracks there. There was lots of talking about the songs and it was just nice to hang around with the guys, one big thing was Peter Tägtgren, he spent maybe five weeks here and it was a big challenge for him and us also, as we didn't know Peter that well, we met him a couple of times when we were touring around Europe, but this is the first time we really spent time with Peter. I don't know, it took five weeks to record the whole album it was really intense but it was fun also.
The songs are so melodic, it really is great, so when putting them together, how do you work out the balance that takes place within an Amorphis song where clean vs growling vocals are present?
In our case vocals first comes the music and once they are recorded we start to work on vocals, and of course as a singer it's obvious if there's a heavy riff going on I use growls and when the music is getting lighter or more melodic it's quite obvious that I'm using clean vocals. I'm just trying to use my emotions and as a singer I'm happy that I have a chance to use both styles as they are both really important for me as a singer. When I started as a singer I started growls I was a singer in a small band here in my hometown, so growls are really a natural thing for me. I'm also happy about the fact we are playing all the old songs from 'Tales from the Thousand Lakes' for example, and I think it's great for the fans also.
Looking back at 'Eclipse', compared to 'Circle' and where you are now, how have you personally seen yourself evolve as an artist?
I think of course 'Eclipse' was a very important album for me as it was my first one, and I didn't know how the fans will react and the feedback was really positive and lots of people came out to our shows and it was really motivating and I was really happy that it went so smoothly in a way, as when a lead singer changes it's a huge step for the band and 'Circle' is now my fifth album with the band and now for me it's easier now as it's eight years and they know me and they know my style, so there's not much pressure anymore, so it's easier now to trust yourself and trust that you can do this *laughs* as with the 'Eclipse' album I didn't know how it will end up, so now it's kind of easier. Of course every time you start to work with a new album I'm really scared and really nervous and that's something that motivates you when you're in the studio, if it's too easy or too safe I think it's really boring *laughs* so every time I got to the studio I'm living on the edge in a way.
Are you still nervous about being the 'new guy' or are you fully settled in?
I think I will always be the new guy, eight years but still old school dudes are thinking who is that hippy guy at the front? For me it's alright because there's been the same kind of examples in history, like Sepultura for example, for Derrick it's still a challenge for him, it's not that easy and I can understand it, for the fans it's really boring when the man changes at the front, but that's what happens in the business, you just have to live with it and continue. As long as you enjoy doing music and doing shows then that's enough you know?
Other than Australia, what does the rest of the year have in store for you?
After Australia we're going to play shows in Japan, we're going to do Loud festival in Tokyo, then we go to China and maybe to South Korea also, we have some plans, I don't know if they're going to happen. Before Australia we have the Russian tour, we have some shows in Russia which is going to be quite interesting also, after Australia also we have the European tour, were going to play twenty maybe twenty five shows in Europe and at the end of the year we're going to play six shows in Finland, so by the end of the year we're going to have played fifty shows or something, so it's going to be quite busy for us. I think next year I really hope that we're going to do an Eastern European tour as now we only do Western and Southern Europe , it would be nice to go up to Bulgaria and countries like that and if everything goes well we're going to have some sort of huge tour as we haven't played there for years, it's the time to go there but it's always a big challenge to go there because it's so expensive to get there and the countries so huge and with lots of bands touring there at the same time, so it's a challenge.
And hopefully we'll see you back here again next year…
Why not? *laughs* if everything goes very well.
Well we look forward to seeing you this October first though…
It's going to be great; we have played many festival shows during this summer so we're in good shape, so it's going to be a powerful show.
Essential information
From: Helsinki, Finland
Band members:  Tomi Joutsen, Esa Holopainen, Tomi Koivusaari, Niclas Etelävuori, Santeri Kallio, Jan RechbergerJohn Petrucci (guitar), John Myung (bass), James LaBrie (vocals), Jordan Rudess (keyboards and continuum) and Mike Mangini (drums). John Petrucci (guitar), John Myung (bass), James LaBrie (vocals), Jordan Rudess (keyboards and continuum) and Mike Mangini (drums).
Latest Release: Circle (Out Now – Nuclear Blast Records)
Website:  http://www.amorphis.net
Catch Amorphis on tour in Australia at the following dates:
Friday 11th October – The Factory Theatre, SYDNEY (18+)
Tickets from www.metalmassacre.com.au  / www.factorytheatre.com.au
Saturday 12th October – The HiFi, BRISBANE (18+)
Tickets from www.metalmassacre.com.au  / www.thehifi.com.au
Monday 14th October – Billboard The Venue, MELBOURNE (18+)
Tickets from www.metalmassacre.com.au  / www.moshtix.com.au  / www.ticketek.com.au
Wednesday 16th October – Amplifier Bar, PERTH (18+)
Tickets from www.metalmassacre.com.au  / www.oztix.com.au