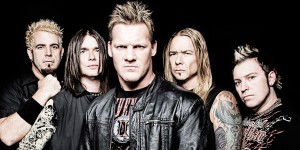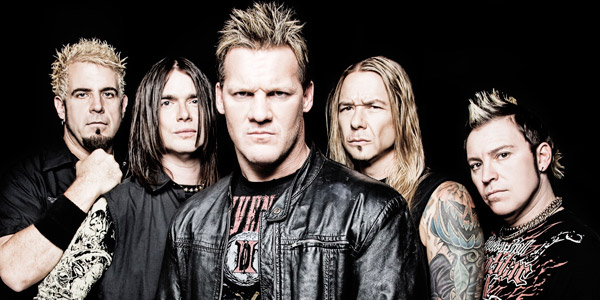 FOZZY JOIN THE S.T.D PARTY!
"After playing Soundwave 2013, one of the best tours of our career, in front of the best Fozzy fans in the world, we had one mission on our minds- to come back to Australia on the Sin And Bones tour ONE MORE TIME! Now we have accomplished that mission and are stoked to be coming back to Oz in December to tear your heads off once again! Along with our bros in Steel Panther and Buck Cherry, we are forming a Rock n Roll TRIPLE THREAT that can't be missed!! This is the tour of the Summer and we can't wait to kick all your asses again!" – Chris Jericho
—————————————————————————————————-
Michael Starr, Satchel, Lexxi Foxx and Stix Zadinia
TIME TO STOCK UP ON PROTECTION!!! 
STEEL PANTHER TO INFECT AUSTRALIA ON THE SPREADING THE DISEASE (S.T.D.) TOUR
The Sunset Strip's hottest exports, STEEL PANTHER, are infecting Australia this Summer on their Spreading The Disease (S.T.D.) Tour. "WALKABOUT? Don't you mean ROCKABOUT! December is a time of giving…..and taking. This December, we in Steel Panther are planning on giving Australians the gift of our super bitchin songs in our super bitchin new spandex! We are also planning on taking a bunch of your super bitchin ladies backstage after these extra bitchin shows! So, join us, with our awesome friends Buckcherry, this December, as we go on a rockabout through your bush………down under!!!,"
STEEL PANTHER was, for a long time, rock's best-kept secret: a cult legend on the LA scene. But in recent years due to the success of their albums and live shows, the band has enjoyed huge acclaim from fans and peers alike. STEEL PANTHER has been joined on stage by rock and roll icons such as Steven Tyler of Aerosmith, Paul Stanley of KISS, Corey Taylor of Slipknot, Tom Morello of Rage Against The Machine, Chester Bennington of Linkin Park and Green Day to name a few (who knows who will join the lads on stage during their Australian visit!).
STEEL PANTHER has been in the studio lately working with Jay Ruston (Anthrax, Stone Sour, Meatloaf) on their third full-length album.  The album is the follow up to the band's critically acclaimed 2011 release, Balls Out.
Fellow L.A. rockers BUCKCHERRY will also appear on all shows.  BUCKCHERRY have sold 3 million albums globally on the strength of a killer live set, and multiple hits including 'Crazy Bitch', 'Lit Up', and 'Sorry'.  Their critically acclaimed new album "Confessions" hit stores in 2013 and as expected it's another orgy of sweat, swagger and sordid behavior…it bites hard and then leaves you gagging for more." – Metal Forces Magazine. BUCKCHERRY will also be releasing a Best Of compilation later this year. 
Not many bands can continually lay claim to constantly selling out shows whenever they tour Australia but STEEL PANTHER proudly sit amongst that elite group. Tickets go on sale Friday 27 September, 9am local. Having recently won Live Act Of The Year in the 2012 Loudwire Music Awards beating out the likes of Iron Maiden, Metallica and Tool amongst others tickets will be snapped up quick …you have been warned!
__________________________________________________________________________
FRIDAY 6 DECEMBER                            BRISBANE, RIVERSTAGE – Licensed All Ages
www.ticketmaster.com.au
SATURDAY 7 DECEMBER                      SYDNEY, HORDERN PAVILION – Licensed All Ages
www.ticketek.com.au
SUNDAY 8 DECEMBER                           MELBOURNE, MYER MUSIC BOWL – Licensed All Ages
www.ticketmaster.com.au
TUESDAY 10 DECEMBER       ADELAIDE, ENTERTAINMENT CENTRE THEATRE – Licensed All Ages
www.ticketek.com.au
THURSDAY 12 DECEMBER                    PERTH, METRO CITY – 18+
www.oztix.com.au