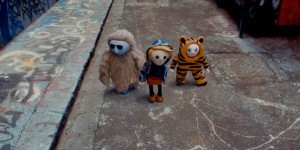 It's Spiderbait as you have never seen them before! The band have been immortalized as puppets in their latest video for 'It's Beautiful'. The video is directed and produced by Toby Angwin and stars specially created anime/manga style puppets of each band member that they helped to create. The puppets wander through the alleyways of Melbourne, discovering unexpected objects of beauty along the way.
"The brief for the video was the Wabi-sabi idea of beauty in imperfection.  Other than that it was pretty open.  We just didn't want the idea being too literal" says Janet of the story behind the video.  "It ended up being a pretty sentimental love fest about Melbourne.  Melbourne was the city we started playing punk music in, it embraced us, so it's a very special place to all of us in the band.  It's a great place to be an artist or musician."
The video is just another extension of the creativity we have been enjoying from Spiderbait since their return, with Kram revealing the album artwork  on Facebook with a personal message to fans. "Dan the man" Newton (music writer and Spiderbait fan) came up with his own retrospective journey on all things Spiderbait and Janet created the "unofficial video for 'It's Beautiful' whilst the official video was being made.
'It's Beautiful' is the first 'official' single to be lifted from Spiderbait's forthcoming self-titled album, 'Spiderbait', which is out November 15.  The new single which showcases Janet's unmistakable vocals, follows on from the gutsy debut track 'Straight Through The Sun' that was offered as a free download for fans.
'Spiderbait' is the first studio album from the band in 8 years since 2004's platinum-selling and ARIA #14 album, 'Tonight Alright'. The album was produced by Francois Tetaz (Gotye & Bertie Blackman) and Kram.
Across their lengthy career, Spiderbait have sold over half a million albums to date with 5 Top 20 albums in Australia.  In 1996 the band took out the top spot on Triple J's Hottest 100 with 'Buy Me a Pony'. This was the first time an Australian band had achieved this. They have since won 2 ARIA Awards, been nominated for 19 ARIA Awards, and scored a #1 ARIA chart single with their legendary track "Black Betty".
Single – It's Beautiful' – out now
Album – Spiderbait – November 15
Pre-order the album from the following outlets and receive an exclusive gift from the band
iTunes – http://smarturl.it/Spiderbait-iTunes
JB – http://smarturl.it/Spiderbait-JB
Sanity – http://smarturl.it/Spiderbait-Sanity