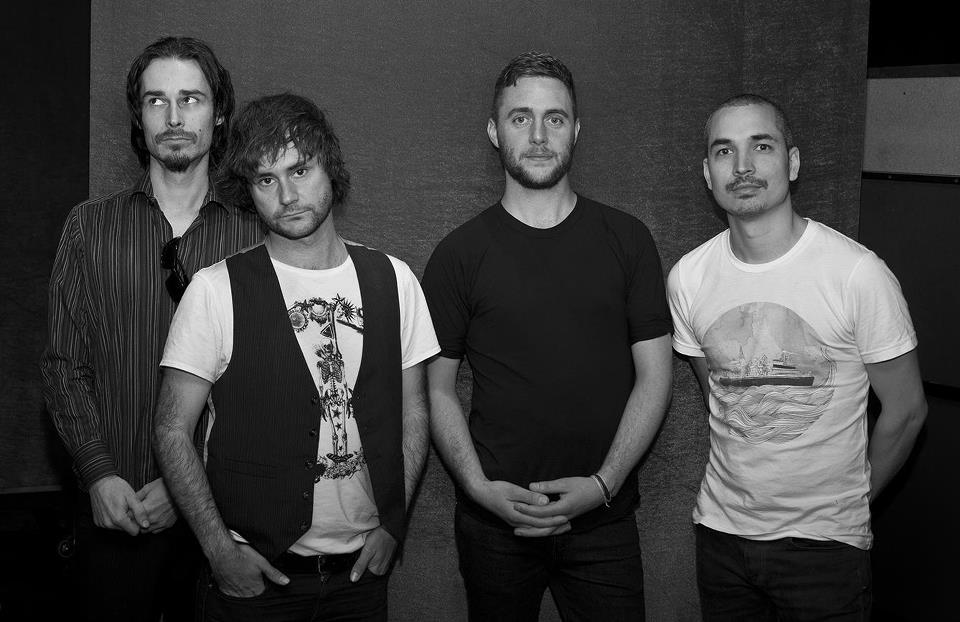 It's been five years since Sleep Parade's critically-lauded 2008 debut, Things Can Always Change, dropped. Since then the Melbourne rock act have journeyed extensively throughout Australia as hand-picked main support act for a number of bands, as well headlining their own tours on the back of songs like Carry On and Passenger which enjoyed extensive airplay on both Triple J and Channel V. If INSIDE/OUT is any indication, it's a benchmark they've nailed and then some – Dancing With The Enemy is but a mere taste of the tour de force that is to come. It might've taken them three long years in and out of the studio but gone now are the sprawling prog influences of their first opus: revamped and revitalised, Sleep Parade have matured into a sophisticated, melody and harmony-heavy rock band whose multi-layered songs have been immaculately, painstakingly crafted.
We had Sleep Parade answer some questions for us about the band and their music, check them out!

Let's start with the basics; for those that aren't aware of you, can you please give us the abridged version of the Sleep Parade story, how you came to be and the decision on the name of the band?
Leigh and I met at uni and shared a mutual love of music. This led to us "deferring" and we never looked back. We have put out two albums now and have toured the country multiple times with bands such as Porcupine Tree, Cog, The Butterfly Effect, Karnivool, and Dead Letter Circus. Our new album titled "Inside/Out" has just been released last month.
Can you now please introduce each band member and give us a rock 'n' roll fact or myth about each of you?
Leigh (Singer/guitarist): Is he the healthiest man in rock 'n' roll?
Red (Guitar/Keys/Vocals): What is his real name?
Mike (Bass/Keys/Vocals): The nicest man in rock 'n' roll?
Dan (Drums, Vocals):  Why is my nickname Salt 'n' Peps?
You have your new album out now, so if you had to give us your best door to door sales pitch to convince someone to listen to your self-titled album release before they slam the door in your face, what do you say to them?
It has great songs, honest emotion and interesting modern sounds. At the very least the album would make a beautiful coaster for your cold beverages.
In the five years since your last album, firstly, what took so long? And secondly, what inspired the songs that would end up on the album?
We just wanted to get the music right. There were a lot of songs written for the album and they needed time to gestate and evolve on their own. As they say nothing good comes from rushing. To produce something that will stand up sonically to all of the bigger international artists you need to spend time refining things and spend money on recording everything to a certain standard. Being an independent band with no label help makes this process take a bit longer… The songs on this album were inspired by being in our late 20's and trying to find our place in the world as clichéd as that sounds. It is essentially about questioning where you are at and how society works and trying to figure out what is important. Are you more left brained or right brained?
How in those five years have you seen the band evolve?
We have become more song based and place a greater emphasis on melody and harmony. There has been a general broadening of our listening habits and this is reflected in the eclecticism of our new record.
In terms of your song writing, what do you consider to be the most important ingredients that make up a Sleep Parade song?
A great melody and a meaningful lyric that evokes an emotion.
Both lyrically and musically, what or who inspires/influences your music the most?
Great bands like Radiohead and Pink Floyd. Generally artists that are forward thinking and not afraid to try new things regardless of how they will be judged. Apart from that I think that you draw inspiration from personal experience and relationships with others.
You've been out on tour with Dead Letter Circus and Closure in Moscow, and more recently with The Butterfly Effect, how would you describe a typical Sleep Parade live show?
We are very pumped to be going on the road with two of the best bands in this country! Our typical live show is very energetic and we play with a lot of energy. Four-part harmonies feature pretty heavily and it is typically very melodic.
Tell us a bit about the Pozible campaign you have running, there's been some great support for the band! How can people still get involved?
We have been running a crowd funding campaign over the past month to help us pay for some of the upcoming touring costs that we will incur. Stuff like flights, petrol and accommodation. Given the rising costs of touring in Australia over the past few years it has made it very difficult for bands in general and especially when you are independent. We have been absolutely floored by the generosity of our fans and it has affirmed for us why we do this music thing in the first place.
For a bit of fun, say you get the chance to open for any artist or band in the world, who would they be and why?
Radiohead, they are the best band in the world by a mile.
If you could cover one song in your live set that no one would ever expect, what would it be and why?
Seal: Kiss From a Rose. Those harmonies in the chorus get me every time. We could do a proggy version of it and throw some weird time signature in. Or not….
Lastly, with 2013 well over half done, here's a chance to gaze into your magic mirror and see the future.  In the next year Sleep Parade will:
1. Tour.
2.  Record more music.
3. Try to expand our fan base further overseas.
Essential Information
From: Melbourne, Australia
Sounds like: Alternative Rock
Band members: Leigh Davies: Guitars/ Lead Vocals/Programming/Synth, Matt Delaney: Bass Guitar/ Backing Vocals/Programming/Synth, Dan Teng: Drums/ Backing Vocals/ Programming/Synth, Red Black: Guitar/Keys/Vocals
Current release: Inside/Out
Website: https://www.facebook.com/sleepparade and http://www.sleepparade.net/