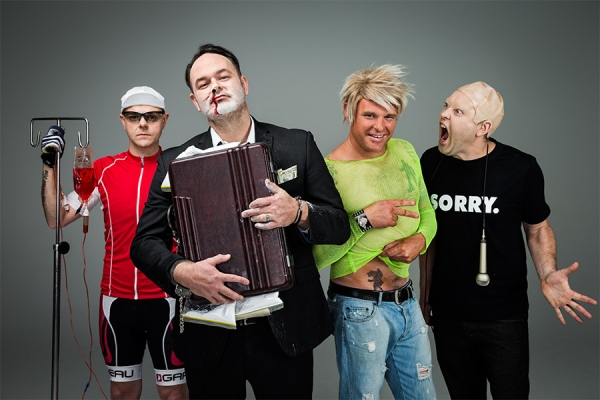 "…I suppose we've just gone out to our little niche I suppose that it is that we do and yeah, we've gone for a fun record, something that people can maybe relate to a little bit and just chuck it on and enjoy it and there's not too much thinking involved, you can just chuck it on and have a bit of fun."
From Release: Bodyjar formed in the Melbourne suburbs in 1994, starting out in the worldwide punk boom, alongside Blink 182, Unwritten Law, The Offspring, Pennywise and Frenzal Rhomb. They toured around the world with many of the era's most revered acts, and appeared on festivals like Warped Tour and Big Day Out in their rise to prominence. Their classic 1998 record "No Touch Red" led to a major label deal, and in 2000 they released the smash hit "How It Works" which was certified Gold, and produced hits "Not The Same" and "Fall To The Ground". Their most recent self-titled album in 2005 was their last before calling it quits, and until last year's successful reunion the idea of another album seemed to be off the cards. With a renewed energy and flurry of incredible songs, the band have rediscovered their love of music, and are back with the brand new album. "Role Model" illustrates that love, allowing them to deliver what could be their more cohesive set of songs yet. The first single "Fairytales" should leave no doubt in fan's minds that Bodyjar still have it after all these years. Fast paced and full of melody and energy, the track showcases the rare talents of a band that has been around for 19 years.
We chatted to Shane of Bodyjar about the return of the band and their new album 'Role Model' as well as the past, and the future for Bodyjar…
'Role Model' is your first album since 2005, rather than asking what took so long, I guess the question is why was now the right time to release a new album?
I suppose back when we decided to call it a day back in 2009 we were tossing up with the idea of doing another record back then so it would've been a bit closer to the self-titled album, but we were all sort of a bit burnt out with the band and we'd had enough and thought well if we do another record now it's just not going to be good. If we want to put something out we want it to be good and not total crap and thinking well what was the point? So, that's why we decided to call it a day and after getting back together and doing the reformation shows last year for 'No Touch Red' and then The Descendants tour earlier this year, it got everything boiling again and we were thinking, well, we think we're going to do something as a few of the guys had been writing songs just because *laughs* and we just started to add a few little ideas while in rehearsals for the 'No Touch Red' tour and before you know it we're like well if we're going to do it, let's do a record and that's basically how it happened, just the right timing for everyone and yeah, it worked out.
It was somewhat of a secret and a surprise to many, was this your evil plan all along?
*laughs* I suppose the main thing that we kept it a secret is initially the only people that knew we were even writing anything was the four of us, and probably our absolute closest family members, our partners or whatever, that knew. The reason for it being was that if we don't think we're going to write something good enough to put out or it's not going to work for whatever reason then no one knows about it, we've tried and so be it. Then when it was working out and we were really enjoying what we were writing and we were digging it, that was the biggest thing and then we decided to let a few more people in on what was going down and looking for producers and the label and everything happened. So not quite evil, but some people might have thought so… *laughs*
The album is for lack of a better word, just fun… music is missing this kind of thing, what was your inspiration behind it?
I'll tell you one thing you've just nailed it right there on the head as to what we actually wanted to do, and it's awesome that you think that as that's exactly what we were trying to go for. It's just a fun punk pop sort of record, something that the band was sort of known for in the past, and yeah there's not as much going on in the way of that style of music at the moment, it's definitely for quite some time now a lot heavier, and that's cool, the hardcore scene and all that has come to fruition more and more and that's rad as there's some really grouse bands coming out of it, so I suppose we've just gone out to our little niche I suppose that it is that we do and yeah, we've gone for a fun record, something that people can maybe relate to a little bit and just chuck it on and enjoy it and there's not too much thinking involved, you can just chuck it on and have a bit of fun. Same thing with our shows it's what we want to do from this record as well.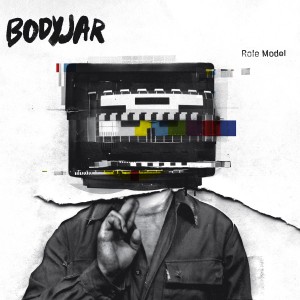 The title itself, what does 'Role Model' represent for you?
I'm not sure exactly for me, I suppose even out of the four of us we probably all have a different idea of what it could mean, I mean for me role model is probably a couple of words that get used a lot across a bunch of different things, some people find a role model in somebody that's doing good for humanity I guess in a way or a role model could be someone that's total opposite, but people see a role model in different respects I guess, so I guess it's just a couple of words that people can look into it any way they want, I suppose that's what it could be. What is a role model *laughs* to someone, it could be anybody or anything, so, yeah that's the sort of way I look at it anyway.
You were out with The Descendents earlier this year, is it fair to say that helped light a fire under you again?
I reckon that's what hit it for a home run *laughs* if you want to put it that way, as the 'No Touch Red' shows last year definitely is what got the fires burning originally and with those shows going so well and we had such a good time out on the road, and then we started to write a few things. Then when The Descendents tour came up, we actually heard about that last year when we were finishing up the 'No Touch Red' shows, we'd just landed in Sydney and our manager had an email asking about it and when we did that tour we were really happy with how we played and the people really responding well and that was just like absolutely we've got to do this for sure.
After four years away on hiatus, was there a time you thought the band wouldn't perform together again?
Yeah absolutely, I mean of course when we initially when we decided to call it a day it was like it was just not going to happen, there was no vibe, and it wasn't even a personal thing between any of us, it was just an overall feeling of it's just run its course, let's go out on a high and so be it. Yes, so during this time we've all gone off and done other stuff musically or a couple of the guys ha d couple more kids now and everyone's got different projects their working on, whether it be music or other things, and when we started doing a couple of little shows here and there, and we did get a lot of offers even during that four years to do a show here and there and we said no to basically all of them as we weren't interested. I think we did an Arthouse show here in Melbourne for the closing of The Arthouse and I think we did a show in Sydney, and it started gradually like maybe we'll just do the odd show here and there just for the fun of it and then things just sort of got a little more busy for sure. *laughs*
You're about to head out on a run of your own shows, starting next week, what can we expect at these upcoming shows?
Well a lot of fun, that's what we're aiming for of course with the whole shows, and the other thing is just the line-up, we've got Luca Brasi from Tasmania who are just sick, like they're an amazingly good band, again just a fun punk sort of band, off the Poison City label which has a heap of good bands on it at the moment and we're lucky to get Luca Brasi, and The Sinking Teeth are opening the show as well and they're another great three piece, so yeah, a really cool line-up and a lot of fun and we just want everyone to come out and have a bit of a party I guess, have a couple of beers and listen to come of Tom and Grant's bad jokes *laughs*
Do you have a favourite song to perform live of yours?
Geez… probably changes a bit… I'm loving playing a lot of the new stuff 'Fairytales' is good, I like playing a lot of the faster stuff for sure. What else do I like playing? Out of the older stuff I always like playing 'You Say' that's always a good one to play, yeah it just changes probably every now and then I 'm loving playing this one or that one at the moment, it just changes. Probably depends how well I'm playing something as well *laughs* but if I have to say, one of my favourites at the moment is 'Maze'.
So it's almost twenty years since the band's inception (forgetting about the hiatus) but what do you see as the biggest difference of Bodyjar 1994 compared to Bodyjar today? and you can't say you're older…
*laughs* Well I'm still the baby of the band, in '94 I was still in Primary School which they love being reminded of *laughs* and I've been in the band ten years next year I think it is… I suppose everyone's grown up and probably got different vibes on things, but over all I think everyone sees the band as a lot of fun and we've all grown, when we did have that bit of a hiatus, we all realised how much we do miss it, and I think that's something over the years you realise how attached you get to like playing in Bodyjar, it's a massive thing. As a unit it's like a family, it's not even just the four of us, it's our crew, our management it all revolves around our little family that we've got as a band and I think we've grown to realise over the time and I think that would be the biggest thing for sure.
I asked Tom this back in February but is it fair to say that Bodyjar are back and sticking around?
Yeah I reckon, for sure. I don't think we're going to do this record and then be like 'nah we're breaking up' we're having a lot of fun, there's a lot of good things happening with the band at the moment, like we're touring we've got coming up in Australia at the moment and there's also some overseas plans coming along, so if we're going to be going overseas as well as touring in Australia and doing a few more things, we're going to be sticking around. There's already talk from the guys of doing another record, and writing other things and if we do another record what would we do, would we change things? And we've only just put this out a week ago *laughs*, so yeah I'd definitely say we're going to be around for a while for sure.
Lastly, what does 2014 have in store for Bodyjar?
More touring, people overseas are probably going to get a fair chance to see us, I can't say a whole lot about that at the moment, I can say we are going to some places that the band's never been, which is really, really exciting. One of the countries in particular is a bucket list tick for all of us, I mean if I was going to give you a hint I'd probably have to say I might have to buy a new cowbell… that's probably all I could give you *laughs* so things like that. We're going to be doing more Australian shows and just taking things as it happens I guess as well, so because two of the guys have kids and Cam's married as well, we've all got things going on so we're just taking it as it comes. But we're really excited as well as to what's going to happen in the future.
Essential Information
From: Melbourne, Australia
Band members: Cameron Baines, Grant Relf, Tom Read, Shane Wakker
Website: www.bodyjar.com
Latest release: Role Model (UNFD) Out Now
Tour Dates:
BODYJAR – THE 'ROLE MODEL' TOUR – With Luca Brasi and  The Sinking Teeth 
Thu Oct 31 – Cambridge Hotel, Newcastle
Fri Nov 1 – The Hi Fi, Sydney
Sat Nov 2 – The Corner Hotel, Melbourne
Thu Nov 7 – Brisbane Hotel, Hobart
Fri Nov 8 – Uni Bar, Adelaide
Fri Nov 15 – Rosemount Hotel, Perth
Sat Nov 16 – Prince of Wales, Bunbury
Fri Nov 22 – The Hi Fi, Brisbane
Sat Nov 23 – Coolangatta Hotel, Coolangatta