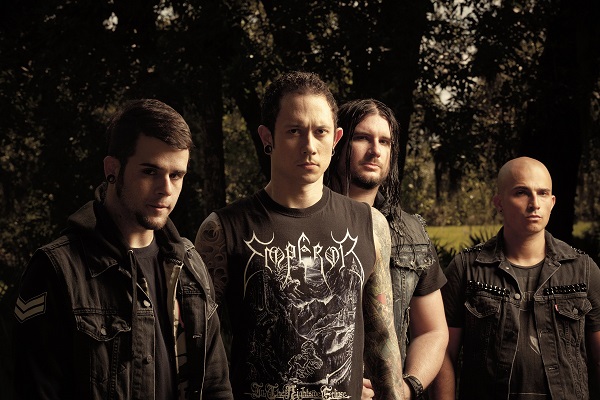 "Seems to me every time we go down there and play Soundwave we come back and we've received so many more fans each time around. It's just unbelievable how big of a festival it is and how smoothly it runs, it's one of the top festivals in the world and we just love being in Australia and touring there."
From release: Founded in 2000, Trivium catapulted into the first ranks of modern metal with 2004's Roadrunner debut, Ascendancy, which was named Album of the Year by none other than Kerrang! 2006's The Crusade incorporated new melodic colours into the band's sound, resulting in widespread critical applause and a top 25 Billboard 200 debut.  Shogun followed two years  later  and received event greater acclaim and chart success, including a #4 debut on the ARIA chart. Now Vengeance Falls sees the band pushing the envelope on their own distinctive sound, a sonic approach that saw In Waves hit #1 on Billboard's Hard Rock Albums upon its 2011 release, not to mention a stunning #9 debut on the ARIA chat and top 15 debut on the overall Billboard 200 – their highest chart rankings to date.
We chatted to Paolo of Trivum all about their new album 'Vengeance Falls' as well as their forthcoming return to Australia for Soundwave in 2014.
You're heading back to Australia on the massive Soundwave bill, what can people expect from Trivium this time around should they come and watch your set?
Well if you've seen us before you know we're going to put 150% into the set, and now with some new songs that are being debuted and a couple of older tunes we've said we're going to play for a while we're definitely going to play, definitely not a set to miss. From the stage, I think I saw a leaked set of what stage we're going to be on, and you're not going to want to leave the stage all day *laughs* so you'll be very happy if you come over.
That's my biggest problem on the day, I feel like I need to be five people to see everything…
It's tough, I think if I was going as a fan I would have to go to two shows just to see all the bands, but I think they do a good job of trying not to clash too badly and also the sidewaves help in case you miss a band here and there so you can check them out.
The bill as I just mentioned is huge, is there anyone you're excited to be sharing the tour with?
Well there's a lot of good bands that we're friends with that we've toured with so that is one thing that's great, probably stick around after we play and see Megadeth, I've seen them so many times now but they're one of my favourite bands, so definitely looking forward to our first time touring with them in Australia, so check them out there.
Playing the festival before and it seems to be every two years you jump on, what's the thing you enjoy most about being part of Soundwave?
I think it's not only playing to all our fans, but there's such a large amount of people who haven't heard of us or maybe heard one song here and there and just to play to so many new people. Seems to me every time we go down there and play Soundwave we come back and we've received so many more fans each time around. It's just unbelievable how big of a festival it is and how smoothly it runs, it's one of the top festivals in the world and we just love being in Australia and touring there.
Your new album is out in October, and as not many have heard it, can you give us one word that you feel sums up the entire album?
I've got to pick a good word here, I'd say it's a pretty 'Bold' record, that's a good way to describe it. I was trying to think anything that would be cliché metal, like the darkest or heaviest, it's a bold record, I mean just working with David that was a bold move, it was something that we never thought would happen, but the way it worked out, everything it was like it was meant to be. It was fun, it was a fun record to make and we really busted our asses off. *laughs*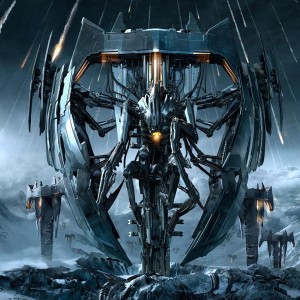 I was going to ask about that, as you had David Draiman produce the album, why was he the right choice and what was he able to bring to the band that you feel may have been lacking previously?
Well the way it worked out, it started back in 2011 before 'In Waves' came out, we gave him a copy and he'd been a fan for years, he'd known about our band since 'Ascendancy' but been a fan since, gave him the record, a couple of days later he came back and was just genuinely blown away and impressed with what we were doing with 'In Waves' and just mentioned 'Hey if you guys are interested, I would love to work with you at some point, not necessarily next record but at some point down the road I think it'd be awesome.' We went wow this is crazy that he could actually say that to us and we were shocked and happy that he was into the record, and pretty much over the course of a year we started writing, we're always writing, and he came out to one of our shows and talked about it'd be awesome to work together and we should make it happen and when we finally saw him again last Summer, it was pretty much like let's make it happen, man, and we started sending him demos we had over the course of the year and we'd been making and he gave us some notes and when we got in with him it was amazing. The thing that he brought in for us was this killer insight into song writing and making everything we were doing count, not to change what we were doing or who were are, but wanted to take what Trivium is and just make it better. The one thing he was able to focus in on probably better than anyone we've worked with was vocals, he pushed Matt, not only in just his range and where he could go up and down with his range, but lyrics and melodies and how to sing properly without hurting yourself. A lot of different stuff that I think him being a singer brought to the table, obviously not every producer is a classically trained singers, so that was one thing that he brought, I think he understood our sound, he didn't want us to be something we weren't and that was a big reason for me wanting to work with him personally was just hearing in him being a fan of the band to not lose that aggression and intensity but to make the songs even bigger, make the melody and the hooks even bigger.
What if anything was the inspiration behind what has ended up on the album?
A lot of the inspiration just came from the touring we were doing,  we wrote a lot of it, probably the majority of it was written on tour, just being out on these incredible tours and going to South America for the first time and things like that, seeing the passion from the fans in those parts of the world, that stuff does affect us, I mean I'm not sure how other bands go about writing their stuff but for us we feed off that, and that's one thing I think has always made us a really good live band is that we feed off that energy and we bring our own energy to the show, and I think that's one thing you're always trying to capture on a CD is that intensity of a live show, what your band is, when you're not thinking about pressing record you're just going up and doing it, and that was one thing we took to the studio, we tried to think of it that way, not being hung up on the technical side or being so precise or worrying about things that we thought about more in the past when we went in. When we were writing and having David help us in pre-production, we were just letting things happen naturally, it was cool, it was a really free flowing writing experience, having all this material, changing things up, trying different things, Matt being able to write lyrics on the spot he had a lot of stuff when he came in but he re wrote a couple of things and he worked really hard to make all of the songs really have a good meaning or I guess make sense with the stuff he was writing with David in the pre-production.
To you personally, what does 'Vengeance Falls' represent?
For me… when I hear the lyrics, and I'm not 100% sure where Matt was coming from with them, but when I hear it, I've always kind of felt like there's been songs on all of our records that are kind of a statement more of what our band is at and what our band is doing. I think the one line about these people building these walls and being able to scale them no matter what, that's always been a thing for me, you're always going to have something in the way of where you want to get to, and for us we were unrelenting and always trying to push ourselves and overcome that and just be better each time. I think that was kind of the reason it became the title track, originally it wasn't the title at all, but as Matt was really finishing up the lyrics, it became apparent that the original title wasn't really fitting with the overall vibe of the lyric and that 'Vengeance Falls' was a better fit. Obviously each song has a different meaning but overall that was the one that summed everything up best and fit where we were going.
You personally are coming up on ten years within the band, has there been one moment in your time with the band that stands out above all others?
There's a lot… I mean, I guess one of the most mind blowing things just because nothing that crazy every happens was when we did Download in 2005 and we moved to the main stage and it was our first time playing in front of 40,000 people, not only was it a huge milestone for us and in the UK but just in general, it really got people noticing us. Since then we've done shows that are bigger than that, but I think because we hadn't done anything like that before it was just the most mid blowing, shocking thing that could happen to us, that would definitely still be the top one for me.
Besides coming to Australia…
Yeah well that's another one too, Big Day Out, never thought we'd be in Australia and then we come down and we were like 'whoa this is amazing' *laughs*
Is there a message that you want to get across to people with the music of Trivium?
I mean the one thing that I think we've as a band collectively stood for, and I think a lot of Matt's lyrics really, really hit on is accepting people, who they are, no matter what and trying to focus on when you read the lyrics sometimes, people will be like well Metal is just about bad stuff, but I don't know, I've always viewed with lyrics and Matt has said this before as  people being able to relate to stuff and seeing that they're not the only ones in certain situations and I hope that lyrics like that can have a positive impact on people and I know for a fact that it has when kids on line or in person say this music has really helped them through an issue they were going through or helped them to become a better person. I mean that's the ultimate thing you can hear from someone, that your music has helped them in a positive way, whatever it is it's helped them with, it's helped them get through something or to become something better, ultimately that's what our music is for everyone, and maybe it's not for everyone, maybe they just like the music or the riffs or they like the way things sound, but I hope that we can connect with a lot of people on that deeper level as well.
I do have to ask, any chance of some sidewaves while you're here?
We're just waiting to hear, I really hope so, I really hope we can come down and do a headliner at some point; it's been since 2009, so I think we're long overdue for one, so we'll see what happens. I would love to do a giant sidewave with there's so many good bands on the bill already, so we'll see what we can hook up. *laughs*
Good luck with the album and we'll see you in February.
Thank you man, I really appreciate it, see you then.
Essential information
From: Orlando, FL, USA
Band members:  Matt Heafy – Guitar/ Lead Vocals, Corey Beaulieu – Guitar / Vocals, Paolo Gregoletto – Bass / Vocals, Nick Augusto – Drums
Latest Release: Vengeance Falls (Roadrunner Records Australia)
Website:  http://www.trivium.org
Catch Trivium at SOUNDWAVE FESTIVAL 2014 
SATURDAY 22 FEBRUARY – BRISBANE, RNA SHOWGROUNDS
SUNDAY 23 FEBRUARY – SYDNEY, OLYMPIC PARK
FRIDAY 28 FEBRUARY – MELBOURNE, FLEMINGTON RACECOURSE
SATURDAY 1 MARCH – ADELAIDE, BONYTHON PARK
MONDAY 3 MARCH – PERTH, CLAREMONT SHOWGROUNDS