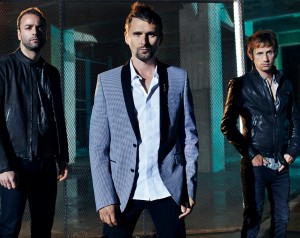 MUSE – LIVE AT ROME OLYMPIC STADIUM
LIVE DVD AND BLU-RAY TO BE RELEASED ON NOVEMBER 29
"'Live At Rome Olympic Stadium' captures a world-class rock band hitting their stadium stride, while still finding space for intimate moments" – NME
"The rock concert equivalent of a blockbuster movie" – The Times
"The Muse boys are out of this world" – The Sun
Muse – Live at Rome Olympic Stadium will be released on DVD and Blu-ray on November 29. The package will also include a live CD from the same concert.
The DVD will follow the theatrical release of the same film on November 7 worldwide. To view the trailer click here. Further information on the Australian screenings is listed below.
The theatrical release of the film is the first of its kind to be presented in 4K (ultra HD), a format soon to be adopted by Hollywood as a standard for all blockbuster films.
Muse said "This is the biggest tour we've done in terms of scale and production value and it's definitely the show we're most proud. We can't wait for our fans to be able to experience the show all over again".
DVD / Blu-ray tracklisting:
CD
Supremacy
Panic Station
Resistance
Hysteria
Animals
Knights 
Explorers
Follow Me
Madness
Guiding Light
Supermassive Black Hole
Uprising
Starlight
DVD / Blu-ray
Intro
Supremacy
Panic Station
Plug In Baby
Resistance
Animals
Knights of Cydonia
Explorers
Hysteria
Feeling Good
Follow Me
Madness
Time is Running Out
Guiding Light
Undisclosed Desires
Supermassive Black Hole
Survival
Isolated System
Uprising
Starlight
This year, Muse has played to an outstanding 2.3 million fans and will arrive in Australia in late November for a national tour. Total record sales for the band are now at an incredible 16 million.
Muse – Live at Rome Olympic Stadium
Theatrical screening – Thursday 7 November @ 7:00pm
Event Cinemas – George St
505-525 George St, Sydney, NSW
Tickets: $20 – on sale now at www.eventcinemas.com.au
Event Cinemas – Chermside
Westfield Shopping Centre, Gympie Rd, Chermside, QLD
Tickets: $20 – on sale now at www.eventcinemas.com.au
Event Cinemas – Innaloo
57 Liege St, Innaloo, WA
Tickets: $20 – on sale now at www.eventcinemas.com.au
Event Cinemas Marion
Level 3, 297 Diagonal Rd, Oaklands Park, SA
Tickets: $20 – on sale now at www.eventcinemas.com.au
Village Cinemas – Jam Factory
500 Chapel Street, South Yarra, VIC
Tickets: $20 – on sale now at www.villagecinemas.com.au
Tour dates: 
Saturday 30 November – Perth Arena, Perth
Wednesday 4 December – Entertainment Centre, Adelaide, SA
Friday 6 December – Rod Laver Arena, Melbourne, VIC
Saturday 7 December – Rod Laver Arena, Melbourne, VIC
Tuesday 10 December – Entertainment Centre, Brisbane, QLD
Friday 13 December – Allphones Arena, Sydney, NSW
OFFICIAL WEBSITE | FACEBOOK | TWITTER | YOUTUBE