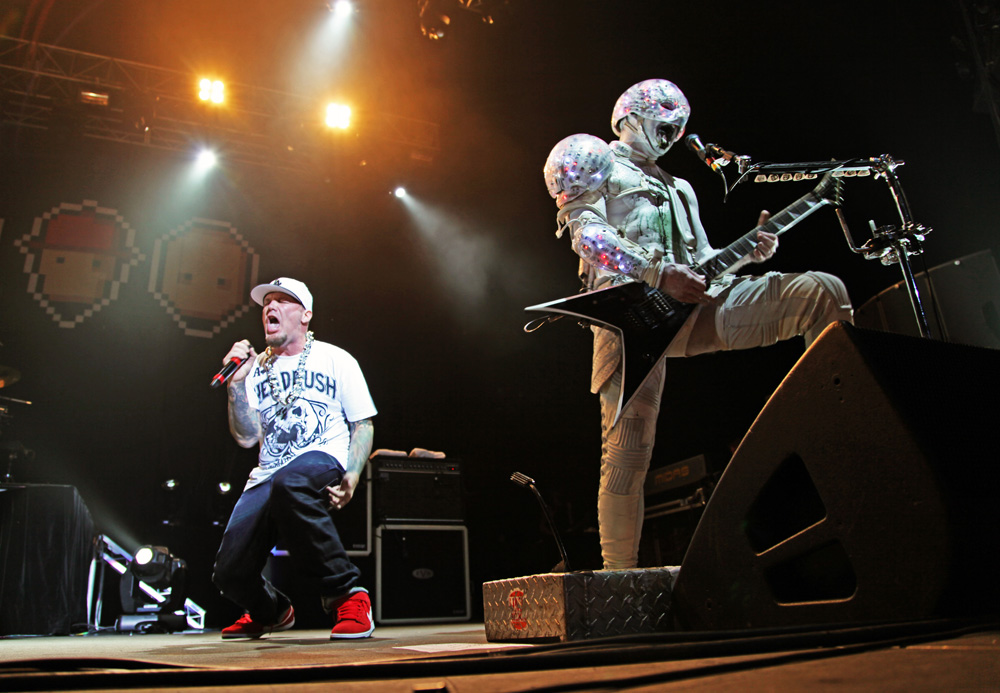 This is the surprise tour announcement of the year for me. After their amazing appearance at Soundwave 2012 I thought we'd never see Limp Bizkit in Australia again, but here we are… So can this band that I secretly, hell it's not even a secret, that I love, recreate what I saw in 2012 or for that matter 2001 when I saw them for the first time and they blew me away… guess we'll see, but without DJ Lethal here to 'bring it on…' I wonder who will?!
Wow! Wow! What an intro! Straight out musically to their Ministry cover of 'Thieves' and it's a case of 'get the fuck up!!!' indeed and then are you kidding me? 'Rollin' is up this early?! If that's how you want to make an impression well that's how it's done. The mosh pit is actually insane, I can't even type how good this looks. I just get the feeling that tonight is going to be something pretty amazing. Dedicating the entire tour to the memory of Jessica is nice of them and respectful and received with huge applause.
'Hot Dog' is up and fuck x 46 but I can tell you right now, this band can do no wrong tonight and will do no wrong. Oh no way a Metallica sample in there? Yes!!!! Wes Borland tonight is well, I don't even know… A robot? He has lights all over him, and looks killer, I dig that, I also like that he still does the costume thing, tonight he not only takes the cake he takes the whole fuckin' bakery with his persona tonight. Short and sweet third song in 'Bring It Back' packs a punch and the audible energy here tonight is insane, it's amazing. Even 'Gold Cobra' sounded awesome tonight, and as much as that album wasn't loved, this song is made for this setting and it's heavy! 'I'm Broke' keeps that heavy groove going but it's 'My Generation' that gets everything back up and is outstanding. John Otto took us to the 'Matthews bridge' and as a massive circle pit opens and the place erupts, seriously anyone not here is missing out… 'Livin' It Up'  blew the roof off and I've never actually heard this kind of buzz between songs before, this place is so pumped!! Then… 'My Way' are you kidding? I am absolutely loving this! The place is going crazy and I actually believe Fred when he says how much he appreciates this! 'Re-arranged' is next and slows it down a little, same intensity but less heaviness well until they throw in a cover of Rage Against the Machine's 'Killing In The Name' which was nothing less than spectacular. I guess the crowd involvement made it something even more special, but hey, who doesn't love this song?!
'Boiler' was loved and a great addition to this 'hits' set tonight but 'Nookie' and the way that went down tonight, what can I say but that I'm thankful I wasn't in the pit. I have never seen a pit open that big. I even feared for my safety up in the seats, I kid you not. Then an impromptu set change saw 'Faith' added in replacing 'Stalemate' but those here were so very happy and at this stage these guys could be playing 'Mary Had A Little Lamb' and make it sound like a masterpiece to everyone here.
Giving us the good old "We are supposed to leave the stage now…" shtick, the crowd lap it up and 'Take a Look Around' is the perfect choice this late in the set, no pyro this time, (yeah I'm still living back in 2001 when there was) but what stood out in this song was again the crowd, who I have to say at times I was watching more than the band… they managed to basically all get down on the floor and when this song built and built and exploded, so did they and to witness that was pretty fuckin' cool.
Just when you thought it was safe to go home… the song I never thought Limp Bizkit would play in Australia again is now here to close the show… 'Break Stuff' and did they fuckin' what… a message from Fred about safety, about looking out for each other was heartfelt and heard, as everyone here did just that and it certainly was 'one of those days' yeah, one of those days that people will talk about for a long time, this was hands down, the gig of the year and I truly feel sorry for anyone that missed it. Next time Limp Bizkit are in town, do yourself a favour, put the hate away, grab a red cap, throw it on backwards and just go and watch a rock show, you'll walk away satisfied, and hey, if you aren't, I'll eat the red cap…
Check out our full photo gallery of this show HERE
Essential Information
Venue: Sydney Entertainment Centre
Date: October 26, 2013
Presented by: Soundwave Touring
Website: www.limpbizkit.com
Set List:
Thieves
Rollin'
Hot Dog
Bring It Back
Gold Cobra
I'm Broke
My Generation
Livin' It Up
My way
Re-arranged
Killing in the Name
Boiler
Nookie
Faith
Take a Look Around
Break Stuff
Remaining tour dates:
SUNDAY 27 OCTOBER –  MELBOURNE, FESTIVAL HALL – Licensed and Unlicensed Areas
www.ticketmaster.com.au
TUESDAY 29 OCTOBER – ADELAIDE, THEBARTON THEATRE – Licensed All Ages
www.venuetix.com.au
THURSDAY 31 OCTOBER – PERTH, METRO CITY – 18+
www.oztix.com.au