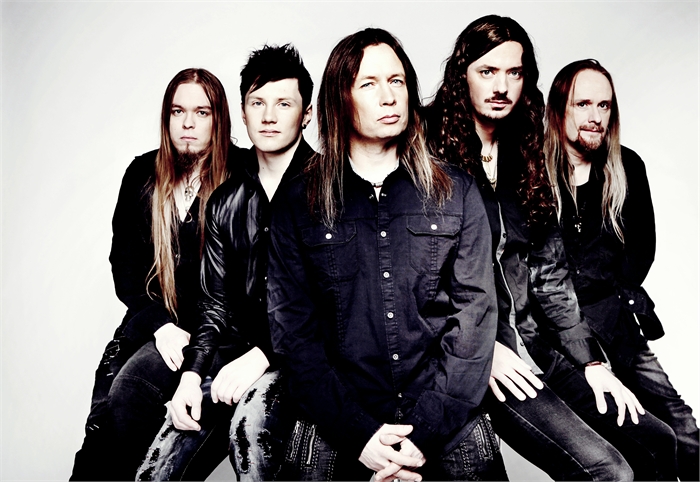 "I think Stratovarius has played a major part in the power metal genre or melodic metal or whatever you say it, I also like the fact it's a band with a positive vibe, I think it's a unit band, I think there's a little slot in the history of heavy metal, I think the legacy can be found on the albums."
From Tour Release: Stratovarius will be touring Australia for the very first time in their distinguished career. Never before has this illustrious Finnish power metal act graced Australian shores; now in October 2013, this will finally happen! Stratovarius are one of the pioneers of the power metal genre; they lead the way and opened doors for the genre with the greater inception of keyboards, atmosphere, soaring vocals and melody. As such, they are adored by all genders and are a definite genre favourite.
Lauri from Stratovarius filled us in on the band's upcoming Australian tour, as well as new music and the status of Power Metal in this day and age…
You're headed to Australia next month for the very first time for a couple of shows, for those that have never seen you, what people expect to see at a Stratovarius show?
Well it's our first time to travel to Australia, so usually when it's the first time around we build a set that covers as large variety as possible form the whole career of the band. We'll have some classics as well as some new stuff; every song will be played for the first time.
Never being here before, how do you prepare the set list for these shows?
We have released fifteen albums, so it takes quite a bit of time, you have to leave all sorts of favourites out. Basically you tend to write a set regarding to the country we are playing, in some countries there might be a specific song we need to play and we need to play that.
Nemesis has been out for a while now and many are saying it was the band's best work to date, are you happy with the reaction to the album?
Yeah very much, it's been the best received, but the best for fifteen years but it was very well taken by the fans, we've been really happy about it.
As far as writing goes, you wrote 'Fantasy' on the album and had a couple of bonus tracks on the release, are you constantly writing in the hopes of more songs of yours appearing on future albums?
I keep writing songs, and I hope for the best for the album, sometimes there may be better songs there but not really that go with the full album, we try to write songs and find what's best. I will continue writing, maybe some for the Stratovarius albums, maybe not.
With Rolf now on drums, how has he settled in?
Yeah very much, he was like exciting for us, when you get a new member it's more fresh. It gives a new energy and it's always like a new set of tyres on the road, the band has been in many transitions over the years, I think for me this line up will hold for a while.
In your time now with the band, coming up to nine years, and now with three albums under your belt, what has been the best part for you in being in this band?
Well, for me I love travelling and I love the music and I love the fans, it's not to say what's te best part, being in Stratoavius, that's the best part, it's a band I like, I like the guys.
Had you been a fan of the band prior to joining?
Hmm… I was a friend of the band before joining.
With the band now close to thirty years old, what do you see as the legacy of a band like Stratovarius?
I think Stratovarius has played a major part in the power metal genre or melodic metal or whatever you say it, I also like the fact it's a band with a positive vibe, I think it's a unit band, I think there's a little slot in the history of heavy metal, I think the legacy can be found on the albums.
The Power metal genre is one that Stratovarius has been labelled as a pioneer of, where do you see this genre of music today compared to when the band began?
Of course it keeps changing and transforms into stuff like Dragonforce, I think that's like more modern power metal, music keeps changing, melodic metal isn't the saviour of heavy metal anymore, people are concentrating on more aggressive stuff and crazier stuff, so it's more a bit on the side, so there's not much happening in melodic metal. There's like the old bands doing their old stuff trying to make new albums, you know once in a while there comes Kamelot and Dragonforce, they're newer bands and there's always stuff happening, but nothing like huge I think has been happening latterly, just bands making new albums.
You've also released a couple of solo albums, do you have any plans for future releases?
Yeah I've got some plans, I almost finished one but now it's a little but slower, I also write theme music so I started writing for a big orchestra, and then I've been recording a lot of stuff I just don't know yet how to put it out. I have time but I'm trying to figure out the best way of doing it, I was so slow, I almost finished a solo album in 2009 but I started working and I didn't have time to finish then, now when I have but its already four years old and I have to change it a bit to be something I can stand behind now, so it's a bit difficult for me.
Looking ahead, what does 2014 have in store for Stratovarius?
2014, I think mainly we will concentrate on writing and producing a new album. It's about a year to do, we make an album and we tour for a year, so yeah definitely. Maybe we even release it at the end of 2014 or the start of 2015, it'll be about two years since the release of the last one. For us we do our albums then we tour for about a year and then we start doing the new album, of course we do shows also during the year but not the big tours so we get to go home and concentrate on that.
Do you have a message for your Australian fans?
I hope to see you all and bring your Koalas to the show as we haven't seen them and we want to see them, and I'd love to taste some very good local beer, none of us have ever been in Australia so it's definitely a high point of the year for us.
Have a great trip and a great tour.
Thank you very much.
Essential information
From: Helsinki, Finland
Band members:  Matias Kupiainen, Timo Kotipelto, Lauri Porra, Jörg Michael, Jens Johansson
Latest Release: Nemesis (Out Now – Nuclear Blast Records)
Website:  http://www.stratovarius.com/
Catch Stratovarius on tour in Australia at the following dates:
Wednesday 23RD October – Billboard The Venue, MELBOURNE (18+)
Tix: www.metalmassacre.com.au  / www.moshtix.com.au  / www.ticketek.com.au  / www.oztix.com.au
w/ EYEFEAR + DARKER HALF
Friday 25th October – The Hi Fi Sydney, SYDNEY (18+)
Tickets from www.metalmassacre.com.au  / www.thehifi.com.au
w/ EYEFEAR + DARKER HALF