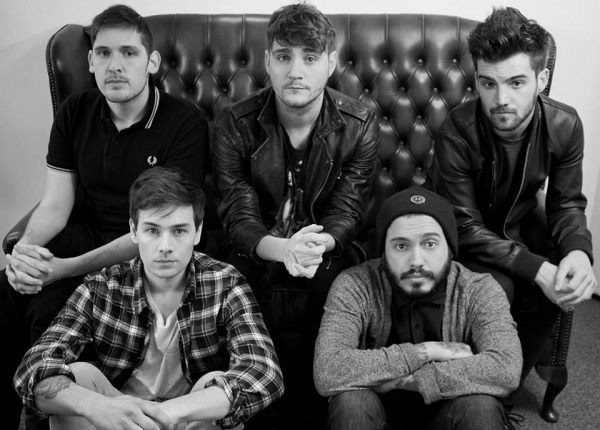 "We've done four albums in five years and the best thing we could do is just put one out every year and just keep it going, as people's attention spans now days just wavers because there's just so much out there, so the important thing is just to get on top of it and put out new music all the time so people never get bored."
Having formed in South Wales in the same fertile scene that also produced the likes of Bullet For My Valentine, Funeral For A Friend and myriad others, Kids In Glass Houses rapidly rose to prominence after being championed by their peers as talented newcomers. By the time of the release of debut album 'Smart Casual' in 2008 on esteemed rock institution Roadrunner Records, they had a Kerrang! Award nomination and numerous tours already under their collective belt; once it surfaced, things went crazy for the quintet. New album 'Peace' fizzes with ambition and melody, because Kids In Glass Houses stripped back the dramatic concepts and instead focused on what really matters to them. Being in a band is one of the best ways possible to spend your days, and the simple joys therein inspired their most confident album yet.
Joel from Kids In Glass Houses called in to us for a chat about the band's new album Peace as well as their upcoming return to Australia for the Vans Warped Tour…
You're heading back to Australia this December as part of the Warped Tour, what can we expect to see from your set on the day?
Just a lot of excitement really, a lot of energy, a lot of excitement and we're just going to bring out the hipper songs and keep it lively and upbeat.
Are you excited to catch anyone on the day?
New Found Glory because we toured with them a few years ago and it would be really good to catch up with them, they're really funny fun guy, so it will be really great to see them again.
You've been to Australia a couple of times now, what are you looking most forward to in coming back?
This will be our third visit, mainly coming back for the sun in our winter time you know? Come back with a tan just in time for Christmas. Besides that we're just looking forward to seeing our fans over there and looking forward to playing shows for people over there.
Obviously playing Soundwave would've been crazy but do you have a great memory of one of your previous visits you can share with us?
Let's see… I wouldn't say it was crazy, but we've always just had fun down there and the shows have always been fun like in Melbourne we have a good time. We went with You Me At Six and that was really fun, but we haven't really made any great memories, maybe they can make some for us this time.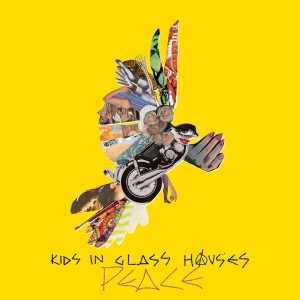 Now you new album 'Peace' has just been released, what does the title represent to you?
We've been saying this and is at the point where it's worked out with the songs and all that, so it's just a closing point where we finally reached that level.
How did the album come together compared to previous albums?
Previously we usually just jammed ideas in a room until something sticks really, this time Aled and Ian our guitarist got together and wrote the whole thing and before the songs came to record they were a lot more finished, a lot more finished than they usually are and I kind of wrote the lyrics and we got rid of all the bad ideas before we got there, the first weekend before we got together. It was more of a complete article.
Did you set out to do anything differently this time around?
It was just natural really, but then it just went in the direction we wanted anyway, because the last album it was based on a concept and more of an entire body of work, but the previous albums had been a bunch of songs put together but we just wanted to go back and have ten songs all upbeat sounding and that's how we did that.
I am a sucker for a good key change, love that in 'Peace' the song itself, it's not the most used thing musically anymore, who decided on pulling out that gem?
We've always done it since our first album, there's always been one song or two songs we throw a key change in as we're all big fans of the 80's, and you know the 80's love a key change, so we thought we'd continue with the tradition of the key change in 'Peace' and it goes down a treat live as well.
So who would be some of your favourite 80's bands?
Well I think Bon Jovi is the king of the key change, so all of the hair metal ones, so yeah, let's go with Jon Bon. We played with them last month actually in our home town of Cardiff, they came through for a show.
Back to the album, and 'Up All Night' was probably my favourite on the album, great groove, is there a story behind that song you can share with us?
I don't think so, but it was one of the hardest ones we had to put together, we were working on it for weeks and weeks and months and months, and in the studio we were coming to the end and thought what are we going to do with this? And as we came to the end it came together and we thought, ahhhh that's how it should be and it turned out to be one of the best songs on there.
You're out on tour at the moment, how have the shows been going?
They've been going really well considering the album's only been out for a week in the UK, the tour's been going for two weeks now and we're coming to the end of it, but all the new songs are going down well, they're singing the words back already and it's better than expected, really.
In only five years since your debut, what has been the biggest lesson you've learned so far?
Not to have a break, we've done four albums in five years and the best thing we could do is just put one out every year and just keep it going, as people's attention spans now days just wavers because there's just so much out there, so the important thing is just to get on top of it and put out new music all the time so people never get bored.
On the other side of that, has there been a moment that stands out above the rest so far besides opening for Bon Jovi?
There's been lots, when we play Reading and Leeds festivals, that's always a highlight, it's just such a huge crowd and to have that many people singing back to you really gets to you. Other than that, when we play our hometown shows in Cardiff they are much of the same.
After Australia, what does the next year have in store for the band?
After Australia, we haven't got any solid plans in place yet, we want to hit mainland Europe again, to try and do more of there next year, then we're going to do another UK tour and then maybe Japan again as we haven't been there for two years.
Thanks for your time and we look forward to seeing you in December at Warped Tour.
Not a problem. Have a good one.
Essential Information
From: Cardiff, South Wales
Band members: Aled – Vocals, Iain – Guitar, Joel – Guitar, Shay – Bass, Philip – Drums
Website: http://www.kidsinglasshouses.com
Latest release: Peace (out now)
Catch Kids In Glass Houses at Warped Tour Australia:
Tickets on sale now: Via Oztix
Friday, 29th November – Brisbane, RNA Showgrounds
Saturday, 30th November – Coffs Harbour, Showground
Sunday, 1st December – Sydney, Barangaroo
Friday, 6th December – Canberra, Exhibition Park
Saturday, 7th December – Melbourne, Birrarung Marr
Sunday, 8th December – Adelaide, Ellis Park
http://www.vanswarpedtouraustralia.com/
https://www.facebook.com/WarpedAU