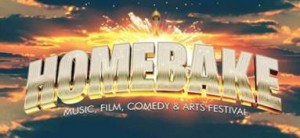 It is with heavy hearts that we announce that HOMEBAKE 2013 has been cancelled.
From its inception in 1996 in Byron Bay, HOMEBAKE has been a staunch advocate and supporter of Australian music and of this country's musicians.
In 1998 HOMEBAKE began its long association with the Domain as the preferred venue of choice, and for 15 years on the first Saturday in December, we came together to celebrate and support Australia's best and brightest in music.
HOMEBAKE 2013 has proven to be a difficult beast to produce and promote due to scheduling issues with our ancestral home at the Domain. For reasons beyond our control or desire, and after a 15 year run, we were advised that for this year, the Domain had also confirmed another music festival that appealed to a similar audience and scheduled to run a mere 2 weeks before our proposed HOMEBAKE date.
Because of the commercial implications and risk of being one of two music festivals in the Domain two weeks apart, reluctantly our hand was forced to reconfigure and relocate HOMEBAKE from the usual one day event in the Domain to the Sydney Opera House over three days to celebrate HOMEBAKE's 18th anniversary.
Over the last 4 weeks since the initial launch of HOMEBAKE 2013, it has become apparent based on the feedback from social media sites and the box office that the traditional HOMEBAKE fans have rejected this change in format from one day to three nights and the change in venue.
What is achingly ironic is the reason that forced the change in venue [and with it the format] cancelled shortly before HOMEBAKE 2013's launch, but by then it was simply too late to revert back to our true home.
All in all, heartbreaking stuff ….
We here at HOMEBAKE HQ would like to take this opportunity to sincerely apologise to the bands, to the fans, to all the hard working HOMEBAKE personnel and to our media champions and we would like to thank everyone for their input, support and contribution over the last 18 years in helping to shape HOMEBAKE as the premiere live showcase for our country's finest musicians.
Long live Australian music and the artists that create it.
Full refunds will be automatically administered by the Sydney Opera House Box Office (Ph: 02 9250 7777).  Oztix ticket buyers should contact Oztix direct on 1300 762 545 or via email at http://tickets.oztix.com.au/contactus.aspx.
Homebake HQ