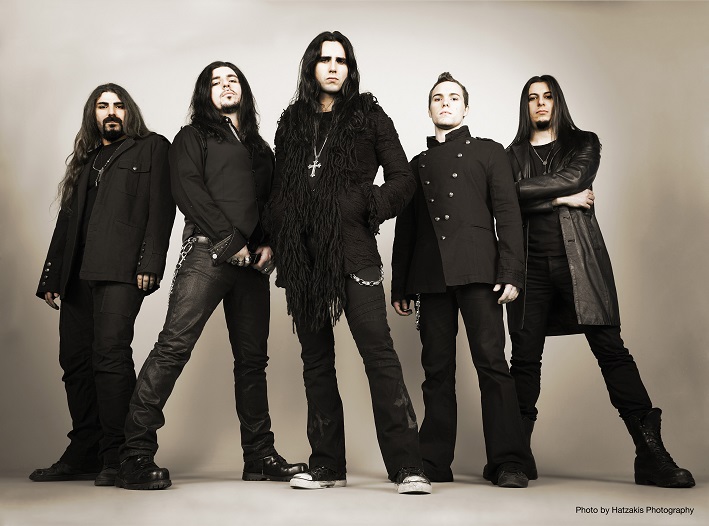 "The first time could be the last time, so I just want to make sure this is going to be the most kick ass show ever, not that I don't do that for the other shows, but this one I think we're going to add a couple of songs we haven't done for quite a while to spice things up and also this is going to be the last Firewind shows for quite a while as we're going to have a break next year…"
From Release: Known by many as the guitarist for Ozzy Osbourne and by his tenures in Dream Evil, Nightrage and as a touring player with Arch Enemy, Gus G and his FIREWIND crew have always kept the power metal flame alive with an arsenal of memorable and catchy tunes topped off with mind bending fretwork and solos that command instantaneous air guitar and dropping jaws from all who witness it. In their 15 year existence, GUS G's FIREWIND have turned out seven studio albums with their latest being Few Against Many (Century Media / EMI), a live DVD called Live Premonition and their newest release, a live album entitled Apotheosis – Live 2012, so there will be no shortage of GUS G's FIREWIND's unique brand of power metal on offer for all in attendance!
We chatted to Gus G ahead of his first trip to Australia with his band Firewind about what we can expect on their first tour here as well as lessons learned and looking to the future…
You're headed to Australia for the very first time for a couple of shows, for those that have never seen you, what people expect to see at a Firewind show?
They can see five hot Greeks *laughs* we're going to playing actually a lot of the stuff from all our career spanning from our whole discography, we've got quite a few albums and I know it's taken ten years to get down there so we're covering material from all our seven albums, you can expect a lot of shredding a lot of intensity and you can expect to have a really good time at one of our shows. We really enjoy what we do and it's going to be high energy metal shows so get ready for that.
Never being here before, you mentioned you'll dive into every album how do you prepare the set list for these shows for a country you've never been to before?
Yeah well I mean it's gotta be kind of like if we have a usual headline set from a set on our last tour, we're probably gonna base it around that and then add a few surprises to that. Being the first time for example in a place like Australia, we want to make sure we can play for as long as we can as we don't know when we're going to come back, or if we're going to come back, who know? *laughs* So I hope we see things like that, the first time could be the last time, so I just want to make sure this is going to be the most kick ass show ever, not that I don't do that for the other shows, but this one I think we're going to add a couple of songs we haven't done for quite a while to spice things up and also this is going to be the last Firewind shows for quite a while as we're going to have a break next year, so maybe they have a bit more of a meaning for us, right before going into a break for the first time in ten years, so we're going to try and squeeze in as many songs as we can in there.
So maybe a four hour set?
Four hours *laughs* that would be a good one, I don't know what the curfews are there but hey if we can play more than two hours, we'll do it.
Have you been given any ideas of what to expect down here in Australia?
No, not at all. Maybe you can fill me in?
Well, we do have a good metal scene down here, they love it…
Oh good, that means there's going to be at least ten people at the shows *laughs* all kidding aside, like I said, Australia probably for me, especially for me as I've toured the world with Ozzy and Australia is the only place we haven't been right now and I'm very excited. There's a feeling you can't beat for the first time you go to a country, it's a different culture and you see how the fans are there. I had a similar feeling last year when Firewind went to China for the first time, we didn't know what was going on there, it's the same thing for Australia, we don't know what's happening down there for heavy metal, I mean we've heard things, but we don't know if anyone gives a shit for us, but obviously there has to be some sort of interest to be asked to play there, so yeah, very excited.
You did release a live album this year though, why was now the right time to release a new live album?
The idea was to capitalise on the last album 'Few Against Many' and the whole tour that we did for that, and the band was celebrating ten years last year actually and we recorded a lot of show and we did there special anniversary shows in our hometown here in Athens last December. We made a lot of recordings from the whole European tour and we were celebrating our ten years as a recording band and to put this out sort of as a symbolic release, it just so happened that right around that time that our singer Paolo decided to step down and quite the band, so this album became even more symbolic that we actually planned out, as these are the last recordings with him, it's kind of like the end of a chapter and the beginning of a new one in the bands history. I'm really happy with the way it came out, the sound and the performances and everything, those four nights here in Greece were really magical, so I'm glad we recorded all that.
What has been the biggest lesson you've learned having this band over these ten years?
There are many lessons, not just one, we all grew together and I mean I've guess I've learned to listen to people a lot more than I used to *laughs* and not just the people that I thought was best, but I mean I think there are some really strong friendships in this band that have really kept me going, because it's not all been ups, there's been a lot of downs and that's the way the music business works. This band gave us the opportunity to go around the world, see a lot of things, meet new people, meet a lot of people that says to us that our music means a lot to them and has helped them in their lives and you can't buy that stuff man, you know? Of course it has made me wiser about the business and a lot of things, I've been fortunate to work with a lot of people, I've worked with some bad people and you get to see that side of things as well, it's just an ongoing learning experience as well being in a band, and like I say, some really string friendships came out of this band as well.
You also dabble with a few other acts, namely Ozzy and have played with Arch Enemy, what does this allow to give you in terms of experience that you can continue to bring to your own band?
Anything I get from playing with all the bands I've played with in the past or still play, I always see things from a positive side, so I take things from that as it makes me a better player, makes me a better musician, a better person overall, and I always want to bring that into the band to make the band batter. I remember when we couldn't keep to a fuckin' schedule, we would say let's rehearse at seven and nobody would show up, or they'd show up at eight *laughs*. Then you join a professional band like Arch Enemy and you see how they do things around the clock and it's the same thing in Ozzy as well, when the lobby call is at 5pm, everybody is down there fifteen minutes earlier and everything runs on time and everybody does stuff, they don't fuck around they don't waste time, they just do it and you see how a big machine works like that, how a big production works like that, and it's very inspiring for me all these things and I think, wow, I really want to be able to do that when I roll with my band as well. I want to have a really good crew, I want to have everything on time, I want to have the shows to be decent and the promoters have to be cool and supportive. It's inspiring to bring this to your own little world and that's what I've been trying to do, you know?
What's your favourite story from the road that you can share with us?
There's always a lot of interesting stories from the road *laughs* what are you looking for? *laughs*
How about what's been the best moment that stands out for you so far?
Like I said, there's been a lot of good moments for me, both with Firewind and Ozzy, a lot of great moments with Ozzy, I can't really complain, I consider myself a very lucky musician you know, a lot of things have happened in my life I didn't expect, I don't know I mean you know a lot of people think it's such a glamorous lifestyle, it really isn't, you have to do this for the love of music first and foremost in for what you do, and the other stuff is just an added bonus, I'm sounding like some sort of fuckin' wise man here, but it is the truth you know?
In terms of guitarists, who do you still look up to as a player?
Everybody *laughs* everybody that plays kick ass guitar I look up to them. I still listen to Yngwie Malmsteen and think fuckin' hell, how can someone play like that? I can probably play most of his stuff, but there's a certain energy when he's playing it really blows me away. You know who I really like these days, I like Joe Bonamassa, he's not a metal guy, he's a blues kind of guy, he's fucking great, I really like him.
The Power metal genre is one that is still alive and strong, how have you seen this genre of music grow to where it is today compared to when the band began?
I think the golden era of Power Metal was the mid 90's kind of like with Stratovarius, Angra and those bands, but that kind of died down after a while, it seems to me these days there's obviously the classic bands that are around, we're one of the few newer generation power metal bands that have survived this you know? *laughs* We were able to kind of grow into an era where power metal is the most uncool music to play *laughs*but I feel very proud about that because we've managed to create our own fan base around the world, and people like what we do, and I know we fall into the Power Metal category, but then again, how many of those bands are out there, really? Right now that are doing this, but it's not like some sort of trend you know what I mean?
As you're heading to Australia for the first time, are you also heading to any other territories you may not have visited before?
No actually, we did China, we did Thailand and now Australia, that's going to be new territories that we've explored.
You of course mentioned that you're taking a break, is this an indefinite hiatus or have you got a time set on it?
Its indefinite, we don't know actually, we know we're going to start working on new songs after Australia, maybe around Christmas time, or after Christmas we're going to start working on new stuff, but I'm not sure when the band is going to put out the next album, there's no real deadline or plan that it's 'ok the next one is going be in a year or two years' usually we work pretty fast but this time we just decided to not rush and not be under some stress of having to deliver right now, there's no need that. If it takes us a year to write the album, cool, if it takes us three months then cool again, so we'll see… I've been working on a solo album right now so I'm going to be touring that next year.
Then maybe we'll see you again down here?
That would be fantastic.
Essential Information
From: Greece
Band members: Gus G. – Guitar, Kelly Sundown Carpenter – Vocals, Petros Christo – Bass, Bob Katsionis – Keyboards/Live Guitar, Jo Nunez – Drums
Website: http://www.firewind.gr
Latest release: Apotheosis – Live 2012
Tour Dates: October/November 2013
Thursday 31st Sydney – Manning Bar
Friday 1st Brisbane – HiFi
Saturday 2nd Adelaide – Fowlers Live
Sunday 3rd Melbourne – Corner Hotel
Tickets only $59 + bf available from metropolistouring.com