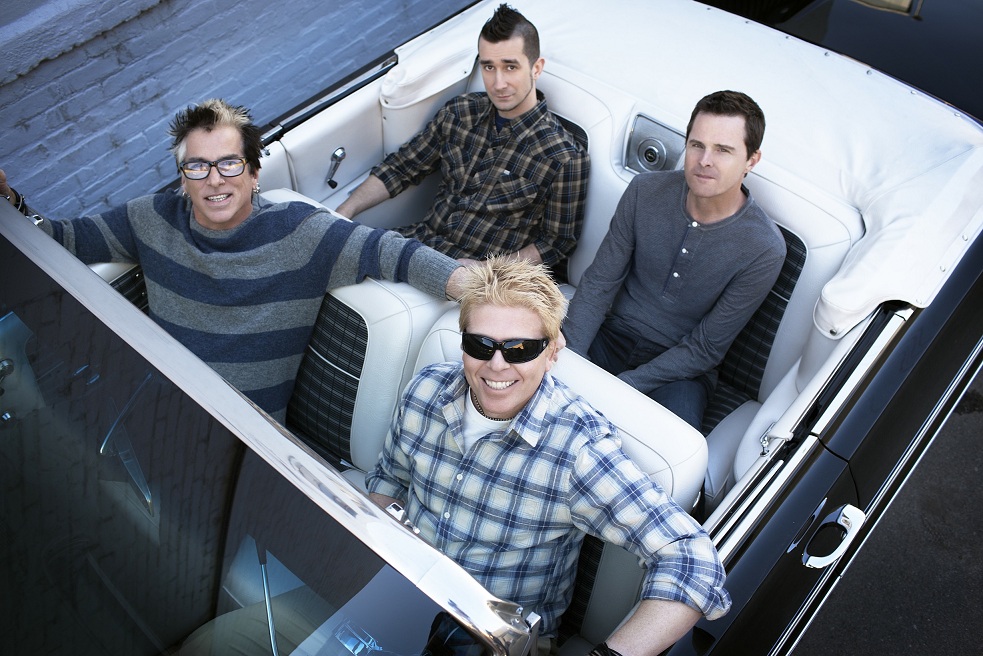 "…we're not sure yet, I think it's going to be a maybe a little faster and maybe leave out some of the more poppy hits and go more with the punk stuff and I guess we'll see how that goes after the first show or two."
For close to thirty years now The Offspring have been making music, the kind of music you can rock out to and occasionally chuckle along with, but what they've done they've always done well. You may have been introduced to them in 1994 when they asked us to 'Come Out and Play' but for many it was a couple of years earlier when their 'Ignition' was released. Regardless of when you found The Offspring, once you do, you're hooked and they've gone on to give us hit after hit and are still kicking ass today, their last album 'Days Go By' a prime example…
Greg K from The Offspring kindly had a chat with us about the band's return to Australia for the second time in 2013, this time for the Warped Tour, the band's history, new music and how their biggest song almost wasn't…
You were only in Australia in February and are now returning for the Vans Warped festival this December, what enticed you to come back so quickly?
They asked us to, I don't know, basically a tour like this you're invited and they say 'hey you want to come back and do this?' and we figure we're going to Australia in the summer, sure no problem…
It had been five years before you came in February, so twice in one year is very impressive…
Yeah I don't know if it's going to be too much or if it's a lot of people coming to the same show and saying they already saw it so they don't need to see it again or if it's going to be a whole different crowd because it's a Warped show compared to the other one with all those huge bands like Metallica and Linkin Park and everything, so we'll see…
This is the first Warped Tour in Australia since 2001, so what are you going to bring to us this time?
I don't know yet, we were trying to figure out if it's going to be more like a Soundwave type atmosphere or if it's going to be more like an American Warped type atmosphere and we're kind of getting that it's going to be in between, so we're not sure yet, I think it's going to be a maybe a little faster and maybe leave out some of the more poppy hits and go more with the punk stuff and I guess we'll see how that goes after the first show or two.
I always like to ask artists playing festivals what bands they're hoping to catch on the day?  Any take your eye?
I honestly don't know very many of these bands, I looked it the other day and there were only a couple that I knew but none that I know very well, I think a lot of them are Australian bands that unless they come over here I don't really have the chance to follow them. It's not like Soundwave where you're with all these classic bands on there, these established bands, this is more like a lot of up and comers so I guess I'm going to have to find out on this tour.
You've only played Warped once back in 2005; what do you remember about the festival back then?
It's just different than a regular tour, you're playing during the day, you get a half hour set so its quick, but there's a lot more I guess, camaraderie with the bands as it's everyone out there just together, you're playing every day well almost every day, it's something like fifty five shows in sixty days and somebody once described it as like a big travelling summer camp. It's just different to some of these other festivals where it's a bigger scale, but it was fun, we were a little apprehensive heading in but we were really glad when we were done.
In February you brought the 'Ignition' tour to us, do you have any plans in the future to perform your albums in their entirety, say maybe 'Smash' for its 20th anniversary next year?!
It's been discussed, I think it's gonna happen, I'm not sure how many shows or where it's gonna go or where it's gonna take us but there's been discussions. There's been interest in it and we'll go from there. It's different from 'Ignition' though as some of those songs we haven't played in years and some of the songs we never played live, whereas 'Smash' we're still playing three, four, five, even six of those songs we played in the last year. It's gonna be different as it's not going to seem so nostalgic because half these songs we play all the time anyway.
Do you have a memory of a previous Australian tour you can share with us?
Probably the first one I think, that was our first big tour we went on, that was Big Day Out 1995, and before that we were just playing all our own shows, and this was after Smash came out obviously, nearly eight months, but this was the first time we were ever on a big tour with established bands, so it was a little new to us and exciting, but there were some things, I remember one , I'm not going to name names but someone coming into our dressing room and saying 'hey can you help this other person shoot up?' and we're like 'Huh… welcome to rock and roll' *laughs* so that was kind of like the first time we were on a big rock tour.
As the longest standing member of the band, 30 years next year… has there been one stand out moment of your career thus far?
I don't know, you can look back and say when 'Smash' first came out at the beginning, or towards the end, I don't know, I don't think there's been that one moment, but when I think back at stuff I think of when things started to break, that's when things all started to become exciting and new. There was one show in particular that we played at the Palladium, this was early on in Smash, it was the Hollywood Palladium and we'd seen tonnes of bands there and all of a sudden we're headlining that show and that same day our album hit the Top 20 on the US Billboard charts, so it was like wow this is actually for real, we're playing the Palladium and we're in the top 20. So I remember that day.
I remember back in 1994 when 'Come Out and Play' hit the airwaves and thinking how fresh and interesting it was, back then did you have any idea that it would've exploded for you like it did?
No, that song was one of the last one's we did, and there was even a discussion of if it even belonged on the album because it was different from stuff that we'd done before, but we thought ok it's a cool song let's put it on, and then it was somebody that worked at Epitaph said 'I want to push this to radio' and we were like 'ok, knock yourself out' not thinking anything would happen and then it got on the radio and all of a sudden it just took off and we had no idea it was gonna do that. It also happened really quick that it came out and got on the radio and it was like 'boom' it just kind of exploded, so it was totally unexpected.
What I've always enjoyed about the band is the blend of the serious and the fun, how do you keep that balance as to not take it too far?
Well Dexter writes the lyrics and he's just always written what he sees around him, so I don't think he sets out and says 'I'm going to write a serious song or more of a tongue in cheek song' but I think he gets going and gets an idea and it takes on a life of its own, like 'The Kids Aren't Alright' he wants to write about his neighborhood, but all of a sudden it on more of a serious topic and turns into a more serious / darker song. 'Pretty Fly' wants to write about a guy who doesn't really fit in and turns into a different tone, and sometimes it just happens. Even the serious songs we've never tried to send any messages or do anything serious, it's more just another story that we have that we hope people can relate to, or if it means something to you then that's cool.
'Days Go By' has been out for over a year now, are you working on new material and if so do you have an idea of when we could expect a new album?
We're been working on a couple of singles, we're not sure what we're going to do with them yet, if we're going to put them on the internet and send them to radio or whatever. As far as a full scale album there's nothing in the works, if we do something it wouldn't be until at least next year, but we're still moving forward and still going to keep trying to put out new stuff.
Stepping away from Columbia, I saw mention that you may take this one out independently, is that true and the way you're going to go?
I think so, we still don't know yet, we're going to see what else is out there, at this point as far as albums go it seems that it's easier to do it yourself, I mean the scale right now we've done, I don't know what a record company is going to do as far as pushing our name or anything like that, so it might just be a simple thing to do it ourselves.
I'm finding these days that bands are jumping more onto the kickstarter and pledge sites and doing it themselves and rewarding their fans rather than their labels…
Yeah, that might be the way to go too because all you pretty much need to do is get your name out there and I don't know what labels can really do anymore, they used to have all the pull with the radio stations and this and that, but now with the internet and satellite radio and things like that I think their influence has kind of died down a little bit.
Also, I believe a live album is in the works, when can we expect to hear the end result of that?
We've been recording live stuff, we've been trying to get some stuff together and I don't know if we're going to maybe do one show where we kind of do it, it's something we've discussed for years, but as far as a definitive ok this is going to be it that's not quite there yet but I think that will be in the future.
What is it that keeps you going after all this time?
As long as things still seem like they're moving forward then that's it. As long as it's still fun for us and exciting then we'll keep doing it. This last Australian tour we did when we did Soundwave, we hadn't been there in five years and we were playing against Metallica, playing at the same time and we thought we're going to get killed and it turned out to be awesome, our side of the stage was packed every night and the crowd went nuts and we thought, wow this is cool, let's go back. So as long as things keep on feeling like they're moving forward and are fresh and fun then we're going to keep going.
What does 2014 have in store for The Offspring?
Well we talked about doing some stuff with 'Smash', to what scale and we're going to see what interest it is, but from just talking to our management and stuff like that, there could be some full scale touring going on for most of the summer for us.
And if you keep up this rate with us I dare say we'll see you next year again too…
Yeah I don't know, we may have worn out our welcome with this one, so we'll see, it might be another five years, but hopefully it's not that long again, I'd like to get there at least once every other year.
Essential Information
From: Los Angeles CA, USA
Band members: Dexter Holland – Vocals, Noodles – Guitar, Greg K – Bass, Pete Parada – Drums
Website:  http://www.offspring.com
Current release: Days Go By (Out Now)
Catch The Offspring headlining at Warped Tour Australia:
Tickets on sale now: Via Oztix
Friday, 29th November – Brisbane, RNA Showgrounds
Saturday, 30th November – Coffs Harbour, Showground
Sunday, 1st December – Sydney, Barangaroo
Friday, 6th December – Canberra, Exhibition Park
Saturday, 7th December – Melbourne, Birrarung Marr
Sunday, 8th December – Adelaide, Ellis Park
http://www.vanswarpedtouraustralia.com/
https://www.facebook.com/WarpedAU