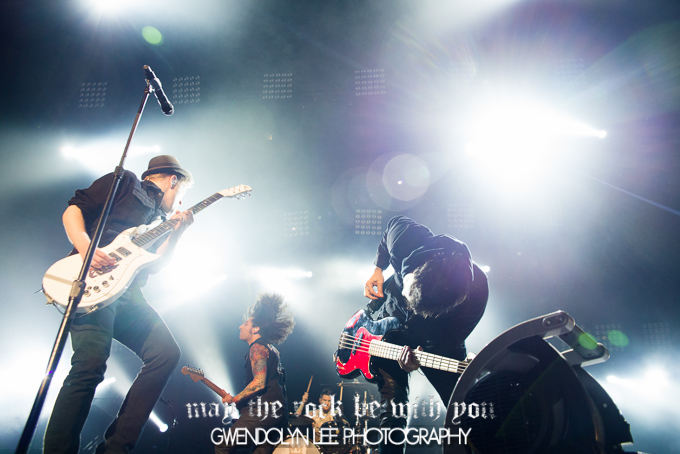 For the second time in a year, Fall Out Boy are back in Australia. Their last trip was a promotional jaunt that saw them play a show in Sydney and Melbourne prior to the release of their newest album 'Save Rock and Roll' and this time they're back to showcase it in this live environment exactly seven months since their last show in Sydney. So with the new leaves the old, and it'll be interesting to see how the set shapes up…
A moderately filled entertainment centre are here to check out British India who are opening up the night. It takes a couple of songs for those here to get into the band but as much as it seems they're just watching them and going through the motions before their beloved Fall Out Boy take the stage, I can see heads bopping along and rightfully so as some of these songs are actually quite good. They dive back into their catalogue with an 'old' one called 'I said I'm sorry' which was cool but man, this is a tough crowd. The largest cheers came when they mentioned Fall Out Boy, but I suppose it comes down to demographic. This is a good band, they have some great songs and to me should be what The Vines were, there is a real likability about British India and I personally will be heading home to check out their stuff.
Oh, here come the ego risers… they are set up on the stage and we're getting ready to go!
"Put on your war paint!" indeed… Opening with 'The Phoenix' the band emerge almost in uniforms all dressed in black besides the always shirtless Andy Hurley and all sporting balaclavas, and like a thief in the night these guys are here to steal us for the next ninety minutes and I'll tell you what they'll do it and they'll do it well. Straight out of the new into the old with I'm sure close to the longest song name in history with 'I Slept with Someone in Fall Out Boy and All I Got Was This Stupid Song Written About Me ' and Pete and Joe throwing themselves around early on you know they're going to put everything into this night. Crowd sing along time as they stay old school with 'A Little Less Sixteen Candles, a Little More "Touch Me"' which is a winner and got instant gratification from all those here but I gave to say that 'This Ain't a Scene…' got a reception that was nuts and was the perfect song to sing back to the band and who doesn't love a good sing back?! Tonight they play it to a tea, and watching the arms fly and the words being shouted back, it's impressive, what's also impressive to watch the evolution of this band too, a once shy Patrick Stump who never truly engaged the crowd is a perfect front man these days, not only in terms of presence but vocal ability and although Pete Wentz does the taking between songs it's such a departure of the Stump of old and it's so good to see.
Another new one 'Alone Together' gets some love as the band leave the stage leaving only Joe there to give us what is missing in live shows these days… a fuckin' guitar solo! I kid you not, and I'm a sucker for this kind of thing, so that's a win for FOB tonight! The band return for 'Thriller' the opener from their 2007 effort 'Infinity On High' and I've always been a fan of the drop d tuning on this one to make it heavy and in the arena tonight, it is heavy. Back to the new album after Pete's rant and crowd pep talk about not letting anyone blow your spark out and 'Death Valley' is the tune and I'm truly surprised, in a good way as to the reaction that the new material is getting, I get the band had a break for a few years but it's great to see the way that people latched on to new FOB and weren't just here solely for the hits.
But when 'Sugar We're Goin' Down' is up in the set well let's just say there were many happy campers in the room! This is my favourite Fall Out Boy song as it was my first introduction to them way back when and judging by the reaction, many here agree with me. To then follow that up with their cover of 'Beat It' was a lock to appear in the set and this is the absolute perfect live song and watching Andy Hurley beat the living shit out of his kit is always a treat. As beach balls fall from the ceiling or as I've just decided to call them, 'fall out balls' no wait 'ball out boy' that's better, actually, they both sound wrong, forget I said those…  they once again tackle the new album 'Young Volcanoes' which is almost acoustic driven but in a polar opposite they almost punk the hell out of place with a short and sharp 'Love, Sex, Death' and as a short video interlude of Iggy Pop is played as a decoy, the band appear at the back of the arena for an acoustic set. Very cool and very unexpected as they give us a great version of 'I'm Like a Lawyer with the Way I'm Always Trying to Get You Off (Me & You)' which I actually prefer in this medium and then going old with obvious favourite 'Grand Theft autumn' and seriously, what this shows me is just how actually good these guys are as musicians, or have grown as musicians I should say. In the acoustic environment they actually shine, and not many can, so I want an album of FOB tracks done this way please! Can that be arranged?
A kick ass drum solo from Andy is the only lead in there could be to 'Dance Dance' and of course they love it… it's almost a 'tick' for many here judging by the screams, as a lot here may not have seen FOB live before, so it's fun to crowd watch and see the excitement on the faces of many around, but the next song is outstanding… 'Just One Yesterday' from 'Save Rock and Roll' has a groove and is an awesome addition to the set this late in and I can't say I know this one very well but I feel like we should be friends. This is almost my favourite song of the night and is actually making me realise how good the new album is, I knew it was, but hearing all these songs tonight live, it affirms it!
Pete has a little chat again, and by little I mean a good few minutes… but a great lead in to 'I Don't Care' which sees a sea of arms being waved towards the stage and it's played perfectly tonight. Seriously this is a tight band and they've come leaps and bounds from the first time I saw them and I can't wait to see what's next. Pete regales us with more talking (he's good at that) and sets up the next track being 'My Songs Know What You Did in the Dark' it has to be and although this was labelled by many as a departure of the FOB sound when released well they can now eat their words as those here tonight loved every second of this song and as the band leaves the stage with the words 'Save Rock and Roll' plastered on the screen we wonder what's left for the encore?
A piano… Cool. After some love for those affected by the bush fires and a truly terrible Australian accent (sorry Patrick) they play the title track from their new album 'Save Rock and Roll' and that was amazing. A heartfelt song and it shows such growth in this band… but as you'd expect and one that I forgot was coming, 'Thnks fr th Mmrs' went off and just when you think that's it, oh no… Let's go with one more… and 'Saturday' with its lyrics 'I'm good to go' was a good way to go…
So, Fall Out Boy, you do belong in arenas, and although it wasn't a sold out one tonight, if you keep doing what you're doing and putting on a show of this calibre, then expect the seats to be filled next time. Mark my words. Someone has to 'Save Rock and Roll' may as well be you guys helping it to get there…
Check out the massive photo gallery of the show HERE
Essential Information
Venue: Sydney Entertainment Centre
Date: October 25, 2013
Support: British India
Presented by: Frontier Touring
Website: www.falloutboy.com
Set List:
The Phoenix
I Slept with Someone in Fall Out Boy and All I Got Was This Stupid Song Written About Me
A Little Less Sixteen Candles, a Little More "Touch Me"
This Ain't a Scene, It's an Arms Race
Alone Together
Thriller
Death Valley
Sugar, We're Goin' Down
Beat It
Young Volcanoes
Love, Sex, Death
I'm Like a Lawyer with the Way I'm Always Trying to Get You Off (Me & You)
Grand Theft Autumn/Where Is Your Boy
Dance, Dance
Just One Yesterday
I Don't Care
My Songs Know What You Did in the Dark (Light 'Em Up)
Save Rock and Roll
Thnks fr th Mmrs
Saturday