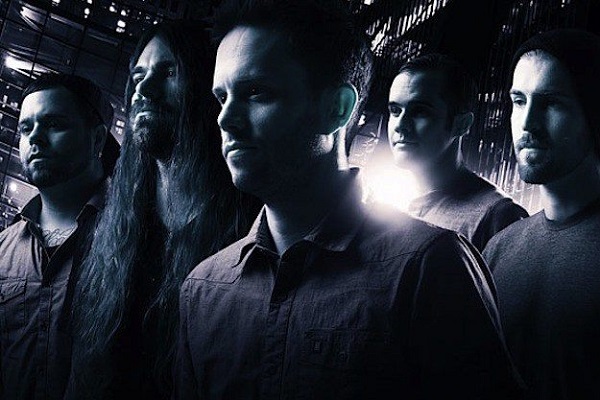 "It's what we've been doing in America and what we've wanted to do since we wrote and recorded the album over a year ago. It was written as a theatrical piece to be performed in its entirety, so we're trying to do it all over the world now."
From tour release: Between The Buried And Me are returning to Australia this November! The band will play their ambitious release The Parallax II: Future Sequence in its entirety. The critically acclaimed release is described by Tommy Rogers (vocals, keyboards) as 'A conceptual journey that takes the listener to worlds that seem familiar and worlds that make you scratch your head.' With influences ranging from metal and old progressive rock to jazz and fusion, the band can be delicately taking the listener on a psychedelic trip via spaced out melodies and then rip their head off with a cacophonous roar the next creating a world that's both schizophrenic and violent yet beautiful and sublime seemingly at the same time.
Before heading to Australia we had Between the Buried and Me answer some questions for us about their upcoming tour and what we can expect…
Now, of course you're headed back to Australia next month but this time to play 'The Parallax II: Future Sequence' in its entirety. What was the idea behind doing that on this run of shows?
It's what we've been doing in America and what we've wanted to do since we wrote and recorded the album over a year ago. It was written as a theatrical piece to be performed in its entirety, so we're trying to do it all over the world now.
With the album at just over 72 minutes long, can we expect a few extras tracks thrown in for good measure at the shows, or are we purely getting 'Future Sequence' and it's a case of 'Goodnight Springton there will be no encore'…?
We'll be playing another song in addition to the album. All in all it's a 90 minute set.
So, this may be hard to do, but can you describe a typical BTBAM live show to someone who has never seen you perform before?
It's different in different countries. Good shows in America and Australia are people engaging with us, singing along and bouncing up and down. I see a lot of kids doing drum fills and stuff in the crowd, which I love because I'm that same guy at shows. In places like Europe, the crowds are more reserved. Maybe they just don't like us as much haha?? Oh well. In Japan the shows are kind of a throwback to the old days, small clubs with stage dives left and right. Very passionate energetic crowds.
Coming along with you Down Under are 'The Contortionist' have you played with these guys before?
We've been on tour with them the last month! They are great musicians and nice boys.
You were in Australia not so long ago, do you have a memory of that last tour you can share with us?
We were in Australia at exactly the same time last year actually. I remember being extremely jet lagged; we went from England to Austin, TX to play a fest, to japan, to Perth, so by the time we got to Adelaide I was just completely dead, not sleeping. It was a disaster for a day or two until I got some sleep aid. We love it over there so much though. I stayed behind in Melbourne for a week to hang out with friends. I even missed American thanksgiving for it!
Just for a bit of fun, can you give us two words to describe a typical Australian crowd of yours?
Like I said earlier, it's similar to the American crowd. We have great fans over there and have for years.
In terms of new music, even though 'Future Sequence' is only a year old, have you been writing new material for possible future releases?
No, we are just not playing all the songs so it was impossible beforehand to really move forward. Sometime next year the wheels will start turning and we'll do a new record in 2015.
Who or what inspires you these days musically?
Everything, just like always. The older I get the more inspired I am, and the more different outlets I require. I'm in 3 active bands at the moment (BTBAM, ORBS, Trioscapes), and am working on a fourth project that will probably see the light of day around 2015. I want even more going on in my life creatively.
So in the eleven years since your debut album, what do you see as being the biggest evolution that has taken place within the band?
Probably when this line up came together in late 2004/early 2005. Blake, Dustie and myself came on board to write the Alaska album, and we really hit our stride and gelled when we did colors. That really opened us up and expanded the perception of what the band could be.
Has there been a moment over that time that stands out as the best up until this point?
The best how? Musically, no, we're a band that is always moving forward and never looking back. The next record will be even more different than anything we've ever done, I already know that before even having a lick written.
As we head towards the end of the year, let's look ahead, what does 2014 have in store for BTBAM?
Touring across the world, playing the parallax II in more countries. We'll be filming a DVD in the spring of the album, really looking forward to that.
Lastly, do you have a message for your Australian fans?
Looking forward to getting over there! It's always a blast.
Essential Information
From: North Carolina, USA
Band members: Dan Briggs: Bass, Blake Richardson: Drums, Tommy Rogers: Vocals, Keyboards, Paul Waggoner: Guitar, Dustie Waring: Guitar
Website: www.betweentheburiedandme.com
Latest release: The Parallax II: Future Sequence (Metal Blade)
TOUR DATES
Friday, 15 November: The Zoo Brisbane 18+
Tickets from www.destroyalllines.oztix.com.au  1300 762 545  and all Oztix outlets
Saturday, 16 November: Metro Theatre Sydney 18+
Tickets from www.metrotheatre.com.au  02 9550 3666  www.ticketek.com.au 132 849 and all Ticketek outlets
Sunday, 17 November: The Basement Canberra 18+
Tickets from www.destroyalllines.oztix.com.au  1300 762 545  www.moshtix.com.au  1300 438 849
Tuesday, 19 November: The Corner Hotel Melbourne 18+
Tickets from www.cornerhotel.com  1300 724 867  or the Corner Hotel Box Office
Thursday, 21 November Unibar Adelaide Lic AA
Tickets from www.moshtix.com.au  1300 438 849  and all Moshtix outlets
Friday, 22 November Amplifier Bar Perth 18+
Tickets from www.destroyalllines.oztix.com.au 1300 762 54 Mills, 78?s, Planet Video or Star Surf
www.destroyalllines.com / www.facebook.com/BTBAMofficial / www.facebook.com/thecontortionist