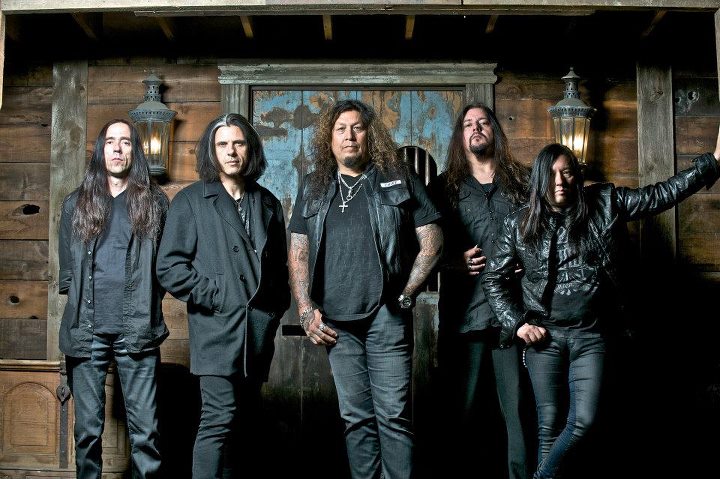 "… it was time to capture that and just showing where Testament is today in our career. I see a new fan base of new metal heads out there and I thought it would be more appropriate to where we are today, more of the style we're writing today. So it just made sense that it was time to do it now."
From release: Testament are about to reach another highlight in their 25 year career. Filming an entire live show in front of a truly frantic audience for the their new DVD, 'Dark Roots Of Thrash' was produced by Get Hammered Productions, directed by Tommy Jones and mixed by Juan Urteaga.  A total of 19 live tracks, the video clip for 'Native Blood' and additional Backstage Footage make 'Dark Roots Of Thrash' an incomparable experience for every true Thrash fan.  Countless cams onstage, in the center of the moshpit and moving high above the audience on trusses, you will become part of the show while watching.
Chuck gave us some insight into the bands new live DVD / CD 'Dark Roots of Thrash' and its creation, as well as their upcoming Australian return for Soundwave, and just who would be the Big 5, 6, 7 and 8…

You're heading back to Australia on the massive Soundwave bill, a few years since your last visit, and first time on Soundwave, what have you heard about the festival from peers?
Well the first time we ever went to Australia at that time we'd only ever heard about the Big Day Out, and friends over the years have been going and they tell us no you don't want to do that you want to do soundwave, that one's more rockin', more different acts, so we've been trying to get on it for a few years now and it just hasn't happened and we finally got a break this year and it's going to happen, so we're really looking forward to it.
What can people expect should they come and watch your set?
Well we haven't found out how long of a show we get to play, so I don't know what kind of set we're going to do for the show, but I can imagine as we haven't been there for the 'Dark Roots of Earth' album so we'll probably play four or five tracks off that for sure, so we'll see. We're just excited as we've only played in a few of the clubs there whenever we come over, so it would be nice to get to a broader audience.
The bill as I just mentioned is huge, is there anyone you're excited to be sharing the tour with?
I haven't really looked at the full bill, but I know Green Day, and I'm really pumped to perform with them or see them live as I haven't seen them yet, so I think that will be a fun one.
What about side shows, can we maybe expect any while you're here?
Yeah we're actually doing two side shows, I don't know where yet and with who *laughs* but we are doing two, so that's going to be good.
It's been a little while since you've been back here, what do you remember most about your last tour?
Just the people we always look forward to, we always relate to the people of Australia because we're from California and everybody's kind of laid back, and it's the same, everybody was just mellow and laid back and having a good time, and just everyone was real friendly and the fans, it was great to see. Like I said we just played some clubs, so everybody that we had to see really dug us down there and showed us a good time while we were there. A couple of times before that m and my wife came and I brought a couple of buddies and we stayed out on Bondi beach for a couple of weeks after the tour and went up to the harbour and stayed there for a few days so just spent some extra time off touring, so that was kind of cool.
We're also here to talk about your new 'Dark Roots of Thrash' live DVD / CD that is about to be released, why was now the right time to release this?
Well the last DVD we did was 'Live in London' and that one had the original line-up, the reunion, and when we did that re-union show the guys at the end really wanted to play songs off the record they performed on, so a lot of the show was early stuff, so over the last few years we started playing more off of 'The Gathering' and of course 'Formation' and 'Dark Roots of Earth', and we've been playing a lot of the current stuff over the last couple of years, so it was time to capture that and just showing where Testament is today in our career. I see a new fan base of new metal heads out there and I thought it would be more appropriate to where we are today, more of the style we're writing today. So it just made sense that it was time to do it now.
How hard was it to put the set together for the show you recorded, was it a no brainer or was there some extra thought put into it?
Well that show specifically had some extra thought as we were on tour and we were playing fourteen songs or so, something like that and that show we definitely wanted to make it special so we added more of the classic stuff, so we put like 'Alone in the Dark' and 'Over the Wall' and 'Trial by Fire' and 'Disciples of the Watch' and we put in extra songs that we weren't playing on the tour. Those are songs that we've been playing for quite a while so it wasn't like it was going to take a lot of time to put them in the set and not be tight on them.
From everything I've seen so far and read about it, it seems like there were at least 4,000 cameras used for the shoot, well not really, but did you set out to do anything differently for this release?
Yeah, actually, the last recording we didn't have that many camera and the angles got a little boring so we decided we didn't want that to happen, so let's get about fourteen camera angles and do that so it makes it exciting, especially if you've got a show that's going to be for an hour and forty five minutes, you want the fans watching it to stay motivated and interested in what they're watching. So the more angles we had, the better we had editing we could edit it. It came out really good, and this release every band member had a say on the editing, like didn't like the angles, liked the angles, everybody had their own comment, we just put everybody's feedback into it and it came out the end result was awesome, everyone was very pleased with it.
 'Dark Roots of Earth' has been out for over a year now, have you had time to start writing new material?
Not yet, starting January is when we're going to kick it into writing mode for the first four months of next year, we're going to go in the studios, write it and record it and hopefully have a record out by early summer. That's what we're shooting for.
What inspires you these days?
For me, just my musical life, like I said earlier, I'm just seeing this whole new resurgence of a new generation of metal heads you know, they're getting younger and younger coming to shows and it's kind of exciting as you think these kids weren't even born when we made our first record *laughs* and at the show I see just because of games like Rock Band and Guitar Hero that these kids are getting into metal and it just gets you fired up and there's so many good bands and upcoming bands playing great metal, I think it's just a really good time now for metal and it keeps me motivated and fired up. We've wrote for so many years now but I can't wait to write again and come up with something new for what we do. I think we've always kept our records sounding fresh but they never copy each other you know? I think we've got the juices flowing right now, so we want to capture that and grab the ball while we can and keep running.
Touring wise it seems you've been nonstop since the album was released and now you're headed out with Lamb of God, Killswitch Engage and Huntress for a run, how large are you expecting those shows to be?
They're going to be good, I think they're going to be anywhere from three thousand to eight thousand a night, and Lamb of God and Killswitch they've got a younger audience that I think is a good opportunity for Testament to get in front of some new fans that don't know about us really or know about us and have never seen us live yet. We're actually looking forward to it a lot as we've known the Lamb of God guys for a long time and always talked about touring together and it's finally come true. *laughs* It's going to be the last tour we do until we do the new record, so it's like going out on a good note, you know?
So is Australia somewhat of a holiday tour for you is it?
Yeah actually we're going to be writing and recording like I said and Soundwave is just going to be a break in the process. Get out of the studio, play a few shows, have some fun, come back home and get right in the studio so it's going to be perfect timing for that. It might be a little chilly here in California in January so it'll be nice to get away and get a little sunshine and come back fired up and get right back in the studio.
Let's jump back to 1987, what's been the biggest noticeable evolution of Testament you've seen take place?
Well I just think The Gathering record we did in '97 I think that record to me really is where Testament found a new sound and style which to me was still kind of current sounding, I think that's where we kind of found the extreme metal with the black metal blast beats in there and even a more melodic sound and it just seemed to all fit and I really enjoyed listening and writing that style. So I think that was definitely a turning point for us around '97, or '99 when we did The Gathering.
Where do you see the Thrash scene these days compared to that of the late 80's?
It's definitely grown, our scene here today was different then to what it is now, back then in the Bay area there was a lot of clubs, I mean a lot, you could go see an early show and another one and see a late show, and I think its evolved and everywhere around the world I see that there are so many metal bands, before that you could count the Thrash bands on two hands in the 80's now there's bands in every country playing Thrash style music and its even spawned off the speed metal, black metal, grunge metal *laughs* there's so many different metal categories now, it's great I think.
The of course something like The Big 4 throws it back in prominence…
Yeah for sure…
I've heard a lot of people say that if there was a Big 5 that it should've been you guys…
I agree…
Maybe one day there can be a Big 4-2 and you can have your own…
Yeah, we'll have the Big 5, 6, 7 and 8, that's the next round of them. *laughs*
Well on that, who would you have along on the bill along with you?
Probably have to say Exodus, maybe Overkill and probably, it's a tough one… maybe Death Angel?
With a new album coming next year, do you have plans then in 2014 to go straight back out on the road?
No we'll go back out as soon as there's a record, our agent will be gung-ho "da na na na charge" and right away, throwing us right back out there. I hope this will get us to broader audiences in Australia and some promoters bring us back over for some smaller shows instead of having to wait for the big festivals.
Lastly, do you have a message for your Australian fans?
Just that we're really excited, I think since we've been there we've put out two great records, so we're just looking forward to playing some of the new music for everybody.
Essential information
From: Bay Area, CA – United States
Band members:  Chuck Billy – vocals, Eric Peterson – rhythm & lead guitars/back-up vocals, Alex Skolnick – lead & rhythm guitars, Greg Christian – bass, Gene Hoglan – drums
Latest Release: Dark Roots of Thrash – Live DVD / CD (Nuclear Blast)
Website:  www.testamentlegions.com
Catch Testament at SOUNDWAVE FESTIVAL 2014 
SATURDAY 22 FEBRUARY – BRISBANE, RNA SHOWGROUNDS
SUNDAY 23 FEBRUARY – SYDNEY, OLYMPIC PARK
FRIDAY 28 FEBRUARY – MELBOURNE, FLEMINGTON RACECOURSE
SATURDAY 1 MARCH – ADELAIDE, BONYTHON PARK
MONDAY 3 MARCH – PERTH, CLAREMONT SHOWGROUNDS