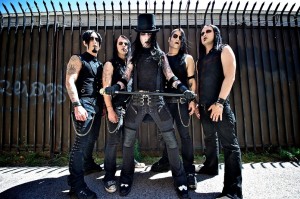 WEDNESDAY 13 is the undisputed leader in Horrorpunk.
A grimly glamorous ghoul who first slithered from the cobwebbed shadows of Charlotte, North Carolina, WEDNESDAY 13 has established himself as the world's premier purveyor of balls-out horror punk insanity. With a vivid and vile imagination that has endeared him to countless fans of riff-driven macabre over the last two decades, he has been one of rock's most prolific protagonists, spreading his credo of grave-robbing rock 'n' roll and Halloween debauchery around the globe and unleashing a seemingly endless stream of blood-spattered albums and EPs.
WEDNESDAY 13 is more passionate and unstoppable than ever right now. His brand new album 'The Dixie Dead' (released in Australia by 3Wise), has ushered in a whole new era of gruesome glory for this unstoppable malevolent force and is "a gruesome horror punk romp." – Dawn Of The Dead
WEDNESDAY 13 will be bringing his gore-filled, ghoul-fest, sleazy live shows to Australia in October just in time for Halloween and will leave fans begging for more! 
TICKETS ON SALE THURSDAY 19 SEPTEMBER, 9AM LOCAL
WEDNESDAY 30 OCTOBER – BRISBANE, THE HIFI – 18+
www.thehifi.com.au
THURSDAY 31 OCTOBER – SYDNEY, THE METRO – Licensed All Ages
www.ticketek.com.au
FRIDAY 1 NOVEMBER – MELBOURNE, BILLBOARD THE VENUE – 18+
 www.oztix.com.au / www.ticketek.com.au / www.moshtix.com.au
 Presented by Soundwave Touring