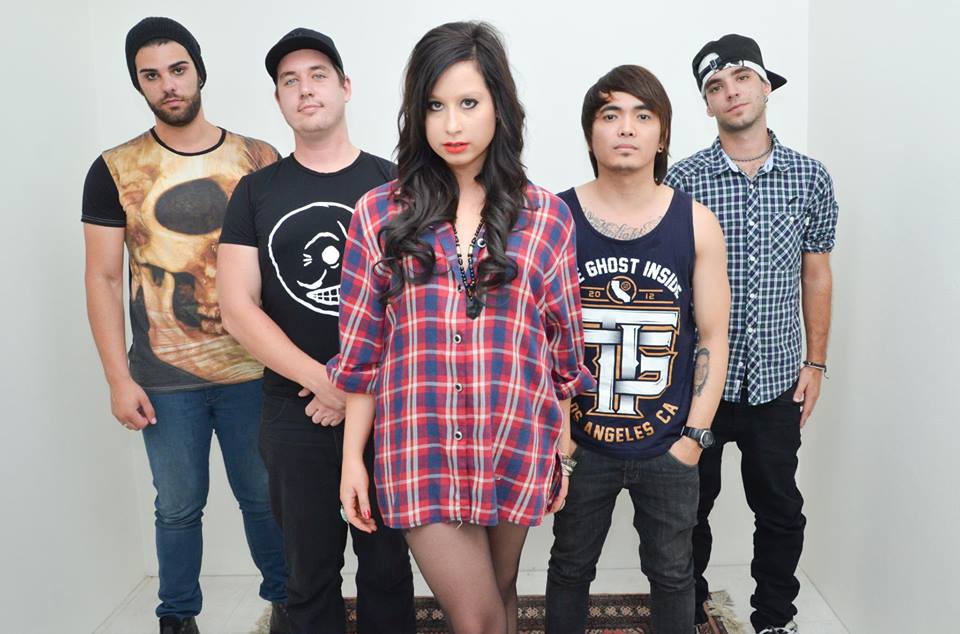 From Bio: Vanity Riots have honed their sound over the past 3 years on the stages of Sydney's dirty rock n' roll pub scene. Since their debut in an over-crowded club in Kings Cross, Vanity Riots have been constantly writing, playing shows, touring and have released 2 EPs. Vanity Riots' DYI attitude and work ethic has seen them gain recognition within the Australian rock and metal scenes as a young, determined band with a heavy, yet catchy, original sound.
We totally dug the sound and vibe of Vanity Riots and it was a no brainer that they are one of our Best Things You've Never Heard…
Let's start with the basics; for those that aren't aware of you, can you please give us the abridged version of the Vanity Riots story, how you came to be and the decision on the name of the band?
The name Vanity Riots actually came about 3 years before the band formed.  I'd been in a string of different bands since I was 13 learning a lot in the process.  Vanity Riots was a strong and powerful name, which coincided with the image I dreamed up in my head of the perfect band.  A marketable image to front meaningful songs which were both heavy and catchy.   Instead of studying in high school I researched the music industry and intensely studied bigger bands to find what made them great. 
Still in other bands, I searched for the perfect musicians to be a part of my project.  This took almost 3 years.  Vanity Riots finally started officially in 2010 launching in Sydney's notorious Kings Cross; a red light district of bikers, brothels and clubs.  It all began when I met an Indonesian rocker at music college, Galih.  The other boys materialised soon after and finally Vanity Riots was born.  It just felt right.  We were a gang of four and played many, many shows around Sydney and surrounding cities establishing ourselves.
After three years Galih had to return to Indonesia and now we have 2 guitarists – Ben and Bjorne – who have really stepped up, rewritten our old songs for 2 guitars and also contributed to new killer tunes.  Our sound is now bigger and more focused. 
Can you now please introduce each band member and give us a rock 'n' roll fact or myth about each of you?
Monica Strut: Vocals
Was originally a bass player and is a massive fan of Kylie Minogue
Bjorne Santos: Guitar
Bjorne played in some major bands back in the Philippines who supported Lamb of God and Trivium.
Ben Chard: Guitar
Is secretly a leprechaun and lives in a basement.
David Connolly: Bass
Has left Vanity Riots to pursue a sensible lifestyle of University and working in a Bottle-O.
Jase Canelas: Drums
Is actually The Rev. Don't tell anyone.
You have your new 'Ambulance' EP out now, so let's say you have twenty seconds in an elevator to try and get someone to listen to it before the door opens, what do you say to them?
Imagine the intensity of metalcore mixed with the good times of glam rock fronted by a hot chick!
In terms of your song writing, what do you consider to be the most important ingredients that make up a Vanity Riots song?
Hook lines and double kicks cement our sound.  But the most important thing has always been the lyrics of a song for me.  I consider myself a song-writer first and foremost.  A performer secondly and I guess you could say I'm a singer because I needed a way to tie in the two!
Both lyrically and musically, what or who inspires/influences your music the most?
Musically we are inspired by anything melodic, heavy and big!  From Blondie and Skid Row to As I Lay Dying and Asking Alexandria.  To us it's not that weird to be totally into glam rock and also metal because it's all about the showmanship and adrenaline rush you get from those types of bands.  Our drummer is into heavy gangsta rap so you could say we love pretty much anything that gets the blood flowing.  Except nu metal.  Oh God please no nu metal! (Monica's opinion only unfortunately).
Lyrically our songs are essentially based on my personal life. Finding new ways to say shit that's already a theme in thousands of other songs can be a challenge. But every song has meaning and represents my own views, personality and influences, which makes them different.  Then add the context of the band and our individual style…  Lyrically I have heaps of influences.  Depending on the mood I can write simply from the heart or more completely with a tone of metaphors and double meanings.  Bands that stand out to me as having exceptional lyrics are The Used, Guns n' Roses, Divinyls and Bring Me The Horizon.
Listening to the new EP it's hard to believe you've only been a band for three years, so what is it about this band that makes it sound like you've been making music for years?
Thanks! I guess we all have a very strong connection, musically speaking.  We started off as a glam rock band and it sort of evolved.  Three years is enough time for a committed band to get the music tight and establish chemistry.  But we also rehearse 2-3 times a week and hang out as friends outside of gigs and rehearsals.  We all respect each other's talent and everyone is allowed to be themselves which is important.  Plus we're freakishly obsessed with the band and no one else wants to hang out with us anymore. 
So with only one EP out previously, how do you feel you've grown since the debut release?
The debut release was essentially a demo.  Although very proud of the songs on that release, by the time we finished the recording process we'd already written amazing new material which really represented the sound we were trying to create in the first place.  By the time the first release was finished, we'd already outgrown it.  Once we started writing more, it really cemented what the Vanity Riots sound actually is and we've learned a lot about ourselves as a band and our strengths and weaknesses since.
Are you constantly working on material for a possible album or are you of the thoughts that the EP is the way of the future?
We want to write an album, definitely!  But we are an indie band at the moment and have poured all our money and resources into our most recent EP.  We are working hard on promoting and marketing ourselves, booking tours and getting the name out there.  But there's only so much you can do without the help of the industry on a bigger scale.  If we put out an album it has to be fucking amazing and we need the resources of a label to do the things we want to do.  So when that time comes we will do an album.  But one step at a time.
To me it feels like there is an energy within the music that I feel would transcribe effortlessly to the stage, so how would you describe a typical live show of yours?
Thank you, so glad that comes across.  When you record no one can see your facial expressions or body language so you actually have to give twice as much energy when recording than you do live.  Our live shows are pretty energetic. With the influences that we have, there's no avoiding a big live show!  We come off stage with bruises and neck sprains from headbanging that last for a week!  Its trying to capture that energy in recordings which is actually the challenge!
For a bit of fun, say you get the chance to open for any artist or band in the world, who would they be and why?
Avenged Sevenfold!  People often compare us to a female-fronted A7X and I'm pretty sure it's the only band that all 5 of us love mutually!
If you could cover one song in your live set that no one would ever expect, what would it be and why?
We used to do a metal cover of Toxic by Britney Spears which went OFF.  Now we're doing Boys in Town by Divinyls which the singer of another band we played with last week branded a 'heavy metal,' version.  I don't think it's that heavy but it probably is compared to the original I guess.  Such an amazing song!  We played it for the first time in Melbourne last week right after they announced that they were going to go ahead and name a laneway after Chrissy Amphlett. So that was pretty special for me.
Lastly, with 2013 over half done, here's a chance to gaze into your crystal ball and predict the future.  In the next year Vanity Riots will:
1. Tour Asia
2. Be confirmed playing Soundwave 2015
3. Keep writing and having the best life ever with music!
Thanks for your time today and May the Rock be with You!
Woot!
Essential Information
From: Sydney, Australia
Sounds like: Hard Rock
Band members: Monica Strut – Vocals, David Connolly – Bass, Jase Canelas – Drums, Joe Santos – Guitar, Ben Chard – Guitar
Current release: Ambulance EP
Website: http://www.vanityriots.com