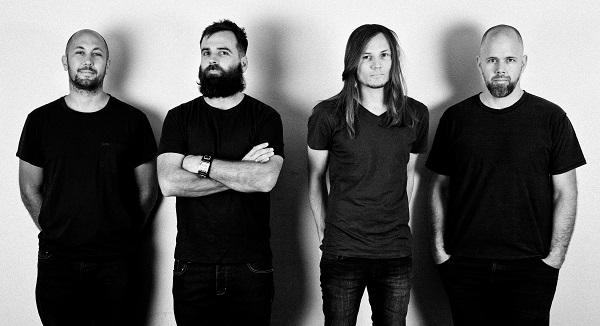 The Butterfly Effect
have ended the secrecy today, announcing their new singer
Paul Galagher
and releasing a new single to fans "Eyes Down".
The band did a farewell run around the country with previous singer
Clint Boge
last year before re-emerging for the release of the DVD
Effected
, which
topped the ARIA charts last month
. With most expecting the band to extend their hiatus following its success, the band shocked fans with the mysterious posting of live dates last week and the signing of new management, leading to speculation as to their future plans.
Galagher was chosen through an extensive search of vocalists across the country for someone who could fit both the band's ethos and its demanding repertoire and touring schedule.

'Eyes Down' features The Occupants (and ex-Cog) vocalist Flynn Gower on backing vocals and in a nod to their loyal fans, the track has been gifted to those on the band's mailing list.

"Our fans are what keep us going," said The Butterfly Effect drummer Ben Hall. "Many of them have been with us from the start and they are as much a part of The Butterfly Effect as what we are, so it's important for us to give back to them as we move into the next stage. 'Eyes Down' has moved a little more towards our original sound, so we're taking it back to our roots- small venues and indie ethos to prove ourselves again."

Apart from the release of 'Eyes Down', Galagher will be keeping a low profile leading up to the shows.

"It's about introducing him to people in our natural environment—on the stage," said Hall. "Everyone will get to know Paul in time, but he'll be walking on stage in Brisbane for the first time and we'll let the band do the talking—just like we always have."

The Butterfly Effect tour their new lineup for the first time this October.

THE BUTTERFLY EFFECT LIVE
October 10:
The Zoo, Brisbane QLD


October 11:
Gershwin Room @ The Espy, Melbourne VIC

October 17:
Rosemount, Perth WA

October 18:
Fowlers, Adelaide SA

October 19:
Annandale, Sydney NSW